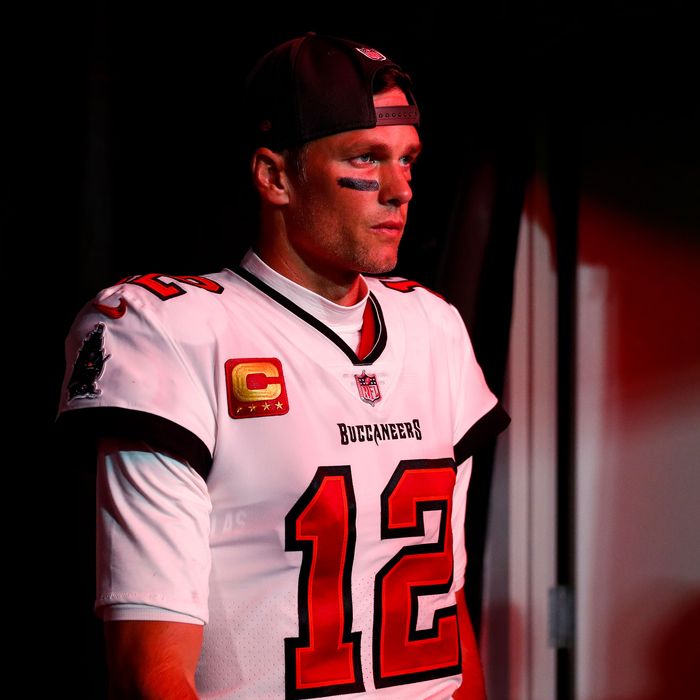 It's not 2017, or even 2021, anymore.
Photo: Kevin Sabitus/Getty Images
Dan Marino is unquestionably one of the greatest NFL quarterbacks of all time. He carried the Miami Dolphins to ten playoff appearances, and retired with the most passing yards and passing touchdowns in league history (records that have since been obliterated as the game has become much more pass-centric).
But it's worth remembering how Marino's career ended. His last game came in the 1999 AFC playoffs, when his Dolphins — coached by Jimmy Johnson, now a fellow talking head — lost 62-7 to the Jacksonville Jaguars. 62-7! Marino had four turnovers, completed only 11 passes, was sacked twice, and looked the entire game as if he had little tweeting birds flying in circles around his head. "I've never experienced a game like this in my life," he said afterward. "Even as a kid, I've never had a game like this." And it was his last one.
If Monday night was the last game of Tom Brady's career, the best thing you can say about it is that it wasn't Marino bad. But it was pretty close. The final game of the most miserable season of Brady's career, a season that just kept getting worse and worse for him both on and off the field, was a 31-14 shellacking at the hands of the Dallas Cowboys. It was his second-worst playoff loss ever. Even before this black mark, the past few months had been anomalous in Brady's career: The Buccaneers are the only team he has ever quarterbacked to a losing record. In November, he called the team's lack of effort "embarrassing," and he's clearly been trying to consciously uncouple himself from Tampa Bay for more than a year now. By the end of the game, Brady looked desperate to be anywhere other than where he was, wearing any uniform other than the one he was wearing, doing anything other than what he was stuck doing right then. He looked like a 45-year-old man who just wanted to go home.
After the game, Brady wasn't as forthcoming as Marino was 23 years ago, saying only that he planned to get "a good night's sleep" (which I doubt he actually did) and that it would be a while until he made any sort of decision about his future. Brady is a free agent now, and there are already teams lining up to sign him if he does decide to come back. He could go play for the 49ers, the team he cheered for as a kid growing up in the Bay Area. He could link up with his old offensive coordinator Josh McDaniels in Las Vegas. Even at 46, an absurd age to still be a starting quarterback, teams will want him, and you can understand why. The Buccaneers' mediocrity this season, after all, had little to do with Brady. He led the NFL in pass completions and was third in passing yards and eighth in touchdowns. With almost any other quarterback at the helm, the Bucs would have finished a lot worse than 8-9. Brady can absolutely convince himself that the Buccaneers were the problem, not him, and he wouldn't necessarily be wrong.
But then again, watching him last night, you had to wonder: Why would he put himself through this again? For all of Brady's considerable remaining ability and athleticism, he still looks more and more like a frail old man who will get pulverized into splinters of bone and gristle by a 350-pound 20-something any day now. Brady has always been slow, but he's agonizingly so now, and while he's still holding up, the way he plays has the undeniable feel of a man whose intensely competitive nature is writing checks his body soon will not be able to cash. Check out this moment from last night when he pulled a (very illegal) slide tackle after a turnover:
That kind of move will, at some point, get an enterprising lineman to pull your leg out of its socket at the bottom of a dogpile. Brady is the greatest of all time, and he'll always have the respect of the football world. But football is a brutal, borderline sadistic sport at times, and, as Marino can tell you, it has no reverence or sympathy for the ravages of time. Brady, like all athletes, wants his perfect good-bye. The problem, of course, is that he has had his perfect good-bye: the 2021 Super Bowl win with Tampa Bay. Before that, he could have bowed out after his fifth title with the Patriots or the incredible comeback against the Falcons in 2017. None of that was enough for Brady. So he kept coming back, trying to catch that dragon one more time. And now he is here, a rickety old man slide-tackling younger faster players, screaming at his inferior teammates, getting blown out on Monday Night Football for the whole world to see. Brady won't want to go out like this, with a miserable loss at the end of the miserable season. But the real problem is that Brady doesn't want to go out at all. The harder he tries to reach for that perfect ending, the more elusive it becomes. So now he's here — lost, defeated, and old. Welcome to the party, pal. It comes for all of us.