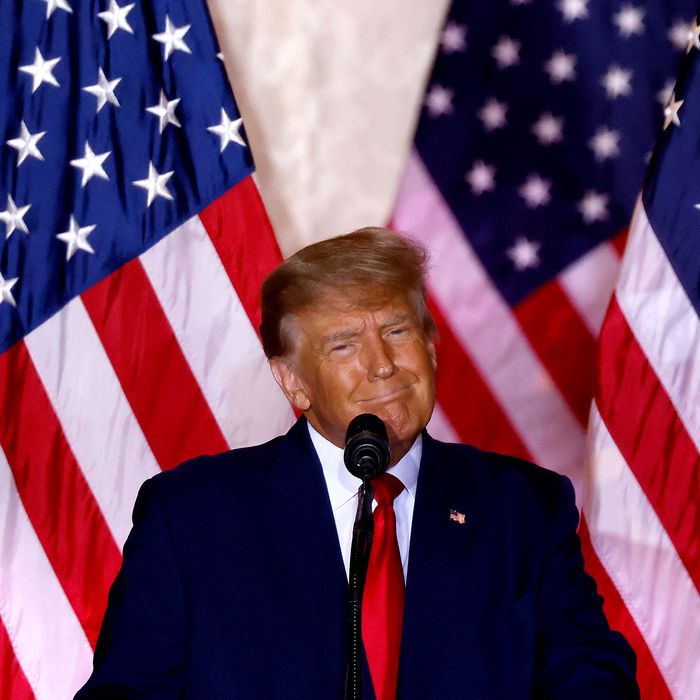 Photo: Alon Skuy/AFP via Getty Images
Donald Trump sets trends, he doesn't follow them. So rather than fleeing Twitter for Mastodon and deactivating his Facebook account like the rest of us, he's mulling a return to the social-media giants. NBC News reported on Wednesday that the Trump 2024 campaign has formally petitioned Facebook's parent company, Meta, to unblock his account. Trump later confirmed this in an interview with Fox News Digital, in which he noted that Facebook "lost $700 billion since I was de-platformed."
"It has been considered a major business mistake for them, Twitter, and others," he said.
"If they took us back, it would help them greatly, and that's okay with me," Trump continued. "But they need us more than we need them."
Trump was banned from posting on several social-media sites in the days after the January 6 Capitol riot over concerns that his posts were inciting violence. Facebook CEO Mark Zuckerberg initially announced that Trump would be banned "indefinitely," and at least through the end of his term, because "the risks of allowing the president to continue to use our service during this period are simply too great." Months later, the decision was upheld by Facebook's independent oversight board and extended through January 7, 2023. Nick Clegg, the company's vice-president of global affairs, said at the time that since Trump had committed a "severe violation" of Facebook's rules, the ban could be extended again:
At the end of this period, we will look to experts to assess whether the risk to public safety has receded. We will evaluate external factors, including instances of violence, restrictions on peaceful assembly and other markers of civil unrest. If we determine that there is still a serious risk to public safety, we will extend the restriction for a set period of time and continue to re-evaluate until that risk has receded.
Now that time's up, Team Trump wants to talk. While the campaign officials' letter has not been released in full, it appears they made no effort to assure Meta that the former president is a changed man. According to ABC News, the request for a meeting with Meta executives to discuss "prompt reinstatement to the platform" focuses on the claim that depriving Facebook users of Trump's voice is harming the political discourse:
The letter, which is addressed to Meta CEO Mark Zuckerberg and two other executives, claims the ban on Trump's account "has dramatically distorted and inhibited the public discourse," and represents "a deliberate effort by a private company to silence Mr. Trump's political voice."




"Moreover, every day that President Trump's political voice remains silenced furthers an inappropriate interference in the American political and election process," the letter states.
But, to paraphrase Oprah, has Trump been silenced or silent? In the case of Twitter, it's definitely the latter. New Twitter owner Elon Musk reversed @realDonaldTrump's permanent ban in November. Trump hasn't tweeted, but NBC News reported he'll make his comeback on that platform soon:
"Trump is probably coming back to Twitter. It's just a question of how and when," said a Republican who spoke on condition of anonymity to discuss private conversations with Trump about returning to the platform. "He's been talking about it for weeks, but Trump speaks for Trump, so it's anyone's guess what he'll do or say or when."




Another Trump confidant who also didn't want to be identified speaking about conversations with him said that Trump has sought input for weeks about hopping back on Twitter and that his campaign advisers have also workshopped ideas for his first tweet.
Despite Trump's repeated claims that he'll remain faithful to his own social-media site, Truth Social, few take him seriously. Truth's exclusive rights to Trump's online posts have been loosened considerably, and he has only 4.8 million followers on the platform; he once had 88 million on Twitter and 34 million on Facebook.
Truth may be comparatively small, but existence means Trump still has an outlet for his social-media musings — and Meta executives can see exactly what they've been missing on their platform.
Just imagine how much richer our political discourse will be once Trump can share dubious excuses and nonsensical insults directly on Facebook and Twitter, rather than relying on journalists to screenshot his Truths.