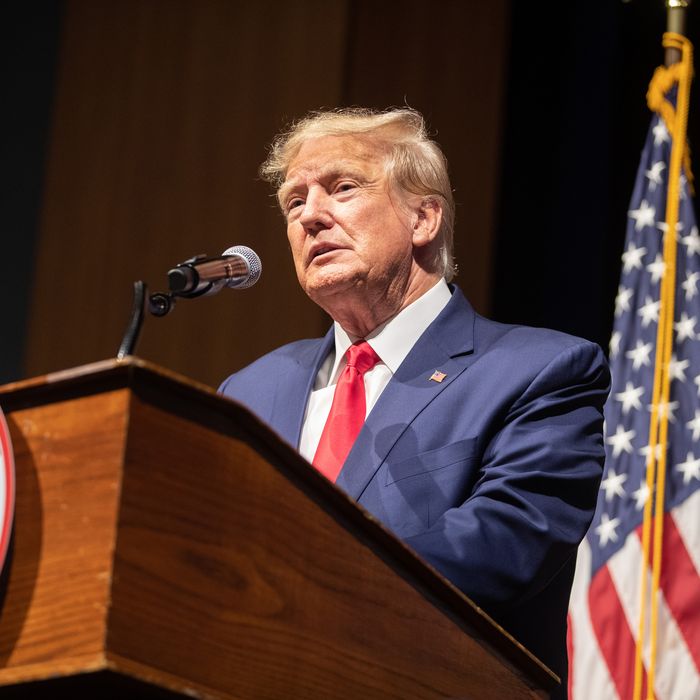 Photo: Scott Eisen/Getty Images
One of the earliest legal predicaments for Donald Trump is back with a report saying that the Manhattan district attorney's office is taking a significant new step in its investigation into the former president.
The New York Times reports that prosecutors will start to present evidence to a grand jury on Monday from its inquiry into hush-money payments Trump made to adult-film actress Stormy Daniels during the 2016 presidential election to keep quiet their alleged affair years earlier. (Trump has acknowledged authorizing the payment but continues to deny the affair.) The move by the DA's office led by Alvin Bragg indicates that the office is moving closer to the possibility of charging Trump criminally for his involvement in the payments. It comes after the office tried and failed to charge Trump for financial fraud following a yearslong probe started under Bragg's predecessor, Cyrus Vance Jr.
In 2018, The Wall Street Journal reported that Michael Cohen, Trump's former lawyer and fixer, arranged a payment of $130,000 to Daniels to buy her silence on a past affair. When Cohen later pleaded guilty to a series of charges including tax evasion and bank fraud, he said he was directed to make the payment by Trump himself and that he was later reimbursed.
Prosecutors are looking to determine if the Trump Organization falsified records in order to classify the repayment to Cohen as a legal expenditure, which would be a misdemeanor. Earlier this month, Cohen met with prosecutors in the district attorney's office, telling CNN, "It appears that I'll probably be meeting with them again."
David Pecker, the former publisher of the National Enquirer who was heavily involved in the hush-money arrangement, was seen on Monday entering the Manhattan building where the grand jury is meeting accompanied by his lawyer, per the Times. Prosecutors also reached out to Keith Davidson, Daniels's former lawyer.
Although Bragg 's office is one step closer to the chance of pressing charges, success is not a foregone conclusion, as the Times notes. Prosecutors will have to demonstrate Trump's involvement and will likely require testimony from Allen Weisselberg, the former Trump Organization chief financial officer who is serving a sentence behind bars for unrelated tax fraud, to draw a link from Trump to the payment and to corroborate Cohen's testimony. Plus the Times acknowledges that the theory of potentially elevating the misdemeanor to a felony is "largely untested."