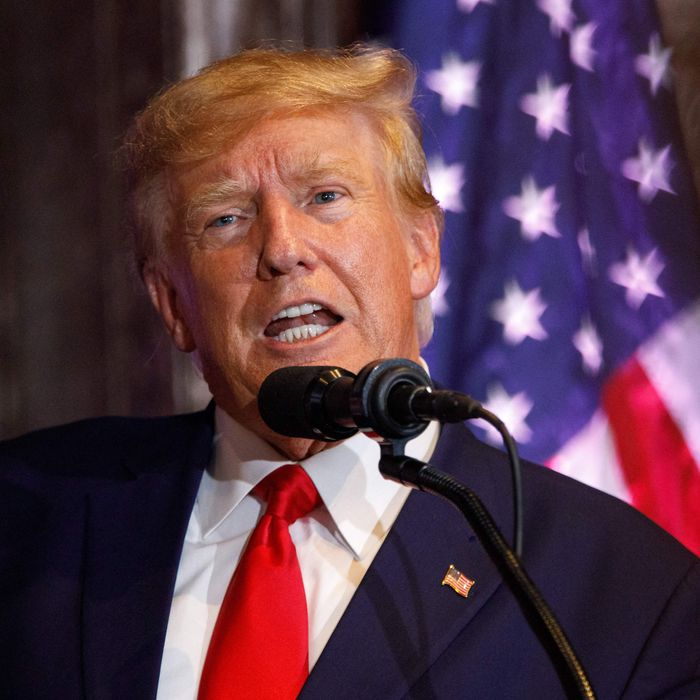 Trump in Columbia, South Carolina on Saturday.
Photo: Logan Cyrus/AFP via Getty Images
Donald J. Trump is back on the campaign trail, or at least back on the campaign trail without the pretense of backing some other candidate. On Saturday in New Hampshire and South Carolina, Trump held the first two public events of his third presidential campaign. He (and his fundraising operation) billed the events as the official kickoff of the campaign, following his bizarre original announcement event at Mar-a-Lago in November. Trump has reportedly become more and more isolated as of late, but he insisted on Saturday that "I'm more angry now and I'm more committed now than I ever was" — and that this campaign will be "about the future."
He also suggested there might be a nuclear apocalypse if he's not elected again.
"The 2024 election is our one shot to save our country," he said in South Carolina, before taking one of many shots at his successor. "Through weakness and incompetence, Joe Biden has brought us to the brink of World War III. We're at the brink of World War III, just in case anybody doesn't know it. As president, I will bring back peace through strength."
And Trump, who as president infamously swore he had a bigger nuclear button than Kim Jong-un — and purportedly had a plan to nuke North Korea and blame someone else — also claimed he'd end the war in Ukraine within 24 hours if given the chance.
Trump played some of his greatest hits as well, going after Hunter Biden and repeating — almost verbatim — the xenophobic comments demonizing Mexican immigrants that he launched his 2016 campaign with. He also vowed to withhold federal funding from schools that don't allow parents to elect principals, and claimed the chaotic U.S. pullout from Afghanistan was "the lowest day in the history of our country."
And with Trump's 2024 rivals beginning to set up shop, on Saturday he added an attack against the most threatening one, remarking to reporters on the plane from New Hampshire to South Carolina that Ron DeSantis was "trying to rewrite history" when it came to Florida's COVID response. (He also said Nikki Haley was welcome to run, but noted how she's once said she wouldn't ever do that against him — because he was so great.)
It's not clear if he thinks any other Republicans will also be able to prevent World War III.