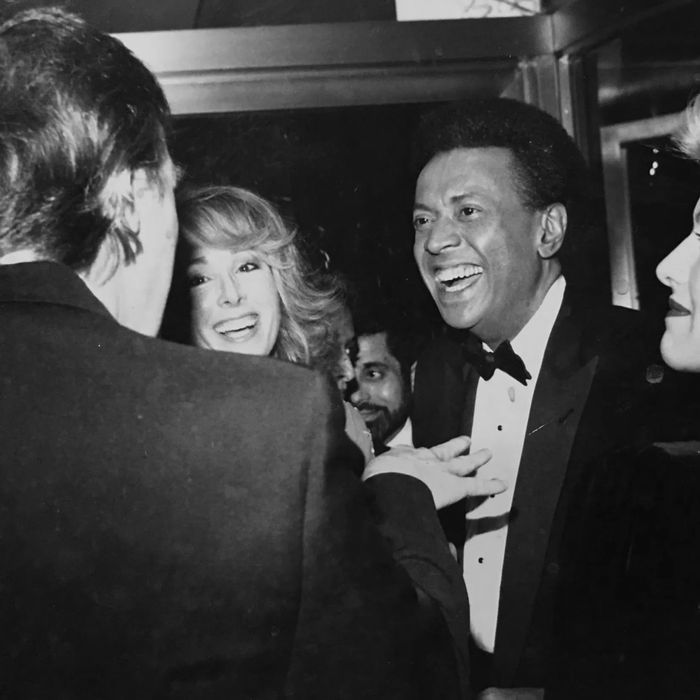 From left: Trump, E. Jean Carroll, John Johnson, and Ivana Trump.
Photo: U.S. District Court Manhattan
When accused of wrongdoing, some people come up with a clear defense and stick to it. Donald Trump does the opposite, throwing out multiple, sometimes contradictory explanations. For example, in the immediate aftermath of the Mar-a-Lago raid, he implied he was copying Obama in taking home classified documents, said he'd declassified the materials (maybe with only his mind), and floated the idea that the documents were planted by the FBI. This week he offered yet another excuse, claiming he just loved collecting empty folders marked "classified." It's often unclear if Trump's intention is to throw out every conceivable defense until something sticks or to sow so much confusion that we eventually get frustrated and move on.
Trump has been using this same strategy to combat E. Jean Carroll's allegation that he raped her in a dressing room at Bergdorf Goodman in the mid-1990s, which she first made in New York in 2019. But in a newly unsealed deposition, it's clear that Trump is the one who's deeply confused.
In the days after Carroll went public with her claim, Trump first said he had "never met this person in my life." Although the story featured a photo of the two on a receiving line with their spouses in 1987, he continued to insist he had "no idea" who the author and advice columnist was. Then he told The Hill during an interview in the Oval Office, "I'll say it with great respect: Number one, she's not my type. Number two, it never happened. It never happened, OK?"
Carroll is suing Trump for defamation and sexual assault, and in his rambling October 19 deposition conducted at Mar-a-Lago, Trump said just about the worst thing he possibly could. When Carroll's lawyer, Roberta Kaplan, showed Trump the 1987 photo of him and his then-wife Ivana greeting Carroll and her then-husband John Johnson, he misidentified Carroll, who is shown standing in front of him.
"It's Marla," Trump said, referring to his second wife, Marla Maples.
"You're saying Marla is in this photo?" Kaplan asked.
Trump replied: "That's Marla, yeah. That's my wife."
Here's the full exchange about the photo from the transcript, which was unsealed Wednesday:
KAPLAN: You have in front of you a black and white photograph that we've marked as DJT 23. And I'm going to ask you: Is this the photo that you were just referring to?




TRUMP: I think so, yes.




KAPLAN: And do you recall when you first saw this photo?




TRUMP: At some point during the process, I saw it. I guess that's her husband, John Johnson, who was an anchor for NBC. Nice guy, I thought. I mean, I don't know him, but I thought he was pretty good at what he did. I don't even know the woman. I don't know who – it's Marla.




KAPLAN: You're saying Marla is in this photo?




TRUMP: That's Marla, yeah. That's my wife.
Trump's attorney Alina Habba interjected, trying to correct him, but he still had trouble identifying the women in the photo:
KAPLAN: Which woman are you pointing to?




HABBA: No, that's Carroll.




TRUMP: Oh, I see.




KAPLAN: The person you just pointed to was E. Jean Carroll.




HABBA: That's your wife.




KAPLAN: And the person – the woman on your right was –




TRUMP: I don't know. This was the picture. I assume that's John Johnson.




HABBA: That's Carroll.




TRUMP: That's Carroll?
Despite his inability to distinguish Carroll from his former wife Maples (whom he didn't meet until 1989), at another point during the deposition Trump vehemently insisted that he could not have raped Carroll because she wasn't his "type":
TRUMP: … I made that statement [to The Hill], and I said, while it's politically incorrect, she's not my type. And that's 100 percent true. She's not my type.




KAPLAN: … The point of saying she's not my type is to persuade people that you didn't rape her because she wasn't attractive enough, correct?




TRUMP: When I say she's not my type, I say she is not a woman I would ever be attracted to. There is no reason for me to be attracted to her. I just – it's not even meant to be an insult.· There's no way I would ever be attracted to her. Now, some people would be attracted to her perhaps. I would never be attracted to her. So in addition to the fact that it never happened, never could happen – so I say it's politically incorrect to say essentially she's not my type on top of everything else.
At other points, Trump labeled the legal proceedings over Carroll's allegations a "hoax," called her a "nut job," and threatened to sue her and her attorney "after this is over." He also completely twisted remarks Carroll made in a 2019 interview with Anderson Cooper. She told the CNN anchor that she thinks of the alleged attack as a "fight" and didn't want to use the word "rape" because it "has so many sexual connotations." She explained, "I think most people think of rape as being sexy."
Trump testified that this is evidence that Carroll is "mentally sick."
"She actually indicated that she loved it. Okay?" Trump said. "In fact, I think she said it was sexy, didn't she? She said it was very sexy to be raped."
A federal judge ruled last week that Carroll's lawsuits against Trump can proceed because Trump's arguments for why they should be dismissed had no merit.
"The fact that Mr. Trump denies Ms. Carroll's allegations does not enter into the analysis at this stage of the case," wrote Judge Lewis Kaplan.
The trial over Carroll's sexual-assault allegation is set to start in April.