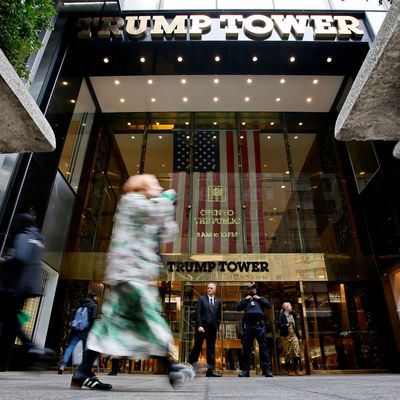 Photo: Leonardo Munoz/VIEWpress/Corbis via Getty Images
In December, the Trump Organization was found guilty of felony tax fraud and 16 other crimes. On Friday, the company was fined a grand total of … $1.6 million. In a win for prosecutors, the State Supreme Court judge in the case handed down the maximum allowable amount under New York law. But it isn't exactly a nightmare scenario for the multibillion-dollar company, or for Donald Trump himself.
"This conviction was consequential," said District Attorney Alvin Bragg, "the first time ever for a criminal conviction of former President Trump's companies." But, he added, "I want to be very clear — we don't think that is enough. Our laws in this state need to change in order to capture this type of decade-plus systemic, egregious fraud."
The trial, which wrapped up last month, focused on the company's practice of giving off-the-books tax benefits to executives, then falsifying records to cover its tracks. At the center of the scheme was former Trump Organization CFO Allen Weisselberg, who pleaded guilty to 15 counts of tax fraud last summer and cooperated with prosecutors in their case against the company in exchange for a lighter punishment. Weisselberg was sentenced to five months at Rikers Island earlier this week.
Though he was invoked many times during the trial, Trump didn't face any personal charges related to the company's scheme. But he's still battling several investigations, ranging from his role in the violence on January 6 to his absconding of classified documents, that could do much more damage. Bragg is also still probing whether Trump knowingly inflated the values of his properties, as well as looking into his alleged hush-money payments to Stormy Daniels.