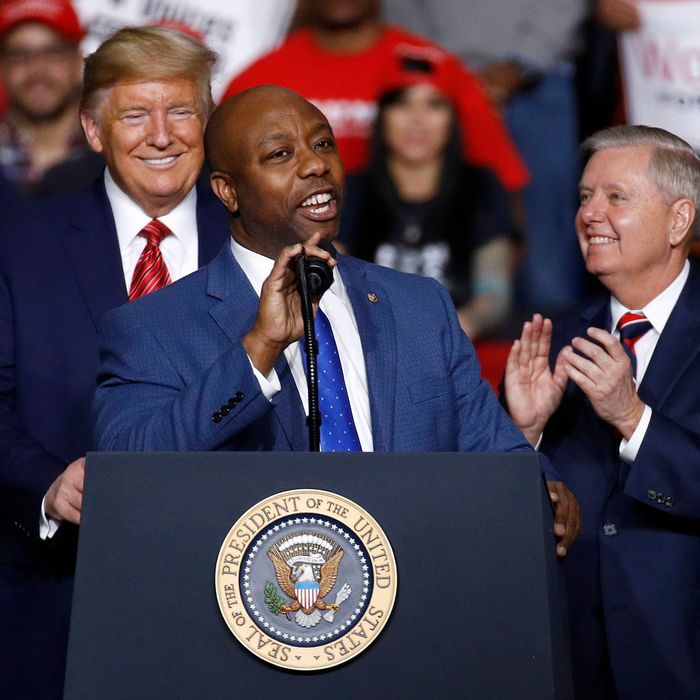 Tim Scott is one potential South Carolina rival to Donald Trump and his supporter Lindsey Graham.
Photo: Patrick Semansky/AP/Shutterstock
Much of the early talk about the 2024 Republican presidential contest involves speculation concerning the potential candidacy of Florida governor Ron DeSantis. But less than a year before voting is likely to begin in Iowa, the one actual announced candidate, Donald Trump, has bestirred himself from a very slow start to attempt a power play in one of the early states: South Carolina. On January 28, Trump will be in Columbia to announce his 2024 leadership team in the state that is currently slated as the third state in the GOP nominating process. The featured hosts will reportedly be South Carolina governor Henry McMaster, who has endorsed Trump, and Senator Lindsey Graham, who is expected to make his own Trump endorsement official.
Aside from the fact that this event represents the first real sign of life for Trump's 2024 campaign since his November candidacy announcement, it clearly represents an effort to squelch potential challenges from two South Carolinians: Senator Tim Scott and former governor and United Nations ambassador Nikki Haley. Scott has been showing up in early caucus and primary states while inspiring some serious buzz in Beltway circles. And Haley has admitted she's looking at a run — despite an earlier promise that she would back Trump if he attempted a 2024 comeback.
The apparent effort to intimidate Scott and Haley makes Trump's Palmetto State gambit especially interesting, but it's a logical place for him to get his campaign rolling in any event. Every single Republican presidential nominee since 1980 has won the state's primary, and as the first southern state to vote, it's sort of the gateway to a delegate-rich GOP-base region. Trump's own win there in 2016 was pivotal; he won all 50 delegates in the state, crushing early front-runner Jeb Bush's candidacy and leaving rivals Marco Rubio (Haley's candidate) and Ted Cruz in serious trouble.
The question right now, though, is whether Trump's event will be deemed a success or a sign of his relative weakness. As the Washington Post reports, a lot of South Carolina Republican politicians are finding excuses to avoid the State House MAGA celebration:
Advisers to Donald Trump have blanketed South Carolina Republican officials with pleading phone calls in recent weeks in an effort to drum up endorsements and attendees for the former president's first campaign swing of the 2024 cycle next week.




But the appeals have run headlong into a complicated new reality: Many of the state's lawmakers and political operatives, and even some of his previous supporters, are not ready to pick a presidential candidate.
Haley and Scott aside, other potential candidates have been showing the flag in South Carolina, whose Republicans (like those in other early states) would prefer a competitive primary that attracts attention and campaign dollars rather than a Trump coronation, per the Post:
Former secretary of state Mike Pompeo has been running Facebook ads in the state this year promising to help "principled conservatives in South Carolina restore the American Dream!" Former vice president Mike Pence toured South Carolina last month, capping a year that saw him working closely with church leaders in the state.
There is also, of course, interest in DeSantis in South Carolina. And if Trump hopes to convince the Florida governor to skip a 2024 run and wait for his comeback campaign to end, a show of force in the early states is essential. It will be smart to closely watch Graham during the Trump event this weekend. He has pretty clearly decided that his own political future depends on maintaining good relations with the 45th president. But he's also a canny politician who can smell weakness from a mile away. And even if he plays his role of thumping the tubs for Trump in Columbia, he'll probably find a way to let the world know it if his candidate is losing altitude already.