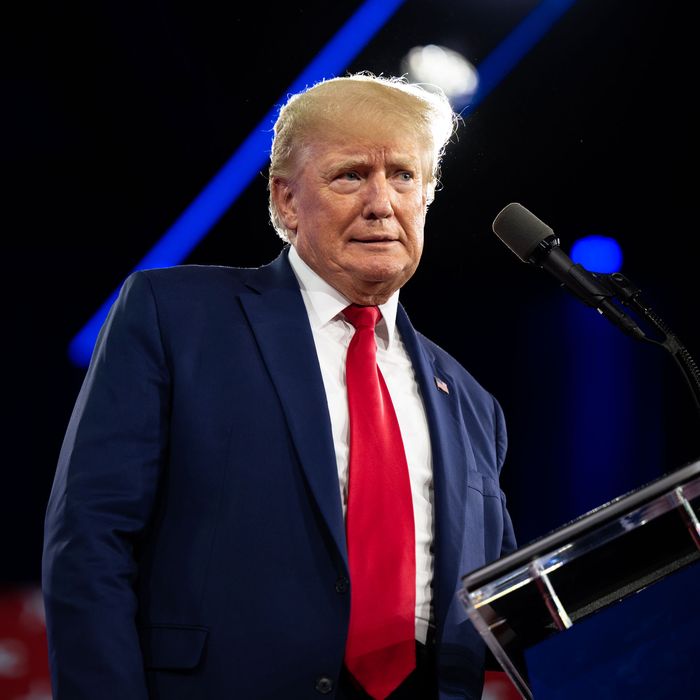 Photo: Brandon Bell/Getty Images
Filing dumb lawsuits, or at least threatening to do so, is as core to Donald Trump's being as running moneymaking schemes or accusing other people of stuff he's guilty of himself. This week, a judge called him out for this habit, and surprisingly, Trump actually faced some consequences.
On Thursday evening, Trump and the firm of his attorney, Alina Habba, were ordered to jointly pay sanctions of $937,989.39 for a suit he filed in March 2022 accusing Hillary Clinton, former FBI director James Comey, the Democratic National Committee, and many others of orchestrating "a malicious conspiracy" that he colluded with Russia to win the 2016 presidential election. U.S. District Judge Donald Middlebrooks of the Southern District of Florida dismissed the case in September. In Thursday's blistering 46-page judgment, Middlebrooks said Trump and Habba were "undeterred" by the dismissal and continued to advance their bogus claims, so he was granting a request from Clinton and 17 other defendants for sanctions.
"This case should never have been brought. Its inadequacy as a legal claim was evident from the start," Middlebrooks wrote. "No reasonable lawyer would have filed it. Intended for a political purpose, none of the counts of the amended complaint stated a cognizable legal claim."
Middlebrooks went on to describe Trump as a "prolific and sophisticated litigant who is repeatedly using the courts to seek revenge on political adversaries." He cited several other examples of Trump's frivolous legal pursuits, explaining that they're relevant because the former president is a "repeat offender, undeterred by admonitions." This included Trump's lawsuits against Twitter, multiple media outlets, and New York Attorney General Letitia James.
In November, the New York Times reported that several of Trump's longtime legal advisers told him not to file the James suit, which attempted to prevent her from accessing materials from his private trust, as it was frivolous and filing it might be considered malpractice. Nevertheless, Trump forged ahead, suing James in Florida in November, weeks after the attorney general filed a suit in New York accusing the Trump Organization, the former president, and three of his children of committing "staggering" financial fraud. Like the Russia suit, the James litigation wound up before Middlebrooks, who warned Trump in December that it had "all the telltale signs of being both vexatious and frivolous."
On Friday morning, Trump voluntarily dropped the suit against James. The brief legal document filed with Middlebrooks did not give a reason, but it's safe to assume it was a direct result of the sanctions. While a $1 million fine may mean nothing to Trump, it's likely significant to the attorneys working with him.
On the other hand, in a deposition unsealed just yesterday in E. Jean Carroll's lawsuit against Trump, whom she's accused of rape, Trump lashed out at Carroll's attorney, ranting, "I will sue her after this is over, and that's the thing I really look forward to doing. And I'll sue you too … but I'll be suing her very strongly after this." Sanctions may make it harder for Trump to find a decent attorney, but it probably won't cure his habit of attempting to misuse the legal system for vengeance.