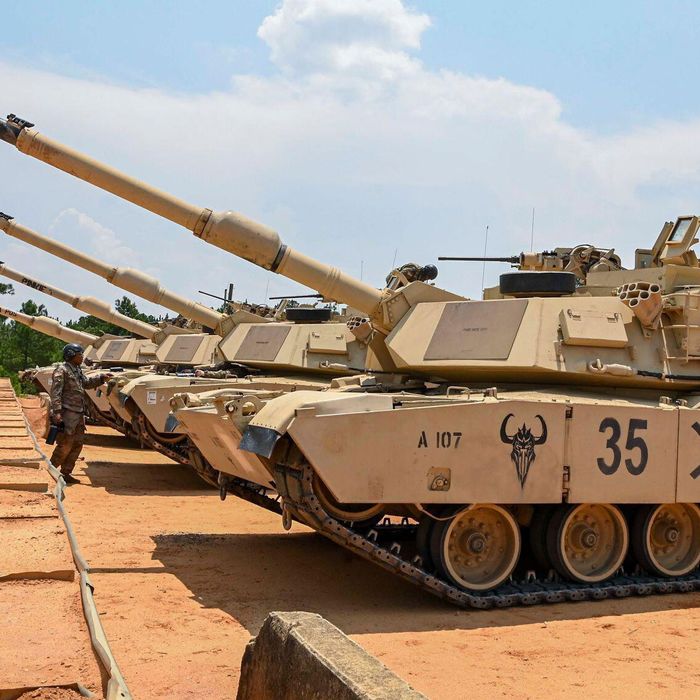 Meet the M1A1 Abrams.
Photo: Operation 2021/Alamy Stock Photo
In an act of brinkmanship that would have been unthinkable in the Cold War era, President Joe Biden announced that the United States will send 31 M1A1 Abrams tanks to Ukraine to defend against an anticipated offensive from Russian forces in the coming months. As a result, Germany will also send its coveted tanks to the east.
Biden said in a press conference that the tanks were "further evidence of our enduring, unflagging commitment to Ukraine," while adding that the shipment does not indicate a new "offensive" threat. "If Russian troops return to Russia, where they belong, this war would be over today," he said.
The roughly 70-ton tanks, which have seen combat in Iraq and Afghanistan, will be joined by 14 Leopard 2 tanks from Germany, Berlin announced on Wednesday, and 14 Challenger 2 tanks from the United Kingdom announced earlier this month. The decisions followed a long debate between the NATO nations over sending tanks to Ukraine: German defense officials had been reluctant to be the first nation to provide tanks, but reportedly agreed that they would send them if the U.S. joined the pledge. At first, the Pentagon balked, saying the tanks were too complicated (they run on jet fuel, for one thing) to be effective in Ukrainian hands.
Berlin's decision will also likely clear other European nations, such as Poland, to send their German-made tanks to Ukraine. Defense officials in Kyiv have estimated they need 300 tanks to effectively push back entrenched Russian forces. Prior to Biden's announcement, the Kremlin's spokesperson warned that the addition of U.S. tanks could be "extremely dangerous" and could bring "the conflict to a whole new level."
The Pentagon will also provide training in how to use the complex tanks, a process that is expected to take several months and will occur outside of Ukraine, according to officials. "We are talking months as opposed to weeks," one staffer told CNBC, referring to the timeline for delivery. The U.S. will also ship over eight vehicles designed to repair the tanks, in addition to 50 Bradley armored infantry-fighting vehicles. Last year, the U.S. sent close to $50 billion in assistance to Ukraine, including HIMARS rocket systems and Patriot surface-to-air missile systems.