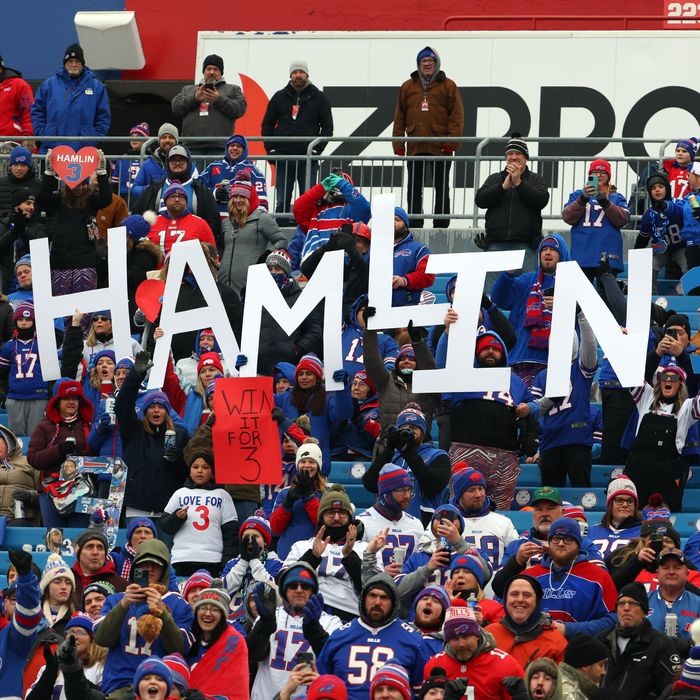 Bills fans hold signs in support of Damar Hamlin at Sunday's game.
Photo: Timothy T. Ludwig/Getty Images
In their first game since safety Damar Hamlin suffered a terrifying on-field injury, the Buffalo Bills scored on the first play after an emotional pregame tribute to their hospitalized teammate and the team staff who saved his life earlier this week. Seconds into the home game, Bills running back Nyheim Hines returned the New England Patriots' opening kickoff for a touchdown:
Hamlin, who began tweeting again on Saturday from the hospital, expressing his appreciation for the outpouring of support he has received since his injury, immediately posted his reaction to the touchdown:
Ahead of the game on Sunday, the 24-year-old had posted a photo reciprocating all the love:
The Bills took the field wearing Hamlin's No. 3 on their jerseys, as well as quarterback Josh Allen and others carrying flags paying tribute to their teammate. Before the game, the Bills and Buffalo fans also honored the team's training and medical staff, who have been credited with saving Hamlin's life and his brain function after he collapsed on the field after a tackle during Monday night's game against the Cincinnati Bengals.