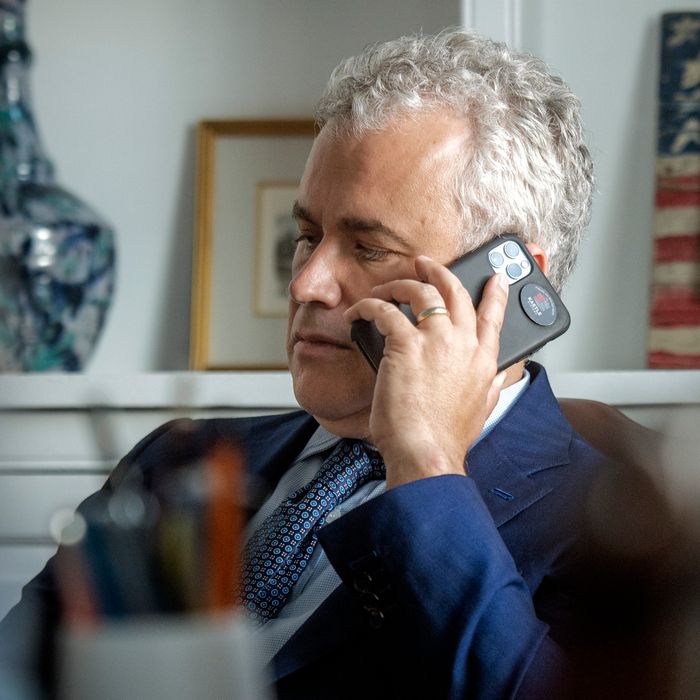 Jeffrey Zients is taking the call.
Photo: Bill O'Leary/The Washington Post via Getty Images
Former Biden administration COVID coordinator Jeffrey Zients will replace Ron Klain as White House chief of staff, according to multiple reports out Sunday. Klain is expected to step down in the coming weeks, the New York Times reported Saturday. The transition will mark the first and likely most significant change among Joe Biden's senior staff since the president took office just over two years ago.
Zients departed the White House in April after steering the administration's COVID response, then came back in the fall to work with Klain on staff issues. The Washington Post reports that "in recent weeks, Klain has assigned him different projects, which some viewed as preparing Zients for the top role." It also sounds as if that top role will come with a little less responsibility as the Biden team begins to shift into reelection-campaign mode, according to insiders.
The Times reported Saturday that "Mr. Klain takes pride that he has lasted longer than any other Democratic president's first chief of staff in more than half a century." The Biden White House has also seen none of the tumultuous turnover that Donald Trump's cabinet underwent by the midpoint of his presidency — including the ouster of two chiefs of staff.
Klain, 61, is seen as a critical force behind the Biden administration's legislative victories and several other major initiatives, including its pandemic response. The longtime Biden aide has also been, by far, the White House's most prolific (and conspicuous) Twitter user. Zients, 56, doesn't tweet — like at all.
Zients, a former management consultant, originally served in the Obama administration, then returned to the private sector, including a stint on the board of Facebook. He eventually joined the Biden campaign, served as co-chair of his transition team, and then took over the U.S. COVID response and ran the country's vaccine rollout.
This post has been updated to include the news that Zients will replace Klain.