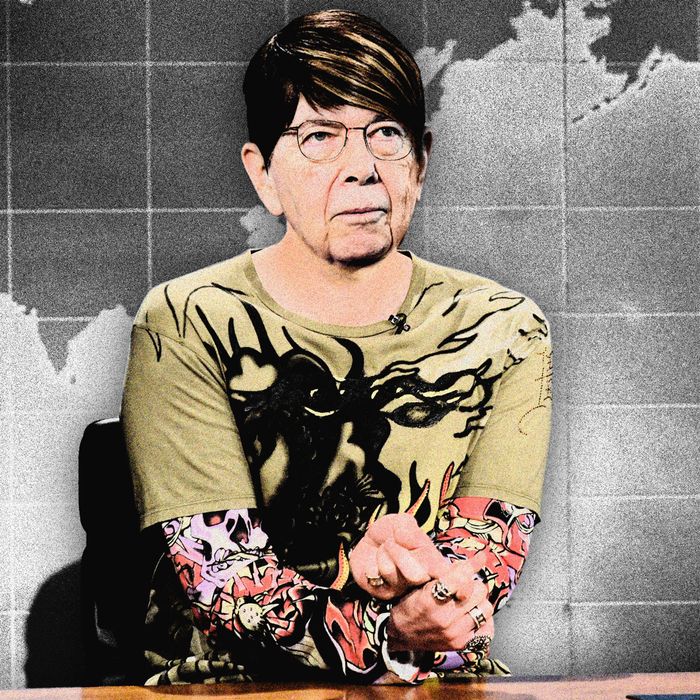 Stefon and Wilbur Ross: Separated at birth?
Photo-Illustration: Intelligencer; Photo: Simon Dawson/Bloomberg via Getty Images, Will Heath/NBCU Photo Bank/NBCUniversal via Getty Images via
The last time we checked in on Wilbur Ross back in fall 2021, the former Commerce secretary was escaping prosecution for lying to Congress about the 2020 Census and pitching Trump-branded condos on the moon. Now the billionaire investor has made headlines again by throwing an 85th-birthday party that's so cool it would make Kendall Roy break down and cry (uh, even more). According to the write-up in the Palm Beach Daily News, Ross's party had everything:
Billionaires
Around 200 people showed up to last week's soirée, which the paper described as a "party for the ages." The guest list included Donald and Melania Trump, at least five ambassadors, and a heck of a lot of billionaires:
Really, it was hard to tell the guest list from the Forbes billionaires list. We saw all manner of Mr. Moneybags — Steve Schwarzman ($29B) with Christine; Tom Peterffy ($20B) with Lynn Wheat; Bob Kraft ($10B) with his new bride Dana; Charlie Johnson ($5B) with Ann; and Woody Johnson ($7B) with Suzanne.
Sylvester Stallone
What do the actor known for playing Rocky Balboa and the former Cabinet official known for falling asleep during meetings have in common? Well, Stallone and his wife Jennifer own a $35.375 million waterfront mansion in Palm Beach and he's been spotted at Trump's Mar-a-Lago (though he says he isn't a member). But otherwise, their connection is a mystery.
An obscure Trump relative
Another surprising FOW (Friend of Wilbur): Blaine Trump. According to Wikipedia, she's a socialite, a philanthropist, and a bona fide member of the Trump clan (she was married to Donald's late brother for 29 years).
Champagne served in "subpar" glasses
The Daily News says the "retro evening" featured Champagne "served in those coupe glasses that you see on Mad Men." According to AdvancedMixology.com, "In terms of supporting the elemental flavors of champagne, this vintage champagne glass is quite subpar." That may be true, but Ross couldn't re-create this iconic Leo GIF with a Champagne flute.
A guy wearing a jet pack
The evening began with "cocktails and hors d'oeuvres on the lakeside terrace, where a guy wearing a jet pack put on a one-man aerobatics show," according to the Daily News.
Didn't realize that jet packs exist outside the Star Wars universe? Let us remind you of the existence of this classic clip, which may or may not have resembled the entertainment at Ross's party.
Caviar on a baked potato
The Palm Beach Daily News reports:
After cocktails, guests moved to the "Club El Morocco" party pavilion for a dinner of baked potato and caviar, chicken paillard with bundled vegetables, and so much fine wine that even a former ambassador to France nodded his approval.
Rich people are eating caviar on plain old baked potatoes? To quote Trump, "Wow. I didn't know that, you're telling me now for the first time."
The Daily News never says exactly where this party took place; maybe it was an accidental omission, or maybe Ross just wants to prevent riffraff like me from crashing his next party.