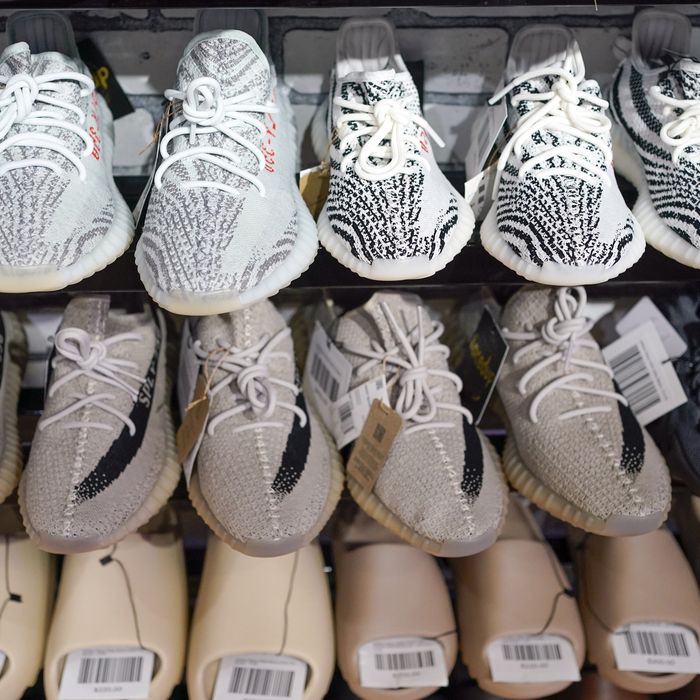 Photo: Seth Wenig/AP/Shutterstock
Kanye West, the artist now formally known as Ye, has been keeping a low profile over the past month, limiting the damage after going so deep into antisemitic conspiracies last year that he made even Alex Jones uncomfortable. Though the bipolar rap and fashion mogul hasn't been stirring up any new trouble in recent weeks, the effects of his 2022 press tour from hell are still reverberating at Adidas, the company that housed his billion-dollar Yeezy sneaker brand. Simply put, it has no idea what to do with all his shoes it can't sell.
CEO Bjørn Gulden announced in a press release late on Thursday that it could lose $1.3 billion in revenue this year if it can't sell all their warehoused Yeezys — around $530 million worth of shoes, according to the Financial Times. Adidas expects a high-single-digit sales decline this year and that operating profit would drop around $530 million if it can't sell off the shoes. "The numbers speak for themselves," Gulden said. "We are currently not performing the way we should."
When West began ranting about antisemitic conspiracies and saying things like "I like Hitler" last year, Adidas promptly ended their partnership deal, causing the rapper to lose his billionaire status and the company to lose over $1 billion in sales. But because Adidas owns the rights to most of the sneaker designs and controls the actual sneakers that have already been made, it's still a major problem for the company's bottom line. While there are entire industries selling off things people don't want (like out-of-season clothing), the Yeezy brand is tarnished and can't just be sold at a serious discount (like Nike's Kyrie Infinity, which have been on sale for up to half-off after Kyrie Irving's own antisemitism scandal).
What is the world's second-largest sports brand to do? Adidas could donate the sneakers to developing countries, similar to the merch that's produced ahead of the Super Bowl that says the losing team were the champions. Gulden, who took over in January, said little on Thursday except for noting that Adidas could write off its remaining products.
In a podcast appearance last October, West predicted that he was impervious to financial backlash to his hateful statements: "I can say antisemitic shit, and Adidas can't drop me." He wasn't right in an acute sense: Yeezy no longer has a corporate home and Gap and Balenciaga also cut ties with him. But he was right that Adidas can't drop its Ye problem so easily. When the company announced it didn't know what to do with its Yeezys, Adidas shares fell another 11 percent.