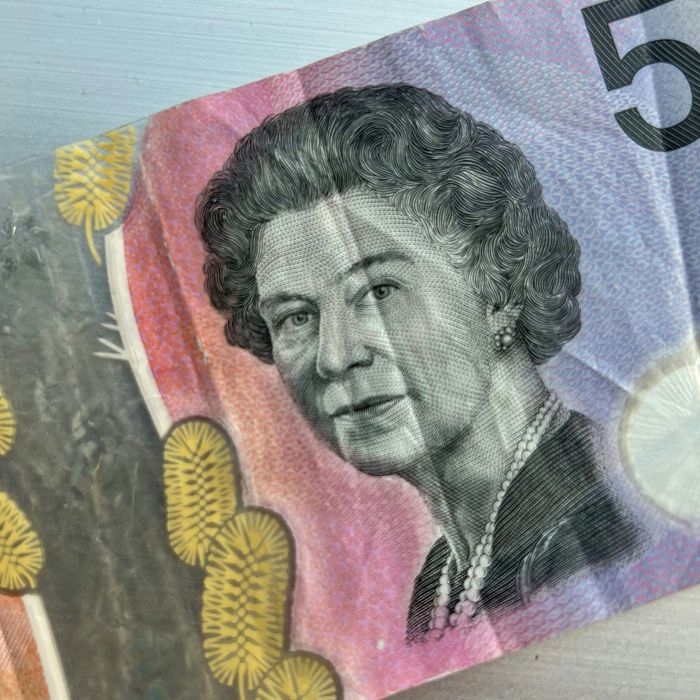 In Elizabeth they trust, but not so much Charles.
Photo: Mladen Antonov/AFP via Getty Images
As Prince Charles endured relentless mockery over the state of his marriage, his romantic tampon metaphors, and his unusually plump digits, he probably comforted himself with the thought that once he became King Charles III, he would finally get some respect. Instead, Prince Harry is telling the world that Charles likes to exercise in his boxers, he can't even make fancy pens bend to his will, and the Australians are refusing to put his mug on their banknotes.
Australia's central bank announced on Thursday that King Charles will not succeed his mother, Queen Elizabeth II, on the country's new $5 bills. Instead, the queen will be replaced by a new design honoring "the culture and history of the First Australians." The Reserve Bank said in a statement:
The Bank will consult with First Australians in designing the $5 banknote. The new banknote will take a number of years to be designed and printed. In the meantime, the current $5 banknote will continue to be issued. It will be able to be used even after the new banknote is issued.
The $5 banknote has featured a portrait of Elizabeth since 1992. Once the design is phased out, a British monarch, also Australia's head of state, won't be featured on any of its banknotes.
Elizabeth's death in September intensified the long debate over the legacy of British colonialism and what relationship former colonies should have with the monarchy. Australia is currently a constitutional monarchy, like the U.K. The last major attempt to make it a republic failed in a 1999 referendum in which 55 percent of Australians voted against giving their parliament the power to choose Australia's head of state. But now, Australian prime minister Anthony Albanese, who was elected last year, appears to be taking steps toward another referendum. In October, he said his government would hold a listening tour in 2023 to hear the public's views on the issue.
Some Australian lawmakers celebrated the change to the $5 banknote as a major step toward decolonization:
But others, like Peter Dutton, the leader of Australia's right-wing opposition party, dismissed it as "woke nonsense" and an "attack on our systems, our society and institutions."
Clearly, Australia's issues with the monarchy go deeper than a personal dislike of Charles. And he will still appear on newly minted Australian coins. But it has to be tough for "Pa" to be relegated to pocket change.