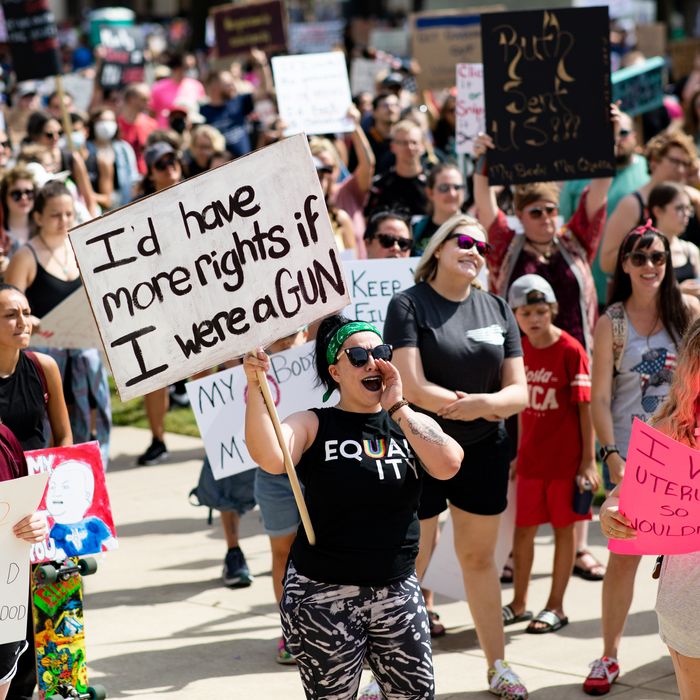 Protesters in Michigan before a major abortion-rights victory at the ballot box in 2022.
Photo: Emily Elconin/Bloomberg via Getty Images
During the near half-century in which the Supreme Court precedent of Roe v. Wade protected the right to choose abortion, public-opinion research on the topic tended to be of questionable value. Respondents were asked to categorize themselves as "pro-life" or "pro-choice," depending on their subjective self-definitions. Polls asked people to engage in hair-splitting on the degree to which they wanted abortion to be legal or illegal. And the whole subject was overshadowed by the fundamental reality that political maneuvering on abortion policy had limited consequences for a majority of voters (though not for those who couldn't access or afford abortion services).
With Roe gone, the basic laws governing reproductive decisions depend to an enormous extent on where one lives, and abortion policy is a central and urgent political decision (at least outside those few states that have re-enshrined abortion rights in state constitutions). So it's getting easier for pollsters to weigh how the public feels about what should happen on abortion policy.
There's already clear evidence that the abortion backlash had a tangible effect on the 2022 midterm elections and the underperformance of Republicans compared to historical precedents. But the effect on political preferences is ongoing:
The pro-choice majority that has always existed is now clearly being mobilized by what the Supreme Court and Republican state legislators and governors have wrought, as Gallup recently found:
Americans are more dissatisfied with U.S. abortion policies now than they have been at any point in Gallup's 23-year trend, and those who are dissatisfied are three times as likely to prefer less strict rather than more strict abortion laws.




The record-high 69% of U.S. adults dissatisfied with abortion laws includes 46% who prefer that these laws be made less strict, marking a 16-percentage-point jump in this sentiment since January 2022. In addition, 15% of Americans are dissatisfied and favor stricter laws, and 8% are dissatisfied but want them to stay the same.
The number of unhappy pro-choice respondents is striking for several subgroups:
The percentage of women who are dissatisfied with U.S. abortion policies and support less strict laws has risen 18 points this year to 50%, compared with a 13-point increase among men to 41% over the past year. Both readings are the highest on record for those groups …




For the first time in Gallup's trend, pluralities of Catholic (38%) and Protestant (37%) Americans and a majority of those with no religious identity (69%) express dissatisfaction with abortion policies and a preference for less strict laws …




Before 2022, dissatisfied Catholics and Protestants were typically more likely to favor stricter rather than less strict abortion laws.
What do dissatisfied pro-choice Americans want to do about it? According to an NPR-Ipsos poll last month, they want to decide abortion policy themselves:
Without a federal law in place, state abortion policies are shaped by lawsuits, state laws and constitutional amendments.




A majority of Americans say they would like the decision to be in their hands, not elected officials. Nearly 7 in 10 of those surveyed say they would strongly or somewhat support their state using a ballot measure or voter referendum to decide abortion rights, if they had the option, rather than leaving the decision to state lawmakers.
After pro-choice voters won all seven ballot tests in 2022, there's a grim battle underway elsewhere to provide or deny voters a chance to weigh in on abortion in 2024. As NBC News reported late last year, the potential landscape for abortion ballot initiatives is quite broad:
Activists are already planning citizen-led ballot initiatives that would enshrine abortion rights in the constitutions of 10 states: Arizona, Arkansas, Florida, Missouri, Montana, Nebraska, North Dakota, Ohio, Oklahoma and South Dakota.




Those states all ban or restrict abortion, and it is also legal for citizens to initiate ballot proposals that amend the states' constitutions.
Given these realities, it's unsurprising that the anti-abortion activists whose battle cry for decades was to let the people decide are now beginning to rely on right-wing judicial activists determined to ban abortion from the bench, or a bit down the road, a Republican trifecta in Washington willing to override the states and ban abortion nationally. The stakes for 2024 are rising steadily.