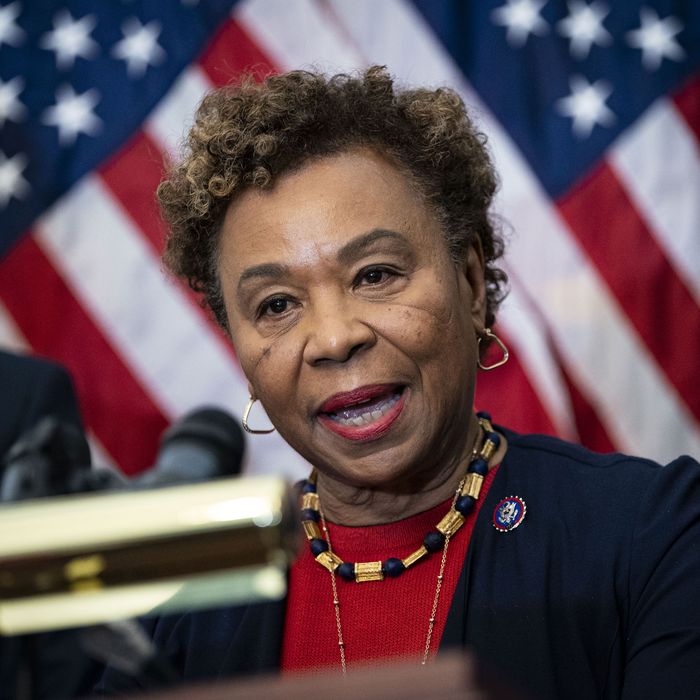 Photo: Al Drago/Bloomberg via Getty Images
California congresswoman and progressive icon Barbara Lee is the latest Democrat to enter the 2024 contest to replace Dianne Feinstein in the U.S. Senate. She's 76 years old, which means if she won she would be the oldest person ever to win a first election to the Senate, displacing Mitt Romney. She also badly trails announced Senate rivals and House colleagues Katie Porter and Adam Schiff in fundraising, which is crucial in a state with multiple expensive media markets.
But Lee is not someone who minds defying the odds or paving her own path, as my colleague Rebecca Traister explained in a 2018 interview with Lee:
I asked her what it feels like, as the leftmost member of her party for almost 20 years, having so often stood alone, to watch as that body moves toward her.




She smiled and recalled something that [her mentor Ron] Dellums used to say. "Look, if you know you're right, if you think this is gonna create more justice and more peace, take your position, stand on that corner, just keep standing on that street corner.' "
Lee is nationally famous for having cast the only vote in Congress against the 2001 authorization of military force following September 11, which became the legal foundation for the original invasion of Afghanistan and 36 other U.S. military operations over the years. She has been slowly vindicated by events culminating in the disorderly U.S. withdrawal from Afghanistan in 2021. She's also been well ahead of her party — at least from a progressive viewpoint — on a wide array of issues since she was elected to the House in 1998 from the Oakland district represented by her former boss Ron Dellums, himself a legend in antiwar politics.
Other than battling military deployments, Lee is probably best known for her fierce advocacy of federal funding of abortion services via repeal of the Hyde Amendment, and for promoting programs targeted to the needs of low-income and marginalized Americans generally. In many respects, her commitment to social justice and civil rights reflects her personal experience: She grew up in Jim Crow Texas and was the victim of domestic violence; she also had to resort to a back-alley abortion in Mexico in the days before Roe v. Wade.
Lee's assets as a candidate are not limited to her iconic status among progressives. If Porter and Schiff wind up as her major competitors, Lee will be the only candidate from Northern California. She would also be the only non-white candidate in a state where white people have been a minority since the beginning of this century. If a fourth U.S. House member, Ro Khanna, jumps into the contest, Lee might lose some of her distinctiveness. In addition to being from Silicon Valley, Khanna is Asian American (Asian Americans and Pacific Islanders are about three times as numerous in California as African Americans) and also has close ties to the Bernie Sanders faction of the Democratic Party (Lee was neutral in the 2016 primaries and endorsed Harris in 2020). Porter, who is being backed by her former law professor Elizabeth Warren, also has solid progressive credentials.
Another complication for Lee is California's top-two primary system, in place since 2012. Normally, a progressive like Lee in a deep-blue state like California might hope to win a plurality in a Democratic primary and then win the general election via party-line voting. But her state has no party primaries. That means two Democrats could wind up in a general election (that happened in both the 2016 and 2018 Senate races), and regardless of Lee's opponent, she is not likely to win many Republican votes. Conversely, if a Republican candidate emerges as a credible threat to finish in the top two, Democratic voters and opinion-leaders might develop electability concerns about Lee. And in any event, Lee will have to assume someone will spend money to publicize the more controversial aspects of her career, such as her unrepented work for the Black Panther Party.
Nobody should doubt Lee's strength of character or her effective combination of principle and pragmatism. But she'll need all of the moral and political capital she's been storing up for decades — and maybe a bit of luck — in order to win this Senate race.