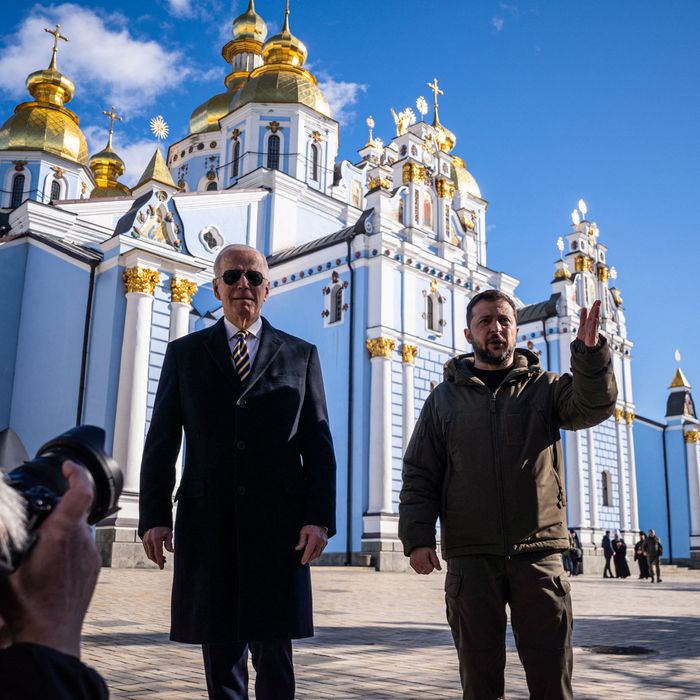 President Joe Biden walks next to Ukrainian President Volodymyr Zelenskyy in front of St. Michaels Golden-Domed Cathedral in Kyiv on Monday.
Photo: Dimitar Dilkoff/AFP via Getty Images
President Joe Biden made a surprise, albeit not totally unexpected, appearance in Ukraine on Monday, where he vowed continued U.S. support and announced $500 million in additional military aid for the embattled country. The visit to the war zone started a half day before Biden had been scheduled to begin a foreign trip in neighboring Poland and less than a week before the first anniversary of the beginning of Russia's invasion.
"One year later, Kyiv stands," Biden declared after meeting with Ukrainian president Volodymyr Zelenskyy. "And Ukraine stands. Democracy stands. The Americans stand with you, and the world stands with you." Zelenskyy thanked Biden for coming, calling it a "huge moment" for the country.
Biden added in a statement that the aim of the trip was to "reaffirm our unwavering commitment to Ukraine's democracy, sovereignty, and territorial integrity."
Presidents Biden and Zelenskyy briefly walked around outside in Kyiv as air raid sirens blared in the background — on account of a Russian MiG having just taken off in Belarus armed with a hypersonic missile, the Ukrainian military said, but the city wasn't attacked during the roughly five hours Biden was there. The White House had alerted Russia hours ahead of Biden's arrival "for deconfliction purposes," according to National Security Adviser Jake Sullivan. Extra security measures were also put in place by Ukrainian authorities in the city before and during Biden's visit.
Biden's secret trip, the first ever by a U.S. president to an active war zone not occupied by American forces, took 10 hours by train from Poland, since Ukrainian airspace was deemed too risky for a flight. The White House had reportedly been planning for the possibility of the trip for months, though Biden didn't make a final decision to go until Friday. Multiple other world leaders, including former British prime minister Boris Johnson, had already traveled to Ukraine since the invasion, as had top Biden aides and First Lady Jill Biden.
The president's big symbolic visit comes as polls show the American public's support for ongoing U.S. assistance to Ukraine — already $30 billion and counting, and now including a promise of battle tanks — has dropped off since last spring. Some Republicans in the now GOP-controlled House, including Speaker of the House Kevin McCarthy, are opposing the continued spending, while Donald Trump is claiming that only he can quickly end the conflict and stave off a nuclear apocalypse. Biden's cameo in Kyiv also came less than two days after U.S. officials warned that China was considering sending so-called lethal aid to Russia for the first time.