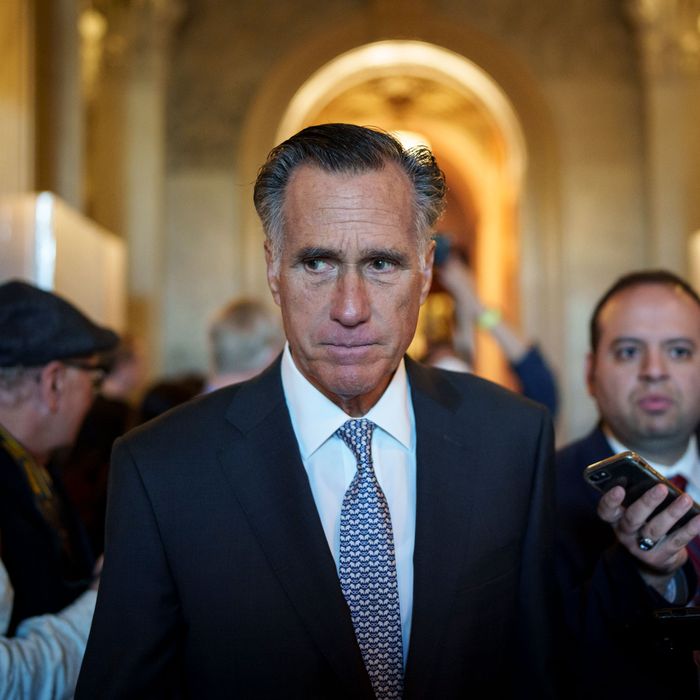 Is DeSantis the least of three evils for Mitt Romney?
Photo: Drew Angerer/Getty Images
Florida governor Ron DeSantis is obviously making an impressive bid to displace Donald Trump as the favorite politician of the MAGA movement that Trump founded. But what puts DeSantis in such a strong position for the 2024 Republican presidential nomination is that he may also win support from those in the GOP who will back almost anyone who's not the 45th president. DeSantis's ace in the hole with these Republicans is the near-universal belief that Trump will defeat a divided field — just as he did in 2016. So it's entirely possible that DeSantis will become the candidate of Trumpism Without Trump and Never Trumpism simultaneously. That could be an unbeatable formula.
The latest sign that DeSantis could pull off this trick comes from one of the great symbols of both pre-Trump and anti-Trump conservatism. Mitt Romney, 2012 GOP presidential nominee, is publicly expressing anxiety over the "Trump in a divided field" scenario, as reported by NBC News:
Sen. Mitt Romney is warning his fellow Republicans that former President Donald Trump is best-positioned to emerge from a crowded primary as the party's presidential nominee in 2024, and that the only way to stop him is to ultimately shrink the field to a one-on-one contest against a viable alternative.




"I think President Trump is by far the most likely to become our nominee," the Republican senator from Utah said in the Capitol on Wednesday. "If there's an alternative to that, it would be only realistic if it narrows down to a two-person race at some point."
This was a not-so-veiled warning to Nikki Haley, who announced her presidential bid this week, and to others weighing a 2024 run — such as former vice-president Mike Pence, Senator Tim Scott, Governor Chris Sununu, former secretary of State Mike Pompeo, former governor Asa Hutchinson, and who knows who else. No, Romney didn't name names, but it's very obvious from early polling that the only potential candidate who's in a position to go head-to-head with Trump right now is DeSantis. Indeed, the consistent finding in the polls is that Trump leads a multicandidate field but would be in trouble in a two-candidate battle with DeSantis. So there's no question as to whom Romney was talking about. And the Utah senator knows a little something about the dynamics of crowded presidential fields, having been a casualty of one demolition derby in 2008 and the survivor of another in 2012.
Obviously, Romney doesn't speak for all Never Trumpers. As Vanity Fair's Caleb Ecarma explained in July, that far-flung tribe of moderates, Reaganite conservatives, anti-anti-Trump partisans, and simple moralists is all over the place on DeSantis, who is clearly aping Trump's savage "own the libs" culture-war appeal while wrapping it in a much younger and more electable package:
"A case can be made that Donald Trump and his complete contempt for the rule of law is uniquely dangerous, so anyone who is not Donald Trump is marginally less horrific," said Charlie Sykes, cofounder and editor-at-large at the conservative outlet The Bulwark, in an interview with Vanity Fair. "But is that going to be the standard for Republican primary voters — less horrific than Trump?"
Maybe so, at least for politicians like Romney, who voted twice to remove Trump from office in impeachment trials and (as reported by my colleague Gabriel Debenedetti) privately begged Joe Biden to run for president in 2020 to keep Trump from winning a second term. Romney vows he won't vote for the 45th president in 2024 and says it's "very unlikely" he'd vote for Biden. That sure makes DeSantis look like the least of three evils.
Perhaps some Never Trumpers are holding out hope that someone other than the two overwhelming front-runners for 2024 will somehow catch fire in the months ahead — whether it's Haley, Pence, Scott, Pompeo, or some fantasy figure like Larry Hogan or Liz Cheney (from a Republican Party that no longer exists) running in a "lane" to nowhere. More likely, they are going to have to come to grips with an ultimate choice of DeSantis or Trump versus Biden. If they begin to dutifully line up behind the Scourge of Disney in order to stop a Trump comeback, DeSantis could put together a mind-bending coalition ranging from moderately conservative Establishment types to the scariest elements of the online far right. In the end, that might be the cruelest trick Trump has ever played on his party and his country: making the U.S.'s answer to Viktor Orbán seem like a sensible alternative.