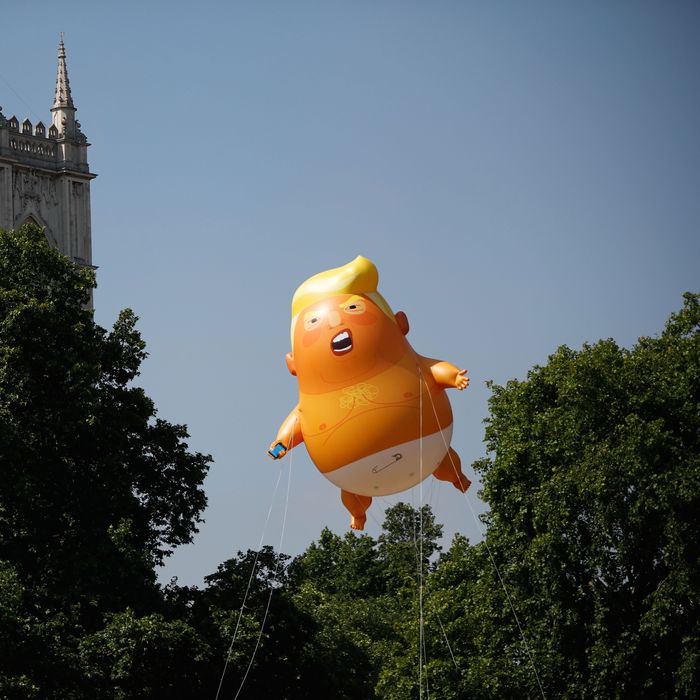 Photo: Tolka Akmen/AFP via Getty Images
If Donald Trump is deeply hurt by being called "Drumf," "Cheeto Jesus," or some of the many other derisive nicknames his critics have hurled at him, he's never showed it. But one goofy symbol of "the resistance" did seem to get under his skin: the "Trump Baby" balloon.
The 20-foot balloon debuted over London's Parliament Square in July 2018 as an estimated 250,000 people took to the streets to protest Trump's first visit to the U.K. At the time, Trump admitted to The Sun that the protesters had accomplished their mission of making him feel "unwelcome," so he'd be staying away from the capital.
"I guess when they put out blimps to make me feel unwelcome, no reason for me to go to London," he said. "I used to love London as a city. I haven't been there in a long time. But when they make you feel unwelcome, why would I stay there?"
Trump can't be pleased that the original baby balloon, as well as six U.S.-based copies, now follow him all over the world. But his son, at least, is ready to laugh about it.
On Sunday, Donald Trump Jr. retweeted a joke by Twitter user Ricky Diaz about Trump using the baby balloon to retaliate against China for sending a spy balloon over the U.S. :
Don Jr. didn't seem too worried about his dad seeing his appreciation of Trump-baby-related humor. In fact, he (or someone on his social-media team) took a screenshot of the original tweet so he could let his Truth Social followers know he thinks "this is funny." Either DJT doesn't care anymore or he was too busy to notice; he spent the weekend posting "truths" accusing President Biden of lying about similar Chinese balloon incursions into U.S. airspace occurring during his administration.
While Biden had the Chinese surveillance device shot out of the sky Saturday, its balloon brother is living its best life. The original Trump-baby balloon survived a 2019 stabbing by a Trump supporter and was donated to the Museum of London in 2021. A team of scientists have from University College London and the University of Ljubljana, Slovenia, have been studying how to preserve the blimp, and last month it was reinflated as a final test. The balloon is expected to go on display as part of the museum's protest collection when it relocates to West Smithfield in London in 2026.