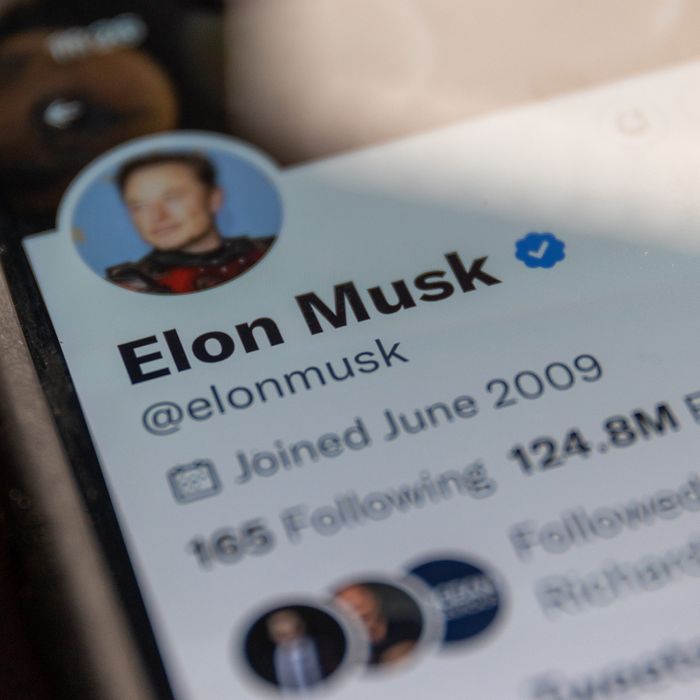 Photo: Matt Cardy/Getty Images
As many have pointed out, Elon Musk upended the axiom "Each day on Twitter there is one main character. The goal is to never be it." Since Musk bought Twitter in October, he's been the site's only main character. And Musk's goal is to make sure that's always the case — to the point that he forced a team of engineers to frantically rework Twitter's algorithm to make sure everyone sees his tweets.
Platformer's Zoë Schiffer and Casey Newton report that's what happened immediately after the Super Bowl, when this boring Musk tweet (which he subsequently deleted) generated only 9.1 million impressions:
Meanwhile, President Biden's also kind of boring pro-Eagles tweet got around 29 million impressions:
James Musk, Elon's cousin, sent a Slack request to Twitter engineers at 2:36 a.m. Monday to ask for their help with a "high urgency" task. "We are debugging an issue with engagement across the platform," he wrote. The "issue" was actually Musk feeling sad that we're not paying attention to him.
The issue predates the Super Bowl tweet, as Platformer reports:
In recent weeks, Musk has been obsessed with the amount of engagement his posts are receiving. Last week, Platformer broke the news that he fired one of two remaining principal engineers at the company after the engineer told him that views on his tweets are declining in part because interest in Musk has declined in general.

His deputies told the rest of the engineering team this weekend that if the engagement issue wasn't "fixed," they would all lose their jobs as well. 




Late Sunday night, Musk addressed his team in-person. Roughly 80 people were pulled in to work on the project, which had quickly become priority number one at the company. Employees worked through the night investigating various hypotheses about why Musk's tweets weren't reaching as many people as he thought they should and testing out possible solutions.
Twitter updated its code to "greenlight" all of Musk's tweets, allowing them to bypass filters meant to feed people the best content. Musk is now the only recipient of what is known internally as a "power user multiplier," which means his tweets are boosted by a factor of 1,000. By Monday afternoon, the CEO's posts were flooding users' "For You" feeds.
Musk acknowledged this with a tweet based on the "forced to drink milk" meme. Early on Tuesday morning, he suggested his team is still working out some bugs.
According to Platformer, Musk's posts are now being artificially boosted by a factor lower than 1,000, but his most recent tweets are still getting more impressions than they were before the "power user multiplier" was invented.
It seems unlikely that Musk will just get over his desperate need for attention, so I have a plea for conscientious Twitter users: Keep engaging with Elon's tweets, or this "extremely hardcore" yet extremely tired bunch of Twitter engineers gets it.