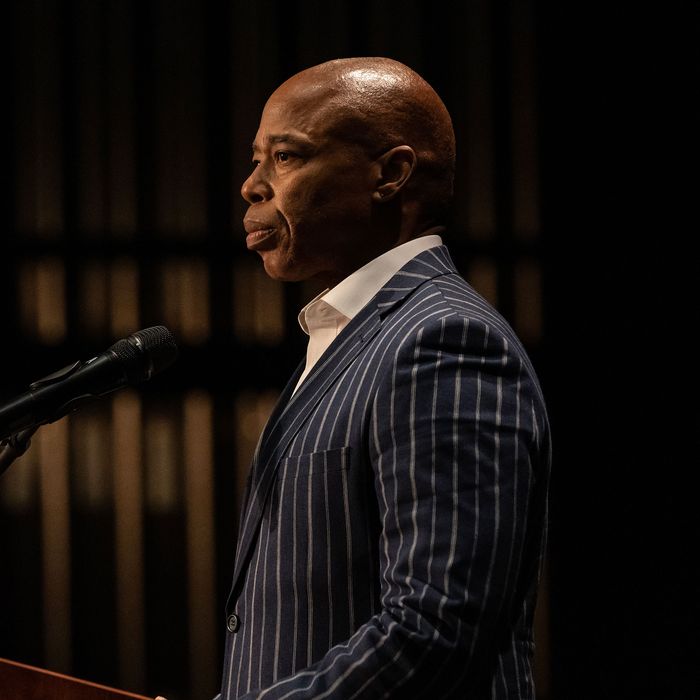 Photo: Lev Radin/Pacific Press/LightRocket via Getty Images
After causing a stir earlier this week with his comments about "woke" Democrats, Mayor Eric Adams doubled down on his remarks and directed harsh words toward members of the New York City Council while doing so.
Things began during an interview on MSNBC's Morning Joe on Wednesday, the morning after President Joe Biden's State of the Union address. Adams, who attended the speech as a guest of Representative Adriano Espaillat, was asked about the disconnect between working-class voters and the Democratic Party. Adams, who was a registered Republican for several years, said that there's been "a hemorrhaging of our Latino community, our AAPI communities that's leaving the traditional Democratic base."
Adams cast blame for the trend on some party members, referring to them as "the loudest, and those who consider themselves to be 'woke.'" He said that Democrats "have to speak at those issues that are important: jobs, public safety, educating our children, good health care. Just these common kitchen-table issues that we moved away from."
On Thursday, Adams was asked about his comments on CNN This Morning, with anchor Don Lemon noting that Biden said he was against defunding the police during his address. The mayor went even further, saying that "a small number" of the "loudest" Democrats have "hijacked the true meaning of the Democratic Party."
He went on, "We're not for defunding the police. We're not for attacking businesses. We're for jobs. We're for growth."
The mayor then referred to an ongoing situation with the City Council. As reported by the New York Post, the body's Progressive Caucus recently asked members to sign onto a two-page "Statement of Principles," which includes a line that reads: "We will do everything we can to reduce the size and scope of the NYPD and the Department of Correction, and prioritize and fund alternative safety infrastructure that truly invests in our communities." Nine council members have left the caucus following the circulation of the statement, according to Gothamist.
"They're calling for removing members of their own caucus if they don't sign a pledge to defund the police," Adams said. "That is not who we are as Democrats."
In a statement, the Progressive Caucus's leadership defended its policy stance.
"Unlike the mayor, we want guidance counselors supporting our students with mental health crises instead of cops; we want social workers to get homeless New Yorkers the support they need instead of the NYPD. The mayor is cutting essential services that working New Yorkers rely on the most, and we think that approach threatens the safety of our communities," said Progressive Caucus co-chairs Shahana Hanif and Lincoln Restler and vice-chairs Carmen De La Rosa and Jennifer Gutieěrrez.