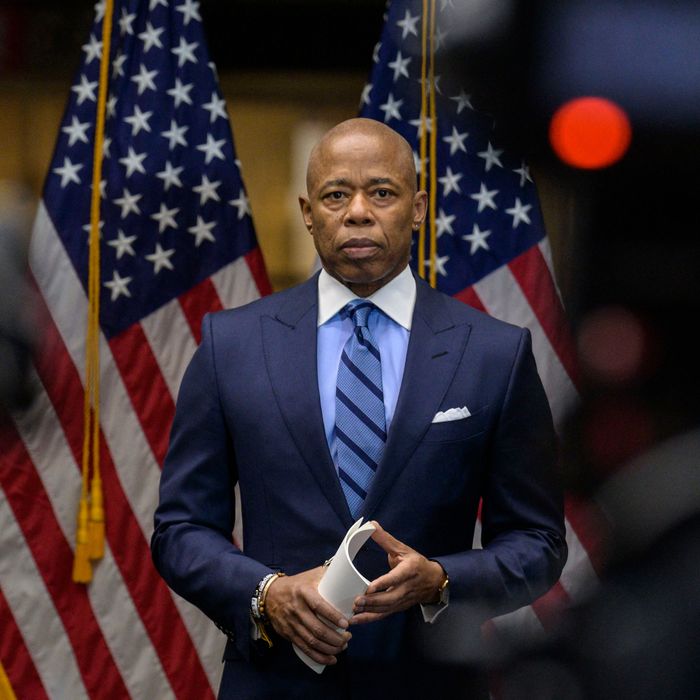 Photo: ANGELA WEISS/AFP via Getty Images
Mayor Eric Adams's approval rating is declining among New Yorkers, according to a newly released poll.
A Quinnipiac University survey conducted last week found that 37 percent of registered voters in the city approved of the job that Adams is doing as mayor, with 43 percent who disapprove. This marks a significant change from a May poll that showed Adams with a 43 percent approval rating to a 37 percent disapproval.
As it has been for a while, the top issue among 41 percent of voters is crime, and they disapprove of his handling 57 to 36 percent. Affordable housing ranks far behind as the city's most urgent issue, at 17 percent, and homelessness at 12 percent. Two-thirds of voters said they consider crime to be a "very serious" problem, compared to 6 percent who said it's a "not very serious" problem. In terms of safety, 39 percent of respondents said they feel less safe than they did a year ago while 53 percent said they feel about the same. Only 8 percent of voters said they felt more safe after one year of Adams on the job.
Voters appeared to be more aligned with the mayor when it comes to the increase of asylum seekers in the city: 70 percent called the influx of migrants a "crisis," with 63 percent thinking that the city can't accommodate the number of new arrivals, something that Adams has been extremely vocal about. They also agreed with Adams's assessment that Washington needs to play a larger role in the situation, with 82 percent saying the federal government has a responsibility to assist the city.