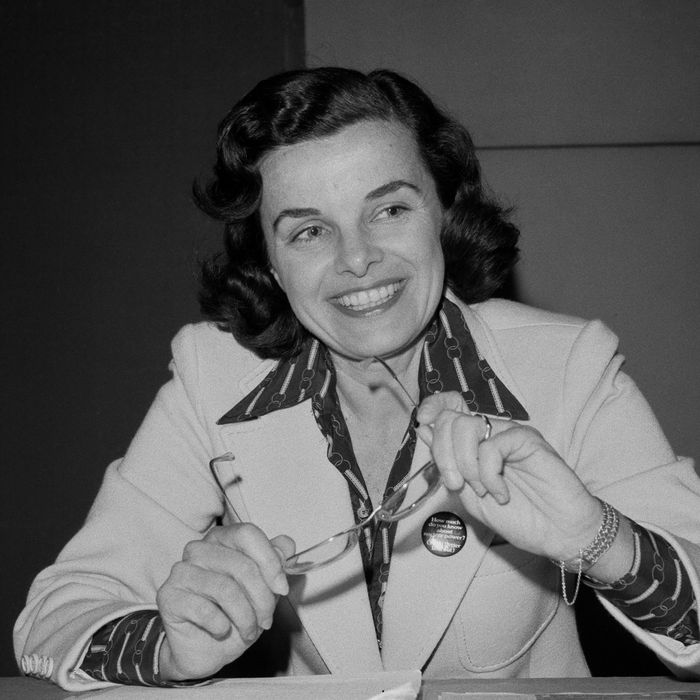 The future mayor and senator as a San Francisco supervisor in 1974.
Photo: Janet Fries/Getty Images
California senator Dianne Feinstein has finally made her retirement at the end of next year official. No one really expected her to run for a sixth full term in 2024; a prodigious fundraiser for many years, 89-year-old Feinstein hadn't lifted a finger to begin financing another bid. She and her staff were already dealing with widespread reports that she was struggling through a variety of age-related ailments to perform her duties. Still, she had recently told one media outlet she would make no formal announcement of her 2024 plans … until 2024. And she seemed to experience some momentary confusion over the timing of her announcement when it was finally released.
In any event, her decision to bow out of a 2024 race in February 2023 was an act of mercy toward the would-be successors who are already lining up for the expensive and competitive contest to occupy her seat. So far, the field includes U.S. House members from the Los Angeles area Katie Porter and Adam Schiff, who will reportedly soon be joined by their Oakland colleague Barbara Lee and perhaps by their Silicon Valley colleague Ro Khanna.
Before she steps down, though, Feinstein will surely receive appropriate appreciation for her long and remarkable career. She didn't reach the U.S. Senate until 1992, when she was nearly 50. As my colleague Rebecca Traister explained in a recent profile, Feinstein won her first election, as San Francisco supervisor, in an upset back in 1969:
Since then, Feinstein has lost as much as she has won. She has lost two husbands to cancer, two colleagues to assassination, and tens of thousands of her city's residents to the AIDS epidemic. She served on the Board of Supervisors for eight tumultuous years, and she ran and lost two mayoral races before serving as mayor of San Francisco for nine years. She was considered and passed over as a vice-presidential candidate in 1984, lost a California gubernatorial election in 1990, then won six elections to the United States Senate, where she serves as the fifth-most-senior senator.
Feinstein drew national attention upon assuming the mayorship of San Francisco after the shocking assassinations of Mayor George Moscone and Supervisor Harvey Milk, a gay-rights pioneer, right down the hall from her office. Once in the Senate, Feinstein built a durable legacy of progressive initiatives on gun control and LGBTQ+ and reproductive rights. But she has also been a dedicated defender of bipartisanship and Senate traditions, including (until very recently) the filibuster.
Now Feinstein can wind down her more-than-half-century career in public office at her own pace. She may play a role in the race to identify her successor. Unlike Feinstein, who won her first Senate contest by defeating appointed incumbent Republican John Seymour, the Democrats seeking her seat won't have to worry much about competition from the other party. More likely than not, two Democrats will face off in the general election as survivors of the top-two nonpartisan primary. In this, as in so many other ways, Feinstein will leave office as a living link to a very different era of California and national politics.