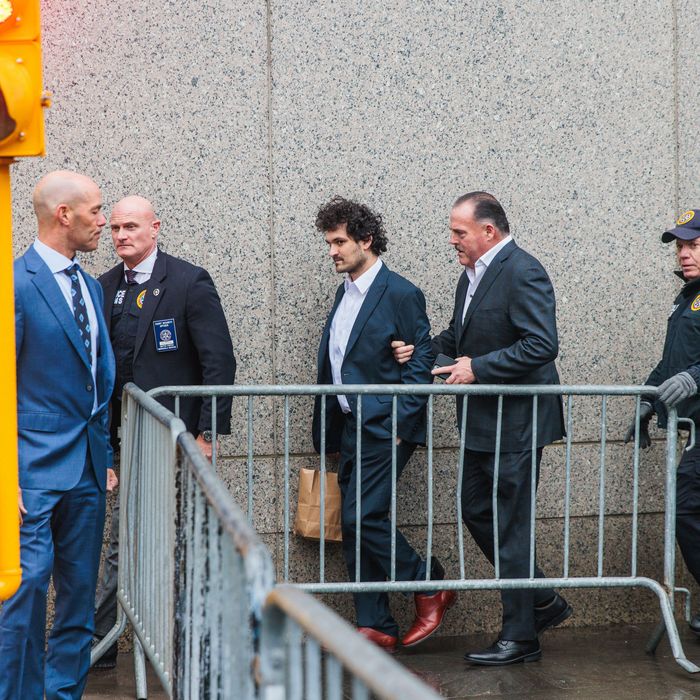 Photo: Stephen Yang/Bloomberg via Getty Images
Days after he was charged for allegedly running a massive fraud at the crypto exchange FTX, federal prosecutors announced that two of Sam Bankman-Fried's top lieutenants agreed to cooperate in their investigation. Soon enough, it was revealed they were FTX co-founder Gary Wang and Caroline Ellison, the former CEO of the hedge fund that FTX propped up with customer deposits. They will probably make it harder for SBF's attorneys to beat the eight-count indictment in what the Feds are calling "one of the biggest financial frauds" in history.
The defense could soon be getting harder: According to Bloomberg News, federal prosecutors in Manhattan are closing in on a cooperation deal with Nishad Singh, FTX's former head of engineering. A roommate in Bankman-Fried's Nassau penthouse, the 27-year-old helped write the code that FTX used to exchange cryptocurrency and was heavily involved in day-to-day operations. Like Bankman-Fried, Singh was a major political donor, and prosecutors reportedly believe that Singh could provide information on the straw-donation scheme SBF is accused of running by making secret contributions to political candidates. Prosecutors may also be interested in the hundreds of millions of dollars in loans that Singh received from Alameda Research, according to the hedge fund's bankruptcy filings. Singh is also reportedly facing civil charges from the Securities and Exchange Commission and Commodity Futures Trading Commission for his role in the alleged FTX fraud.
For most defendants, a third member of your inner circle talking to the Feds in exchange for a deal would be the most pressing issue of the week. But much of Bankman-Fried's attention and paid legal hours this week have been spent over the matter of using a VPN to watch the Super Bowl, despite it being broadcast for free, in potential violation of his bail conditions.