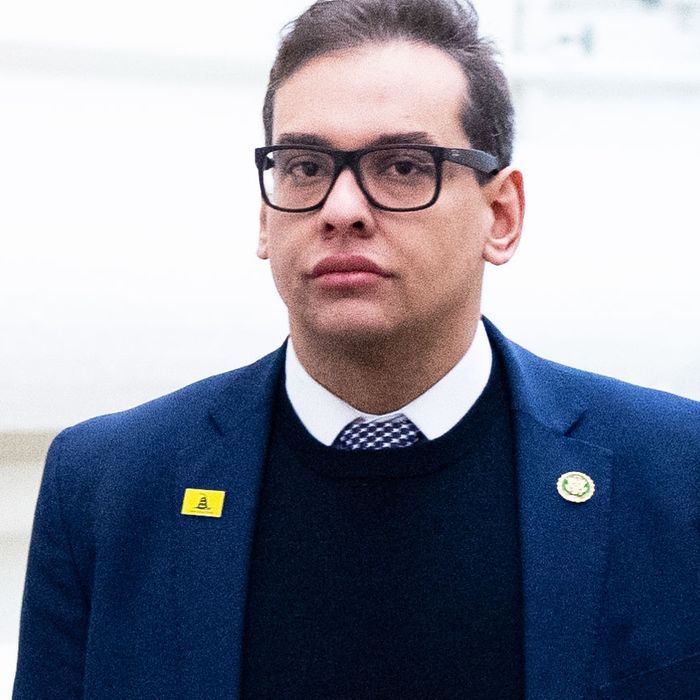 Photo: Bill Clark/CQ-Roll Call, Inc via Getty Images
For once in his life, in public, George Santos was honest. In an interview with Piers Morgan over the weekend, the New York representative finally explained his rationale for lying nonstop about himself.
"I'm just struck — not necessarily that a politician would lie — but that you think no one would find out," Morgan said to Santos on his Fox Nation show on Sunday. Santos gave him a pretty good answer: "I'll humor you this. I ran in 2020 for the same exact seat for Congress and I got away with it then."
"So you thought, Actually, they're not going to find out?" Morgan asked.
"No, I didn't think so," Santos replied.
It's a good, direct answer. It's also just about the only logic for someone who lied about his work résumé, his high-school and college attendance, his volunteer work, his shady campaign finances, his marriage and religion, his connection to American tragedies like 9/11 and the Pulse shooting — basically everything but his name. Except for all those times he went by a pseudonym when he was allegedly ripping people off.
At other points in the interview, the congressman was less direct. Speaking with Morgan for close to an hour, Santos couldn't help but double down on details he has no evidence for, like the claim that his mother was working in the World Trade Center on 9/11 and died from health conditions related to the attack. When Morgan brought up visa records showing that she wasn't even in the United States between 1999 and 2003, Santos still didn't back off:
Admitting to a whole-cloth fabrication of your record is one thing, but coming clean on a lie about 9/11 on national television must be a little more difficult. Yet Santos was frustrated that he hasn't been getting much sympathy despite apologizing every few weeks since his grift was exposed in December. "I don't get that same courtesy like everyone else does," he said.