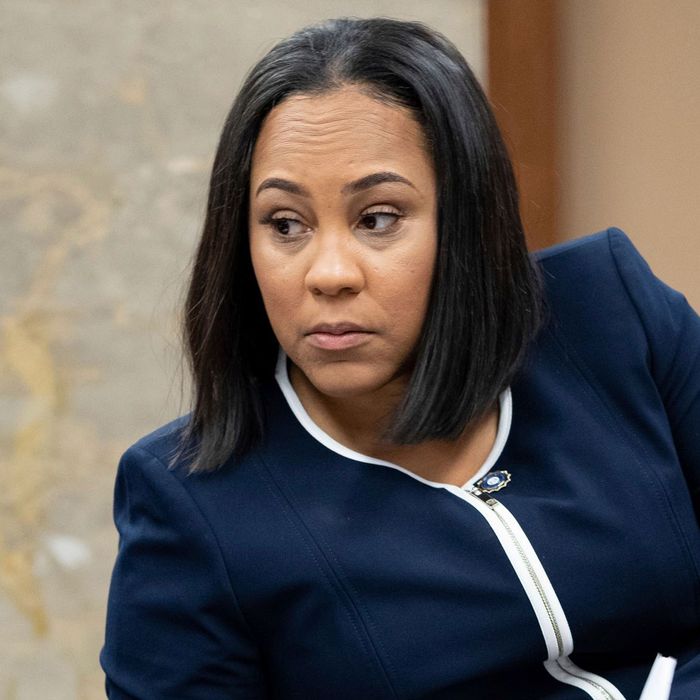 Photo: Ben Gray/AP/Shutterstock
The Georgia grand jury investigating Donald Trump's efforts to interfere in the 2020 election believes several witnesses lied during their sworn testimony and recommends they be charged with perjury, according to excerpts from its final report released Thursday. The witnesses' names were not disclosed.
The grand jury was convened by Fani Willis, the district attorney for Fulton County, who opened a criminal investigation into Trump and his allies two years ago. The panel has heard testimony from prominent figures involved in Trump's scheme to steal the election in Georgia, such as Senator Lindsey Graham; Rudy Giuliani; and Brad Raffensperger, the Georgia secretary of the state who received the notorious phone call from Trump asking to "find" enough votes to deliver the state for him in a recount over Joe Biden.
On Monday, a judge ordered that certain sections of the grand jury's final report be released in light of "compelling public interest." In his filing, Judge Robert McBurney ordered the release of the report's introduction and conclusion and another section in which the jury discusses the possibility that some of the witnesses might have lied under oath. On Thursday, those portions of the report were finally released.
The five-page document states that a majority of the jurors "believes that perjury may have been committed by one or more witnesses testifying before it." The report went on to say that the grand jury recommends Willis "seek appropriate indictments for such crimes where the evidence is compelling."
The section stops short of naming any of the witnesses who are suspected of lying during their sworn testimony and what they're thought to have lied about. It remains to be seen if Willis, who said in January that decisions on indictments are "imminent," will pursue perjury charges against any of the individuals who testified.
The grand jury has also been tasked with investigating whether massive voter fraud was committed in Georgia as Trump and his allies claimed, seeking a pretext to overturn Biden's victory. After hearing from "poll workers, investigators, technical experts, and State of Georgia employees and officials," as well as individuals pushing Trump's claim, the jury turned up an answer.
"We find by a unanimous vote that no widespread fraud took place in the Georgia 2020 presidential election that could result in overturning that election," the report concludes.