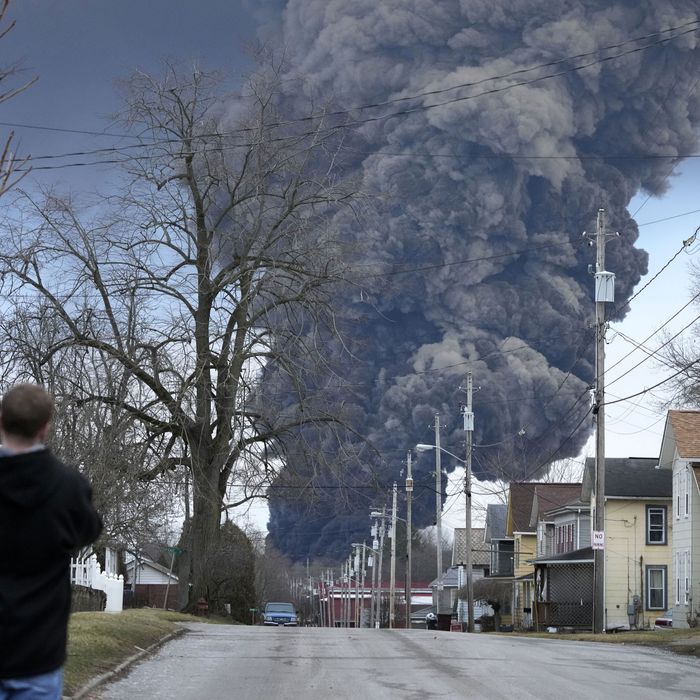 A man takes photos as a black plume rises over East Palestine, Ohio.
Photo: Gene J Puskar/AP/Shutterstock
Donald Trump somehow made it to East Palestine, Ohio, before Joe Biden or Pete Buttigieg. The former president, desperate to return to the White House, accused the Biden administration of "indifference and betrayal" for its response to a train derailment that leaked toxic chemicals into the air and waterways of the town. It was a tantalizing opportunity for Trump, a way for him to playact, once again, the populist.
Of course, Trump was not genuine. He does not care about what the Federal Emergency Management Agency does or does not do. Despite being president for four years, he likely barely understands the federal bureaucracy or how disaster relief works in the United States — remember his callous indifference to Hurricane Maria's victims in Puerto Rico. Having gutted the Environmental Protection Agency, he certainly does not care about the future of the air or water in any county, let alone one that he carried with ease in 2020.
He does not care about rail safety either. In 2018, the Trump administration rolled back an Obama-era regulation that required railroads carrying crude oil or other dangerous liquids to outfit their trains with more responsive electronic braking systems that might have mitigated, if not prevented, the toxic derailment. (The railroad industry, recoiling at any federal regulation that could cost them precious cash, had pumped Trump's campaign with plenty of donations when he first ran for president.) In 2019, working at the behest of the railroad companies, the administration also relaxed regulations on shipping fracked natural gas through communities like East Palestine. Like any Republican or neoliberal Democrat, Trump was a standout deregulator.
It is the Biden administration's flailing response, through its telegenic Transportation secretary, that has allowed Trump to reap his political reward anyway. Pete Buttigieg is finally visiting East Palestine after taking more than a week to publicly respond to the derailment in any fashion. Buttigieg, who has already failed to heavily fine and censure the airline industry for a year of disarray, took a distressingly lax approach to the Ohio disaster in the early days. Earlier this week, Buttigieg told reporters he would visit the town "when the time was right" but moved up his visit to Thursday after Trump announced he was headed there. At the minimum, it's embarrassing that it took such opportunism to make Buttigieg understand he had to travel to the scene of the derailment. It shouldn't take far-right figures who otherwise want to hollow out the federal government to become unwitting champions of the environment
It is overly simplistic to fully blame Buttigieg for a disaster that was, first and foremost, a catastrophic failure for Norfolk Southern, the rail company. Buttigieg this week announced a package of reforms that would, if implemented, bolster rail safety. But far too much of the response — from communication to cleanup — has been outsourced to a private company that has unnerved locals. The company's decision to undertake a "controlled burning" to release the hazardous chemicals into the air has led to fears that it could harm residents' health both in the near and long term. The EPA maintains that air and water tests show no hazard to residents, but government officials can get things wrong and they can lie. They maintained the water was safe to drink in Flint until it was not, and that there was no risk from the debris right after 9/11 before thousands came down with cancer. The residents of East Palestine are entitled to their paranoia.
No one truly knows what's to come. There might be an instinct, among liberals furious that Trump and Tucker Carlson and other hard-right figures are championing East Palestine, to downplay the derailment altogether. The old Fox News fallacy comes into play — if the Republicans really care about it, how does it actually matter? The answer, of course, is quite a lot, because health problems from environmental crises tend to develop on a longer timescale. If Republicans care about the future of East Palestine and other towns like it, they could embrace the cause of federal regulation, partnering with Democrats — and perhaps Buttigieg — to beat back lobbying efforts and ensure trains have proper safety measures. Buttigieg should be far more assertive, wielding his own executive power to pressure a recalcitrant and profit-driven railroad industry into caring about the safety of other Americans. The EPA will now take control of the cleanup and force Norfolk Southern to pay. It's a nice, if belated, start. Biden will need to prove to East Palestine he cares far more about corporate accountability than Trump ever did.