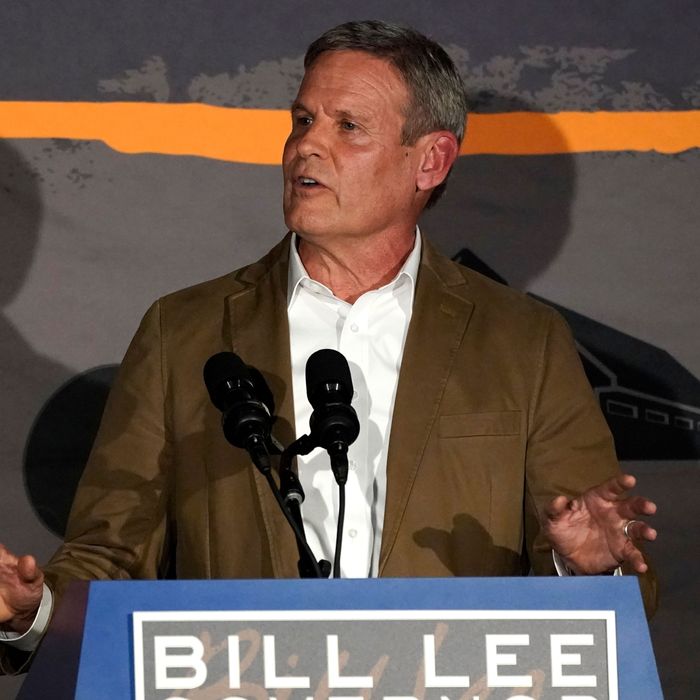 Tennesse Governor Bill Lee, defender of a law criminalizing abortions at any stage of pregnancy.
Photo: Mark Humphrey/AP/Shutterstock
Following the fall of Roe v. Wade last June, the landscape of state abortion laws has become complex and unsettled. Four states have banned abortions after a particular point in pregnancy, 12 states have imposed a near-total ban on abortion, and in several states, abortion bans are currently being challenged in court, according to the Guttmacher Institute. Many Republican lawmakers in these states have joined anti-abortion activists in opposing virtually all abortion-ban exceptions, including circumstances where the life of the mother is threatened.
In most of these states, Democrats are too weak to stop these laws, and Republicans are closely aligned with the anti-abortion movement. But there are signs that anti-abortion extremism can go too far even in deep-red locales, as evidenced by a split among Tennessee Republicans over that state's total abortion ban.
Tennessee's statute making the performance of any abortion a felony criminal offense took effect soon after the Supreme Court's reversal of Roe. It contains no clear exemption for abortions needed to save the life or defend the health of the pregnant woman involved. The only concession is a provision making impending death or irreversible impairment to a major bodily function in a patient a defense in a criminal prosecution of a physician for performing an abortion.
Since the current law is deeply alarming physicians, a Tennessee Republican legislator is proposing an amendment to provide a straightforward exemption making it clear that medical professionals are empowered to determine when emergency conditions require an abortion, as a ProPublica report explains:
An amendment to the law introduced in the House Population Health Subcommittee last week would remove the affirmative defense and clarify that it is not a crime to terminate a pregnancy to prevent an emergency that threatens the pregnant patient's life or health, among other provisions.




"No one wants to tell their spouse, child, or loved one that their life is not important in a medical emergency as you watch them die when they could have been saved," said Republican Rep. Esther Helton-Haynes, a nurse and the bill's sponsor.
But Tennessee Right to Life, a state affiliate of the most prominent national anti-abortion group, is objecting to this clarification. They argue that allowing doctors to perform abortions to "prevent" a life-threatening emergency is too "subjective" a standard. This position reflects a deep and traditional mistrust of medical professionals among anti-abortion activists, who have long been hostile to the "health of the mother" exceptions to late-term abortions required by Roe.
Tennessee Right to Life said it could be open to more "objective" legislative language clarifying when a physician can perform an abortion, but as GOP state Representative Esther Helton-Hayes pointed out, "I think that's difficult if a mother's hemorrhaging, to be objective."
Abortion-rights journalist Jessica Valenti describes the contending positions bluntly:
Let's make it plain: The state's most powerful anti-abortion group doesn't want hemorrhaging women to be able to get life-saving abortions. They don't think a woman bleeding out constitutes an "objective" need for care. I wonder, how much blood does a woman need to lose for Tennessee Right to Life to believe her doctor can help her? Are they going to put a number on it?
As you can imagine, the Tennessee Medical Association is strongly backing efforts to amend the law to protect its members as well as their patients. Even Republican attorney general Jonathan Skrmetti is worried the statute won't stand up in court. But Tennessee's GOP leaders, including Governor Bill Lee and Senate Speaker Randy McNally, oppose changing the law. It's an example of the almost limitless abortion extremism that often prevails in deep-red states where any resistance must come either from horrified Republicans like Esther Helton-Hayes or from a public reaction that can be felt at the polls.
That could take some time. According to a December 2022 survey by Vanderbilt University, "75 percent of Tennesseans supported legal abortions in cases of rape and incest." But only 19 percent "were able to identify the correct scope of Tennessee's abortion ban."