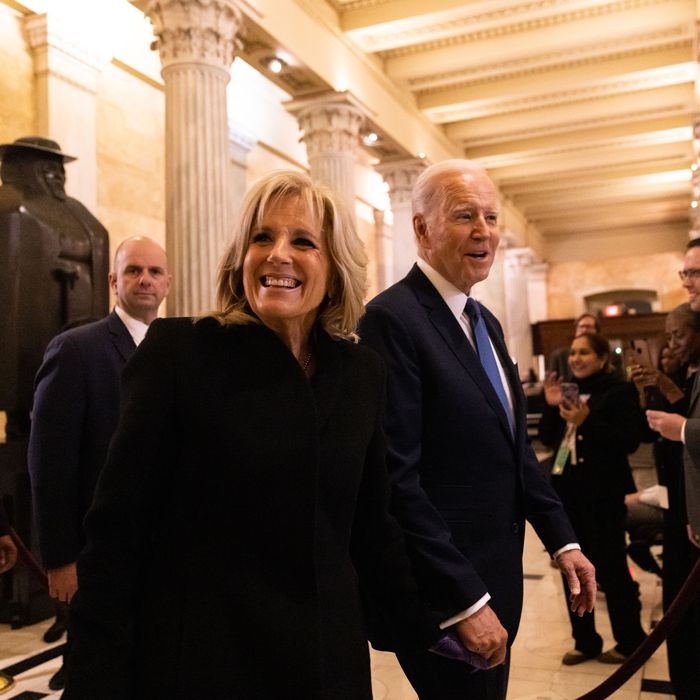 Photo: Julia Nikhinson/Getty Images
Guess what? Joe Biden is running for reelection in 2024. I know that Politico ran a report titled "Biden may not run — and top Dems are quietly preparing" earlier this week. I'm also aware that it's unconventional for the president to make such a big announcement in a blog post written by a woman who's never actually spoken to him. But after watching this brief interview with Jill Biden, I've seen enough.
"Is there any reason for any of us to think that he is not running again?" asks Darlene Superville of the Associated Press. "We've heard him say several times that it is his intention."
"Are you not believing this, Darlene?" Biden replies. "How many times does he have to say it for you to believe it?"
The First Lady is laughing, but other quotes from the accompanying AP article suggest she's had about enough of our inane questions, even if she's too polite to say it:
The first lady has long been described as a key figure in Biden's orbit as he plans his future.




"Because I'm his wife," she laughed.




But she brushed off the question about whether she has the deciding vote on whether the president runs for reelection.




"Of course he'll listen to me, because we're a married couple," she said. But, she added later, "he makes up his own mind, believe me."
When Superville asks if all that's left is to "figure out a time and place for the announcement," Biden answers, "Pretty much!"
The AP notes that the president is probably planning to announce in April, after the end of the current fundraising quarter, which is when President Obama launched his own reelection bid. And Politico reported that Team Biden is "coalescing around April" too. Despite its dramatic headline, Politico's report also says, "The belief among nearly everyone in Biden's orbit is that he'll ultimately give the all-clear."
But look at Jill's eyes: We don't need to subject her to another month of this. Let's take "pretty much" for an answer: He's running.