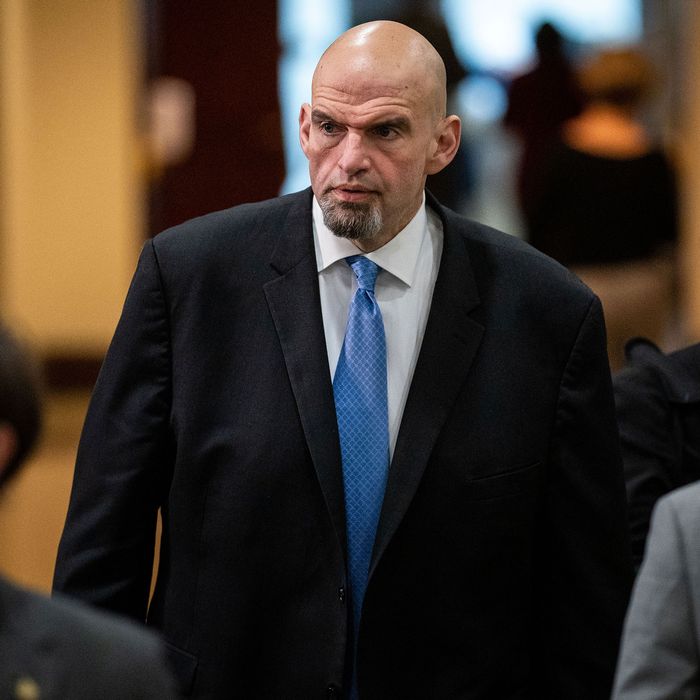 Photo: Kent Nishimura/Los Angeles Times via Getty Images
Senator John Fetterman of Pennsylvania has been hospitalized for depression, his office said on Thursday.
"Last night, Senator John Fetterman checked himself into Walter Reed National Military Medical Center to receive treatment for clinical depression. While John has experienced depression off and on throughout his life, it only became severe in recent weeks," the office said in a statement, though it did not elaborate on what had prompted his trip to the hospital. Fetterman is undergoing inpatient care on a voluntary basis, the office said.
Last week, the 53-year-old senator was briefly hospitalized at the George Washington University Hospital in Washington, D.C., after what his office said was a period of lightheadedness. A series of tests showed no signs of stroke or a seizure.
This is the most recent health concern Fetterman has gone public about. In May 2022, Fetterman suffered a severe stroke just days prior to Pennsylvania's primary election. The then–lieutenant governor handily won the Democratic nomination but spent several months off the campaign trail while recovering. Though Fetterman's physicians signed off on his health to allow him to resume campaigning, he has grappled with auditory processing, which was especially noticeable during a televised debate with Republican nominee Mehmet Oz, the celebrity doctor. Despite that, and Oz's strident attacks on Fetterman's fitness to hold office, Pennsylvania voters overwhelmingly backed the Democrat, flipping a Republican seat and helping Fetterman's party keep control of the Senate.
Since his entering office, both Fetterman and the U.S. Senate have had to adjust to accommodate his auditory processing, as reported by the New York Times, though improving accessibility is not something new for Congress. While the senator can make use of a monitor and live transcription in the chamber, Fetterman largely can't take part in hallway interviews with journalists, a common occurrence in the U.S. Capitol that not every member participates in.