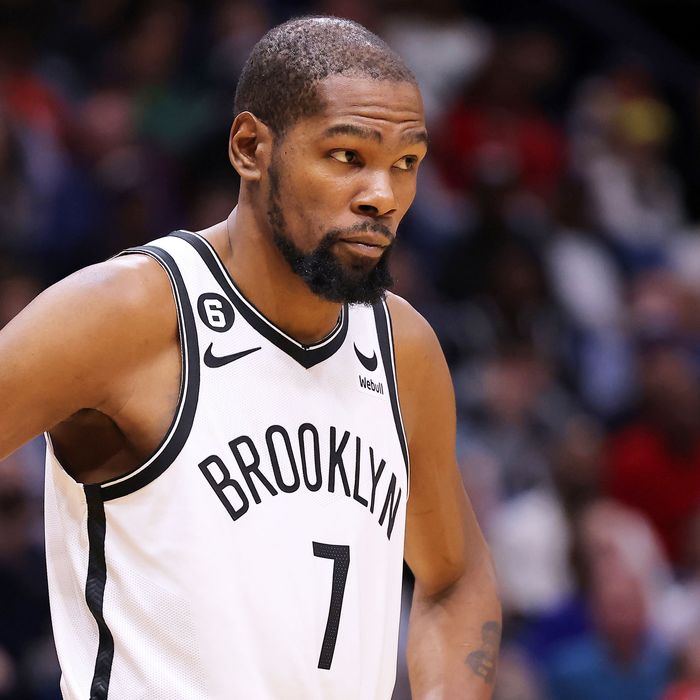 Photo: Jonathan Bachman/Getty Images
At around 1 a.m. on Thursday, ESPN's agent-whisperer, Adrian Wojnarowski, reported that Kevin Durant had demanded and received a trade away from the Brooklyn Nets — less than a week after the team's other superstar, Kyrie Irving, was sent packing to Dallas after reportedly threatening to sit out the rest of the season. Durant, according to Woj, is heading to the Phoenix Suns along with forward T.J. Warren in exchange for forwards Mikal Bridges, Cam Johnson, Jae Crowder, and a heap of picks. On the heels of the Irving trade — Brooklyn got Mavericks' point guard (and ex-Net) Spencer Dinwiddie and forward Dorian Finney-Smith in that deal — the Nets are unrecognizable compared to a week ago.
It wasn't supposed to be this way. Back in the summer of 2019, Kevin Durant wanted out of Golden State after reaching three straight NBA Finals appearances with an absurdly dominant Warriors roster (which he joined after realizing he could not beat them). Looking for a championship ring on his own terms — and uniquely sensitive to critiques from normal guys on Twitter — Durant found a big-market team that could afford his super-max salary with enough room for a friend left over. Kyrie Irving, who had spent two unhappy years in Boston after demanding a trade out of Cleveland, was down to start over. The new superstar Nets were ascendant, billed ahead of time as one of the greatest ever.
But the Nets could never gel. They were marred by injuries: Durant did not play at all his first year as he rehabbed his Achilles tendon, and Irving played just 20 games that COVID-shortened season. There were other notable absences — like when Kyrie Irving sat out most of the Nets' home games last season after refusing to get vaccinated (or when he was suspended this season for five games after refusing to apologize for posting about an antisemitic movie). The Nets were close to a deep playoff run in 2021, but, as Durant said, he had his "big ass foot" just barely on the line for a three-point shot that would have sent them to the conference finals. The next year, they were set up for an absurd amount of scoring when a third superstar, James Harden, joined the squad. He lasted two months at Barclays Center before demanding another trade. (Do you sense a theme here?) Harden was sent to Philadelphia in exchange for Ben Simmons, who has basically given up on shooting the ball.
KD and Irving are now battling for a second- or third-place finish in the Western Conference on their new teams. Meanwhile, the Nets have basically given up on a real playoff run this year and are back where they started in 2019 — a rebuild featuring Spencer Dinwiddie. There is some hope for the future: Between the two trades, the Nets now have five new unprotected first-round draft picks (2023, 2025, 2027, and two in 2029), two second-round picks (2027 and 2029) and a pick swap in 2028. This would be better news if they hadn't given up the rights to their first-round picks for 2023 through 2027 to Houston in the Harden trade.
By the end of the KD era on Thursday, the Nets had won just one more playoff series than the lowly New York Knicks in the same time period. Player-led experiments to design a super-team have been successful in other cities in the past 15 years. But not in Brooklyn.