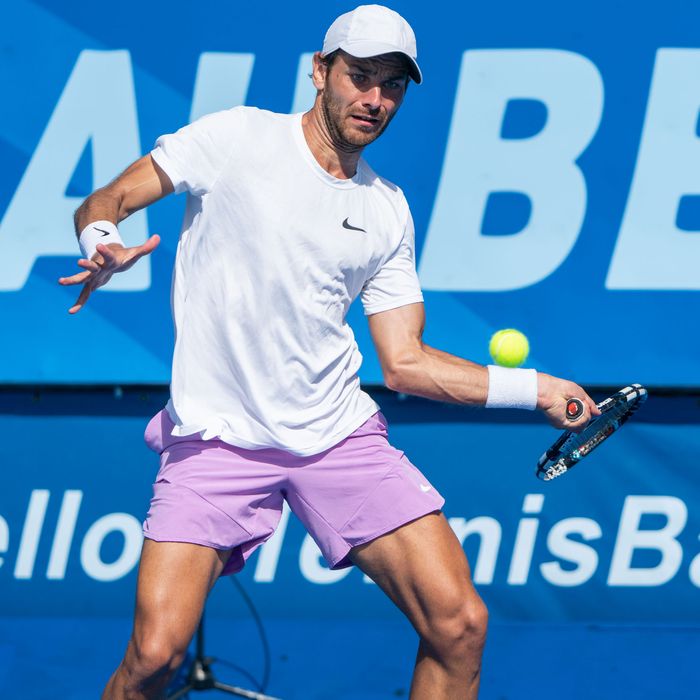 Photo: Aaron Gilbert/Icon Sportswire via Getty Images
On Tuesday, a Croatian named Matija Pecotić beat the American veteran and former top-ten player Jack Sock 4-6, 6-2, 6-2 in the first round of the Delay Beach Open in Florida, a minor tournament on the top-level ATP circuit. A cursory glance at this score line, even from the perspective of a fairly serious tennis fan, would seem to indicate a routine, mundane result.
But it was actually far more interesting than that. Because Pecotić isn't really a professional tennis player; as his LinkedIn bio states, he's a director at Wexford Real Estate Investors LLC in Palm Beach. And his win on Tuesday wasn't just the first ATP victory of his career, but his first appearance at an ATP tournament at all. Perhaps most incredibly, Pecotić is 33 years old. In the tennis world, making a top-level tour debut at that (relatively) advanced age is unheard of. This is the stuff of Hollywood, not South Florida.
After defeating Sock, Pecotić explained that he "had to leave work early today," and that, "I'm going to have to ask for another day off tomorrow."
A piece on the ATP website spells out Pecovic's tortuous path to this moment. He grew up in Malta and had an unremarkable juniors career, but sent footage of his matches to American colleges anyway, and managed to catch the eye of Princeton's men's coach. At Princeton, he won Ivy League Player of the Year three times and was the second-ranked college player in the country. Pecotić then made a go of it on the pro tour, where he won several tournaments on the Challenger Tour — the levels below the ATP — and lost in the qualifying rounds of the U.S. Open and the other major tournaments. He never broke through to an ATP event.
Pecotić peaked at 206th in the world in 2015 before an infection following stomach surgery sidelined him for months. In the meantime, he applied and was accepted into Harvard Business School, where he volunteered as the school's assistant coach and began playing regularly again. He gave it one more shot on the pro tour until the pandemic ground things to a halt. At the beginning of this week, he was still No. 784 in the world, an impressive ranking for someone with a day job — an impressive ranking, period — but not one that gets you very far on the pro tour.
But Pecotić kept playing — mostly before work, and not always with world-class competition. "Sometimes I train with my boss, who is 70 years old," he said this week. "This week I trained with a guy who is probably in his late 50s. But you find creative ways to work around it."
Pecotić signed up to play in the qualifying rounds at Delray Beach, but only made it because someone else dropped out. Then he had to play his way into the tournament. He beat Stefan Kozlov and former top-50 American Tennys Sandgren, to reach the main draw, before using his big serve and booming backhand to beat Sock, who these days is ranked 143. Pecotic's fairytale ended in the second round, where he lost to another American, 55th-ranked Marcus Giron, in straight sets. But his string of victories gives him something to build on.
And this is all at an age when a lot of players are winding down their careers. It's now fairly common for players to compete at the highest levels well into their 30s — Roger Federer, Rafael Nadal, and Novak Djokovic have all done it — but 33 is still considered old, or at least oldish, in tennis years. Only a generation ago, Pete Sampras retired at 32.
"At his age the window is a lot smaller," Princeton's tennis coach, Billy Pate, said of his former pupil. "But his body is strong, and so is his discipline. And it's clear he's super hungry for it."
Now that he has an ATP win under his belt, the attention of the tennis press, and even a laudatory Instagram post from Djokovic, Pecotić will undoubtedly be asking for a few more days off from work. Let's hope he gets them.