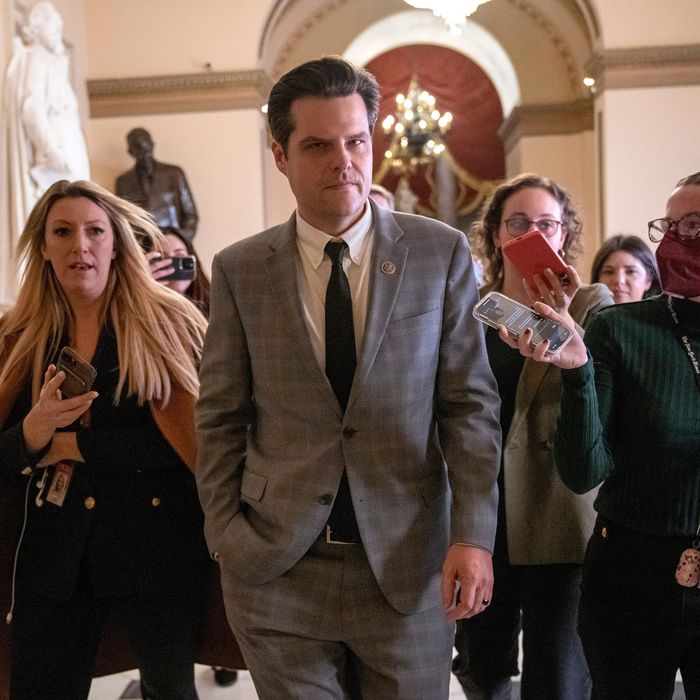 Photo: Jacquelyn Martin/AP/Shutterstock
The Department of Justice indicated on Wednesday that Florida representative Matt Gaetz would not be charged with sex trafficking, bringing an end to a years-long investigation into one of the most famous (or infamous) members of Congress.
Gaetz appeared to be in possibly serious legal trouble when his onetime friend and associate Joel Greenberg, a former Florida tax collector, pleaded guilty to multiple felonies in 2021, including underage sex trafficking. After Greenberg contacted women online, Gaetz allegedly had sex with them, and they were given cash payments. Greenberg said he knew that one of the women was underage and that Gaetz was aware of the payments. Gaetz claimed that the women in question were ex-girlfriends and that he never paid them for sex.
One of Gaetz's ex-girlfriends — whom he met through Greenberg — was cooperating in the case against the congressman, as was Greenberg himself.
But Wednesday's outcome wasn't a surprise, since the investigation had clearly been on the rocks for months. In September, the Washington Post reported that career prosecutors had recommended that the case be dropped, citing concerns that Greenberg and the ex-girlfriend weren't credible witnesses. Greenberg was sentenced to 11 years in prison in December.
The DOJ reached out this week to potential witnesses to inform them that the case would not be moving forward, per multiple outlets.
"We have just spoken with the DOJ and have been informed that they have concluded their investigation into Congressman Gaetz and allegations related to sex trafficking and obstruction of justice and they have determined not to bring any charges against him," Gaetz's lawyers, Marc Mukasey and Isabelle Kirshner, said in a statement.
In the waning days of Donald Trump's presidency, Gaetz reportedly requested that Trump preemptively pardon him. Trump (somewhat surprisingly) declined, but it turns out Gaetz didn't need one. Now he can turn his full-time attention to making Kevin McCarthy's life miserable.