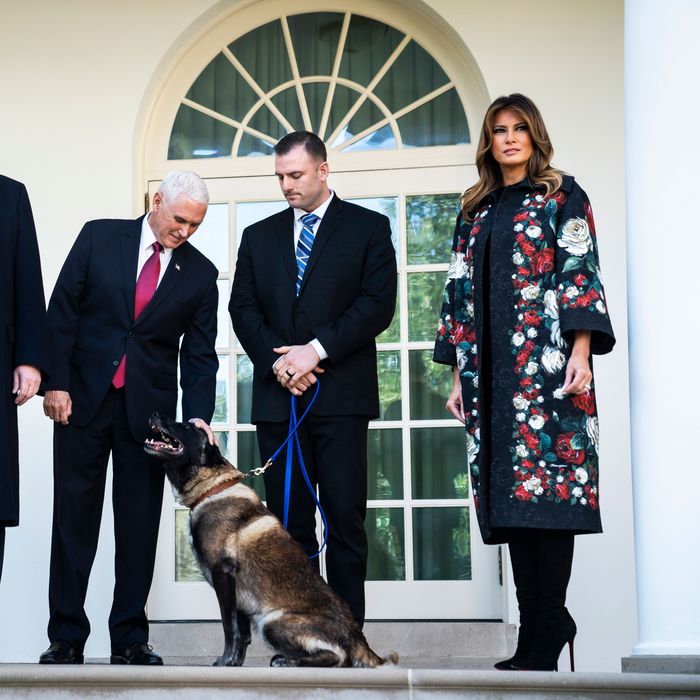 Photo: Jabin Botsford/The Washington Post via Getty Images/=
While campaigning for president in 1992, Bill Clinton famously told voters they could "buy one, get one free" — a vote for him would put his smart, capable, public-service-minded wife, Hillary Clinton, in the White House too. The backlash to that pitch had historic implications that the Clintons couldn't have anticipated, and subsequent First Ladies made it clear that they wouldn't be weighing in on policy matters. That's a shame, as it might have deprived us from having not one but two "very stable geniuses" running things during Donald Trump's administration.
Melania Trump never seemed that engaged in political matters. She reportedly spent most of her time in the White House tending to her photo albums, and she slept through Election Night 2020. But Soldier Secretary, a new memoir by Christopher C. Miller, former acting secretary of Defense, reveals that Melania inexplicably dropped in to the Situation Room in October 2019 to watch the U.S. raid that led to the death of ISIS leader Abu Bakr al-Baghdadi in Syria. Afterward, it was Melania who came up with the idea of highlighting the heroism of a combat dog named Conan.
"Her presence was unexpected, to say the least," writes Miller, who was special assistant to the president and senior director for counterterrorism and transnational threats at the time. "I wondered how it would play in the press if word got out that the First Lady had popped in to watch a major military operation."
Miller says that the First Lady was (understandably) horrified by aspects of the raid, according to The Hill:
Several people in the room began throwing out predictions and providing commentary about the raid as U.S. forces closed in on the compound where al-Baghdadi was hiding, including a graphic description that Miller said caused the first lady to look "up in horror."




The raid ended when U.S. troops, led into the compound by a combat dog named Conan, cornered al-Baghdadi, who blew himself up with an explosive vest while holding two of his children. Two of his wives also died in the explosion.
But Melania didn't let her emotions cloud her political analysis. When her husband asked the room full of top administration officials how he should announce the news to the American people, Melania piped up.
"You should talk about the dog," she said. "Everyone loves dogs."
Trump, of course, took his wife's sage advice. Another president might have solemnly informed the American people that U.S. forces had courageously and competently carried out an operation to kill a notorious terrorist. Instead, Trump put on a show — complete with an adorable animal star. At a 48-minute press conference, the president said the raid was "just like a movie," the ISIS leader was "whimpering and crying and screaming," and one very special dog saved the day.
"Our K-9, as they call it — I call it a dog, a beautiful dog, a talented dog — was injured and brought back, but we had no soldier injured," Trump said. "We had nobody even hurt. That's why the dog was so great."
A few weeks later, Trump did more than "talk about the dog." Conan was honored at the White House with a medal, plaque, and photo op with the First Couple.
Now that Melania's role has been revealed, people are questioning why she was allowed in the Situation Room and dismissing her idea to focus on the dog's role in the raid as stupid. And sure, it was very dumb — but at least it wasn't dumb and dangerous like Donald Trump tweeting about his "nuclear button" and suggesting we bomb Mexico. Maybe we all would have been better off with a "buy one, get one free" Trump administration more focused on ineffective anti-bullying efforts and investigations into what whales are really thinking.