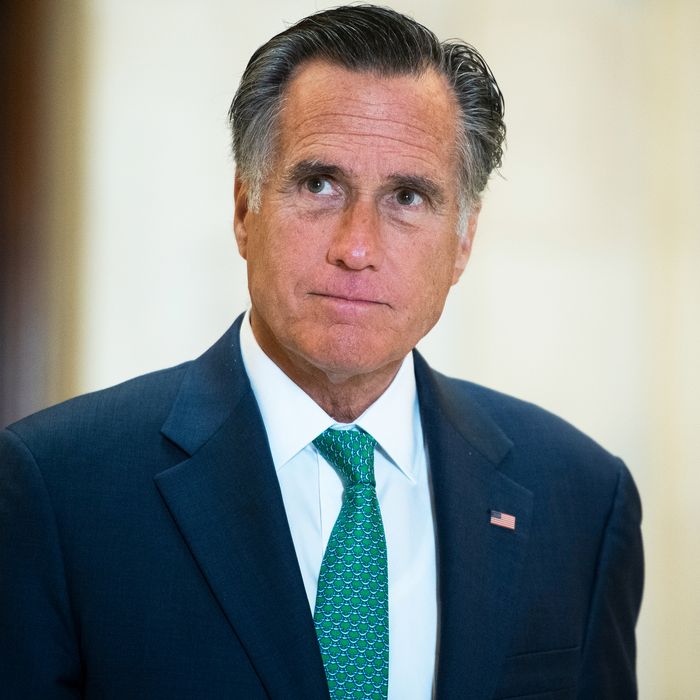 Photo: Tom Williams/CQ-Roll Call, Inc via Getty Images
Last month, Prince Harry dropped his memoir, Spare, and shook the British monarchy with revelations about his frostbitten "todger," William and Kate's passion for Suits, and King Charles's habit of exercising in his undies. Now Mitt Romney is poised to do the same to the U.S. political system — or at least that's what the folks behind the book Romney: A Reckoning are suggesting, and I very much want to believe.
The Romney biography by The Atlantic's McKay Coppins is set to be released on October 24. Usually, a new book about a senator who seems to have put his presidential ambitions behind him would not be news. But Romney gave Coppins unprecedented access for a sitting lawmaker: They did more than 30 interviews, and Romney turned over hundreds of emails, texts, and diary entries. Axios's Mike Allen reports that the book "offers Romney's lively and at times devastating take on nearly every major political figure of the last 25 years," according to a publishing source.
Romney had considered using the material for a memoir but ultimately decided against it, telling Coppins, "I can't be objective about my own life." The writer said he told Romney the biography would work only if he was "completely forthcoming." "He reacted like it was a dare," Coppins said. "I was astonished by his level of candor."
Could this all just be hype? Certainly. And do normal people care about Romney anywhere near as much as they do about Princess Diana's youngest son? Absolutely not. One of my colleagues responded to this news by asking, "Does anyone need that much Mitt?" Another said, simply, "Ugh."
But I have had a soft spot for Romney since he lost the 2012 election, significantly reducing the threat his conservative views posed to me directly. Today, plenty of Democrats appreciate that Romney was one of the few Republican lawmakers who occasionally challenged Donald Trump. My Romneyphilia is less political: Part of me just longs to be one of the senator's 25 grandchildren being forced to compete "in sport" at the backyard Romney Olympics and laughing about the time "Papa" ironed a tuxedo while wearing it.
I'm definitely the target audience for Romney: A Reckoning. But will it fascinate people who aren't curious about whatever happened to Rafalca? Could the Utah senator's telling us what he really thinks actually be "devastating" to the U.S. political Establishment? Mitt is a devout Mormon who needs to keep working with his GOP colleagues for at least another year; how good could his gossip be? Yet he just confronted George Santos on the House floor and (if you believe the lying congressman) called him an "ass." I'm keeping my fingers crossed for a literary bombshell.