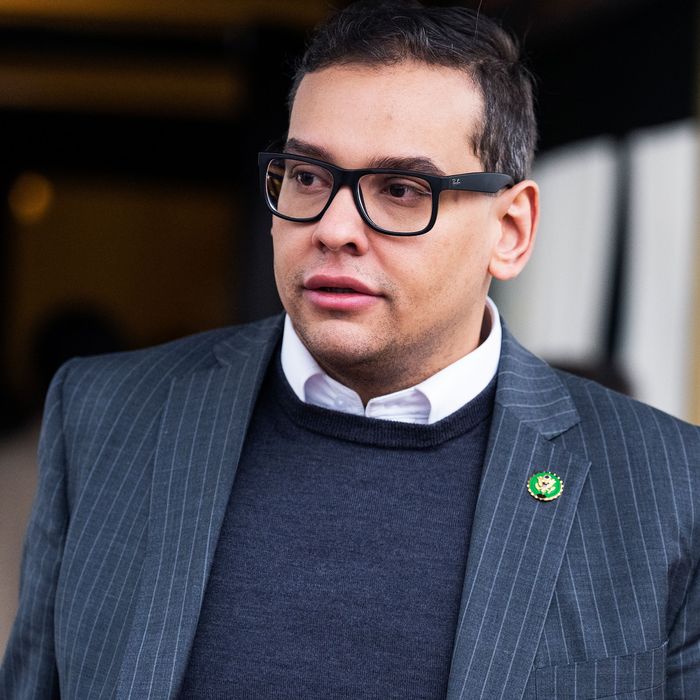 Photo: Tom Williams/CQ-Roll Call, Inc via Getty Images
In an era of stark political polarization, a new poll has found the rare issue on which almost everyone can agree: Congressman George Santos should quit.
According to a Newsday–Siena College poll released on Monday, 78 percent of voters surveyed from the state's Third Congressional District, which Santos represents, believe the controversial House freshman should resign. The party breakdown of this figure is even more stark. Eighty-nine percent of Democrats and 72 percent of independents believe Santos should step down, but so do 71 percent of Republicans, members of the congressman's own party. There were 653 registered voters in the Third Congressional District who were surveyed in the poll.
After his win in November, doubts began to emerge about Santos's past, from holes in his biography to big questions about his finances. Of the respondents in the poll who acknowledged voting for Santos, 63 percent of them said they wouldn't have voted for him knowing what they do now.
Despite calls to resign, even from members of his own party, Santos remains defiant and has said he intends to finish out his term in order to serve his constituents. But many residents in his district don't think that's possible: 75 percent of respondents said they don't think Santos can be an effective representative of their district.
Seventy-one percent of those surveyed also said House Speaker Kevin McCarthy was wrong to seat Santos on two congressional committees. In January, Santos got spots on the Small Business Committee and the House Science, Space, and Technology Committee, but he later decided to recuse himself from those roles.
Santos has been quoted as saying he would resign only if the "142,000" people who voted for him asked him to do so. Santos, despite his penchant for exaggeration, actually lowballed that figure. But between this poll and reports of his constituents protesting him both in their district and Washington, D.C., he may not want to count on any kind of built-in support from his voters much longer.