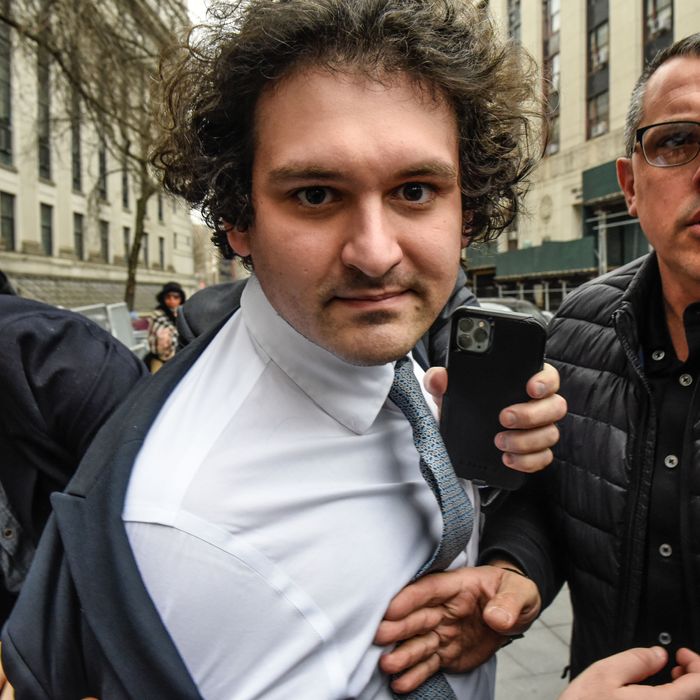 Photo: Stephanie Keith/Bloomberg
Sam Bankman-Fried has been charged with four more counts of conspiracy for his alleged role orchestrating what prosecutors have called "one of the biggest financial frauds" in history. On Thursday, federal prosecutors in Manhattan unveiled a superseding indictment that further spells out how authorities say he committed a massive fraud stretching beyond finance into the world of politics. (The new charges were likely informed by his top lieutenants who flipped since he was charged in December with eight criminal counts related to his crypto exchange, FTX.) Bankman-Fried is now facing 12 counts in total, including new charges of conspiracy to commit bank fraud and conspiracy to make unlawful political contributions and defraud the Federal Election Commission.
Much of the new indictment focuses on how Bankman-Fried "fraudulently obtained access to a U.S. bank account" for FTX, according to prosecutors. In the early days of FTX, customers were instructed to wire money to bank accounts used by Alameda, the hedge fund founded by SBF that went on to play with — and lose — billions in customer funds in November. According to the indictment, Bankman-Fried and FTX deceived its customers and the bank about where the money was going: The accounts were primarily used for trading cryptocurrency, and Alameda never informed the bank.
As the number of deposits grew, Bankman-Fried tried to establish a more normal system at an unnamed, federally insured bank in California where Alameda had an account, according to prosecutors. But the bank would not open an account for FTX because the exchange was not licensed and registered to operate in the U.S. At this point, prosecutors say SBF had the bright idea of founding a bogus Alameda subsidiary called North Dimension where FTX customers could deposit funds. (Because it was incorporated under Alameda, North Dimension was allowed to open a bank account in the U.S.) The Feds say SBF picked the name to "conceal" its relationship with Alameda from banks and customers. North Dimension didn't do anything except receive customer cash — it was an electronics site with no employees where you couldn't actually buy anything. SBF also allegedly signed a false statement that said the North Dimension account was for trading cryptocurrencies. By April 2021, according to prosecutors, FTX was making money off fees collected on North Dimension transactions that it obtained by lying to the bank.
The other notable new charge involves how Bankman-Fried allegedly made "unlawful political contributions to acquire bipartisan influence." While he was publicly known as a super-donor for Democrats since 2020, prosecutors describe how SBF allegedly broke the law by routing customer funds through straw donors. In a scheme he pretty much admitted to in December, the indictment states that SBF gave money to one FTX co-conspirator (believed to be Nishad Singh) when he wanted to donate to Democrats and gave money to another (believed to be Ryan Salame) when he wanted to donate to Republicans in an effort to influence politicians to craft industry-friendly crypto regulation. In one instance, according to the indictment, SBF wanted to donate to a super PAC supporting pro-LGBTQ+ congressional candidates and asked the unnamed co-conspirator donating to Democrats to do it. An unnamed political consultant working for SBF said to them, "You being the center left face of our spending will mean you giving to a lot of woke shit for transactional purposes." The co-conspirator wasn't comfortable with putting the transaction in his name but admitted that there was no one else "trusted at FTX [who was] bi/gay" who could make the contribution.
Attorneys for Bankman-Fried, who pleaded not guilty to the initial eight counts, have not yet issued a response to the new charges.