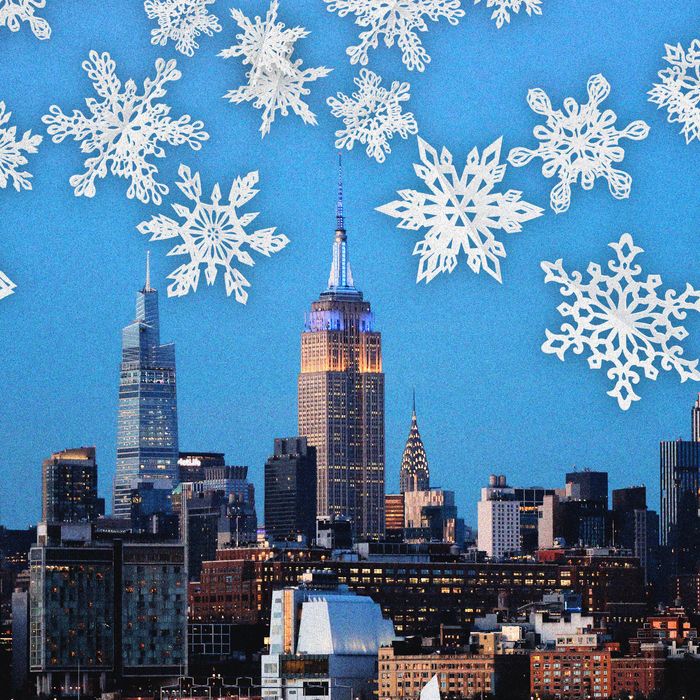 Photo-Illustration: Intelligencer; Photos: Getty Images
In a highly unusual weather event, multiple inches of white fluffy precipitation will fall on New York City on Monday night. Meteorologists say the flakes, which they refer to as "snow" (pronounced s'know), are likely to appear for several hours and stick to most surfaces before mingling with sleet overnight and then turning into rain on Tuesday morning. The northern parts of the city, like upper Manhattan and the Bronx, could see three to five inches, while Brooklyn will probably be closer to one to three inches. A winter weather advisory kicks in for the entire city at 6 p.m. and lasts through 1 p.m. on Tuesday.
Many other parts of New York State have seen an abundance of this "snow" in recent months, as have other winter-tested locales such as Los Angeles and Dallas. But New Yorkers less familiar with it should exercise caution when driving and even walking around the city.
Although it may be hard to recall, New York used to experience a decent amount of snow almost every winter — an average of about 28 inches per year. But the city went 328 days without any of it, from March 10, 2022, to February 1, 2023. On that day, NYC finally saw an unmemorable dusting of 0.4 inches. It was the latest first snowfall of winter in the city's recorded weather history, though that small accumulation did prevent New York from breaking its all-time snowless streak.
Thankfully for New Yorkers newly used to 65-degree February days, there isn't any major wintry precipitation in the forecast after Monday night. The way 2023 has gone, summer is probably (ugh) just around the corner.