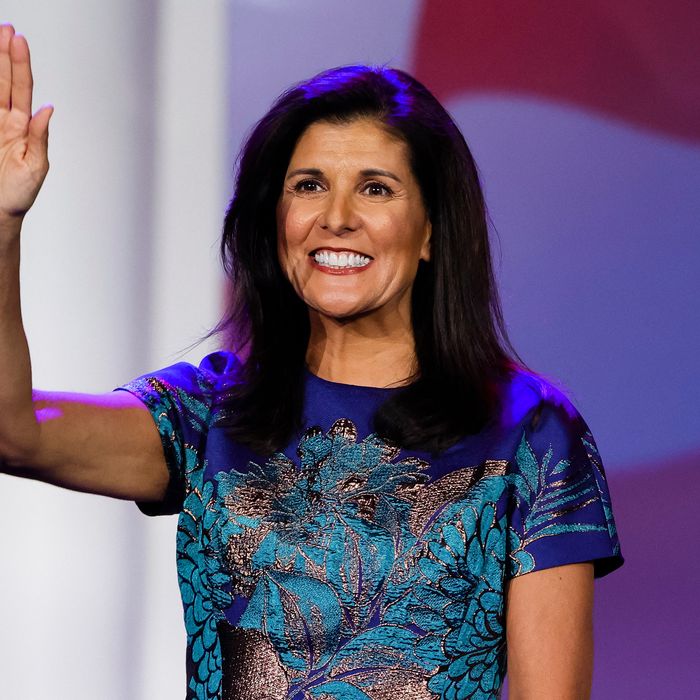 "I'll do it!" says Nikki Haley.
Photo: Wade Vandervort/AFP via Getty Images
Ever since Donald Trump formally announced a 2024 presidential comeback bid last November, the big question has been when, exactly, one of the large number of potential Republican rivals would jump into the turbulent waters with him. There were credible reports that potential candidates were afraid to draw Trump's concentrated fire. But now the Charleston Post & Courier reports that Nikki Haley, the former South Carolina governor and Trump's ambassador to the United Nations, will take the plunge on February 15.
The timing of the Haley announcement is rather interesting, coming after a show of force by Trump in South Carolina. At his January 28 event in Columbia, he demonstrated his support from the state's Republican governor, lieutenant governor, treasurer, senior U.S. senator, and three U.S. House members. Perhaps Haley is just playing catch-up or is concerned about preempting a rival presidential bid by the junior U.S. senator from South Carolina, Tim Scott (whom she appointed to the Senate). The Dispatch's David Drucker believes she actually relishes the prospect of a one-on-one fight with Trump in the early going:
What better way to distinguish herself versus Trump, DeSantis, and anyone else, than by becoming the second declared candidate in the primary? The contrast is stark. Republican voters can choose between a white, male, soon-to-be 77-year-old defeated former president who has led the GOP to three consecutive electoral disappointments, or a nonwhite woman in her early 50s, born of immigrant parents, with conservative bona fides on most critical issues that are unassailable. 
Without question, being the first official Trump challenger will provide priceless advertising for Haley's on-paper credentials. In addition to the qualities Drucker mentions, Haley has checked the foreign-policy-qualifications box via her service at the U.N., something Ron DeSantis can't match. She has shown excellent political instincts over her lengthy career (she got massive positive publicity for removing the Confederate flag from the South Carolina State House grounds long after it had become a low-risk endeavor). Most of all, she has excelled in the essential Republican art of staying on good terms with Trump without looking like his toady.
Indeed, Haley's odd relationship with Trump may soon be in a bright spotlight. She has offended him on multiple occasions, first by endorsing "L'il Marco" Rubio in 2016 while criticizing Trump, then by unsubtly letting it be known while serving in his administration that she was an independent player, then by harshly attacking his conduct on January 6. You can add to her sins against the 45th president that she is now breaking a promise to back him in 2024 if he ran. Yet he's never gone medieval on her, and he seems strangely affectionate toward her even now, according to the Post & Courier:
During his weekend campaign swing that included a stop at the S.C. Statehouse, Trump told national reporters he recently received a phone call from Haley. Trump said Haley told him "she'd like to consider" a 2024 run of her own.




"I talked to her for a little while. I said, 'Look, you know, go by your heart if you want to run,'" Trump told reporters, adding that he would welcome the competition.




"She called me and said she'd like to consider it, and I said you should do it."




Trump then reportedly told Haley, "Go by your heart if you want to run."
It's possible this last comment from Trump should be translated as "Go ahead! Make my day!," suggesting that he is prepared to tear her a new one in the weeks and months ahead. Or maybe he's simply not that worried about Haley compared to the bigger threat posed by DeSantis.
So what kind of threat to either of these men is Haley '24? Yes, she is the sort of candidate that might have been thought up by central casting. Originally, she was a politician from the hard-core, Jim DeMint-Mark Sanford wing of the South Carolina GOP who fit the Tea Party mood like a glove. But then she gradually made herself into a national-media icon of what post-Trump Republicanism might look and sound like. To conservatives of every hue, she's unimpeachable on cultural issues, unobjectionable on foreign policy, and especially distinguished in the evergreen hobby of union-hating (she anticipated DeSantis's attacks on perfidious corporations back in 2014 by telling potential investors in her state that they could take their "union jobs" elsewhere).
But Haley's ultimate problem as a presidential candidate is that she's from a crucial early primary state. As Tom Harkin (whose presidential candidacy in 1992 took Iowa right off the table) could tell her, you don't get much credit for winning your home state. But if she loses South Carolina, her candidacy will be dead as a mackerel.
Haley's other big problem will be the perception that she's really running for vice-president. She has been regularly featured on veep lists for Trump (even back in the 2020 cycle, when there were reports that the then-president wanted to dump Mike Pence in favor of her). And there's not much question that Republicans need help with women voters, having placed a woman on their national ticket only once. And maybe that is her goal, or at least an acceptable consolation prize; despite years of being treated as a Republican star, Haley is only 51. But she'd better not wind up looking too weak in her home state, or the largely superficial image she has built as a political world-beater could vanish like a rare snowfall in the Carolina sun.