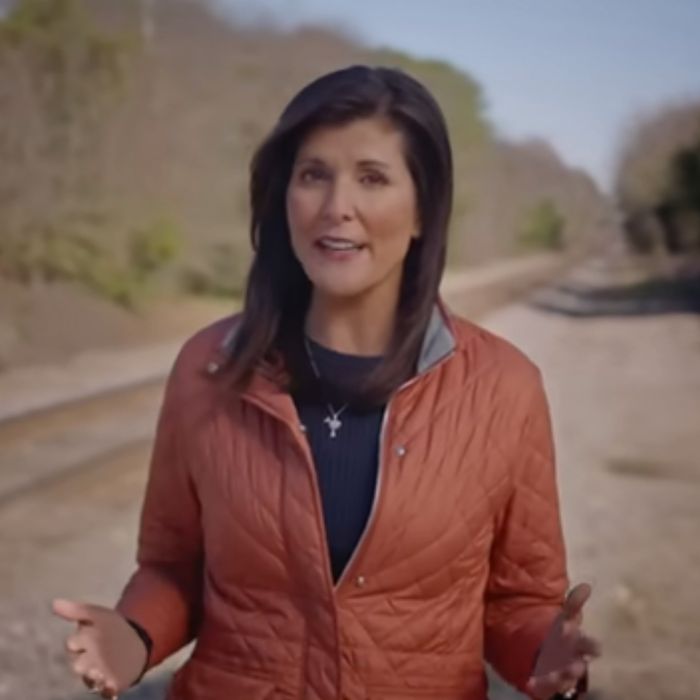 Photo: Nikki Haley/YouTube
Nikki Haley, formerly both South Carolina governor and ambassador to the United Nations, formally announced her 2024 presidential candidacy on Tuesday with a launch video that falls well short of her lofty aspirations. It's an "elevator pitch" that is as sharp and clear as a run-on sentence.
You have to appreciate that what Haley is trying to do is very difficult. Despite receiving plenty of positive media exposure over the course of her political career, she's polling in the low single digits in a contest likely to be dominated by Donald Trump and Ron DeSantis. And her home base is an early state in which both Trump and DeSantis — plus the man she appointed to the U.S. Senate, Tim Scott — will invest heavily. Trump has already secured endorsements from Scott's senior colleague Lindsey Graham along with the current governor, lieutenant governor, state treasurer, and assorted U.S. House members.
The Haley 2024 campaign has a lot of work to do, and she reportedly has zero assets on the ground in states like Iowa and New Hampshire, which will precede South Carolina in the nomination process. She needs a crisp, compelling rationale for her candidacy that grabs potential primary voters and makes them look at her as an alternative to the universally known big boys. This video isn't it. It looks more like she asked her advisers for some ideas and wound up throwing them all into a mushy stew of poorly cooked messages.
The video does get off to an interesting start, leaning into Haley's racial identity as the daughter of Indian immigrants who grew up feeling "different" in a state with a deep history of racism and Black-white divisions. This, she suggests, makes her a natural unifier. It also, the video's subtext soon makes clear, positions her as a non-white validator of the good intentions of white conservatives, who will determine the fate of her presidential candidacy. She solemnly attacks liberals who say the U.S.'s "ideas are not just wrong but racist and evil" as images of Alexandria Ocasio-Cortez, the "1619 Project," and Black Lives Matter protests are shown. In fact, what leftist critics invariably say is that the U.S.'s ideas are noble, but their implementation has been hypocritically lacking.
Next, Haley briefly pivots to the foreign-policy chops she developed at the U.N., saying that while leftists see the U.S.'s founding ideas as evil, "I've seen evil." This is handled clumsily as well. Haley says nothing about her accomplishments while serving in the Trump administration but includes a disturbing and unexplained reference to soldiers killing a baby.
The next portion, covering Haley's six-year tenure as governor, comes across like a cheesy "We want your industry!" invitation from South Carolina's chamber of commerce. You half-expect to see text on the screen reading, "For a list of tax incentives for investors, visit our website." She didn't even repeat her conservative-pleasing decision to reject corporate investments that came with "union jobs."
And when it comes to the moment of Haley's governorship that brought her national attention — indeed, embarrassingly fawning coverage from the mainstream media — the video pulls its punch. Over images of the horrific racist massacre at Charleston's Emanuel AME Church in 2015, Haley says that "when evil did come" to her state, "we turned away from fear, toward God and the values that still make our country the freest and greatest in the world." There's no mention of Haley's famous decision to remove a Confederate flag from the statehouse grounds in the shooting's aftermath. Perhaps she feels that call won't go over well with today's GOP-primary voters.
The kicker (pun intended) of Haley's announcement is a ponderous line that follows a reference to the bullies ostensibly targeting the U.S. — from the "socialist left" to Russia and China. "You should know this about me: I don't put up with bullies, and when you kick back, it hurts them more if you're wearing heels." This feeble attempt at Palinism is all the more disappointing since it was Sarah Palin who helped Haley launch her political career in 2010 by branding the gubernatorial candidate as a fellow "mama grizzly." She's not really roaring today. And she'd better get her mojo back if she hopes to be a real contender in the 2024 race. A collection of dog whistles that are never fully articulated will not earn her much of a pack of followers.