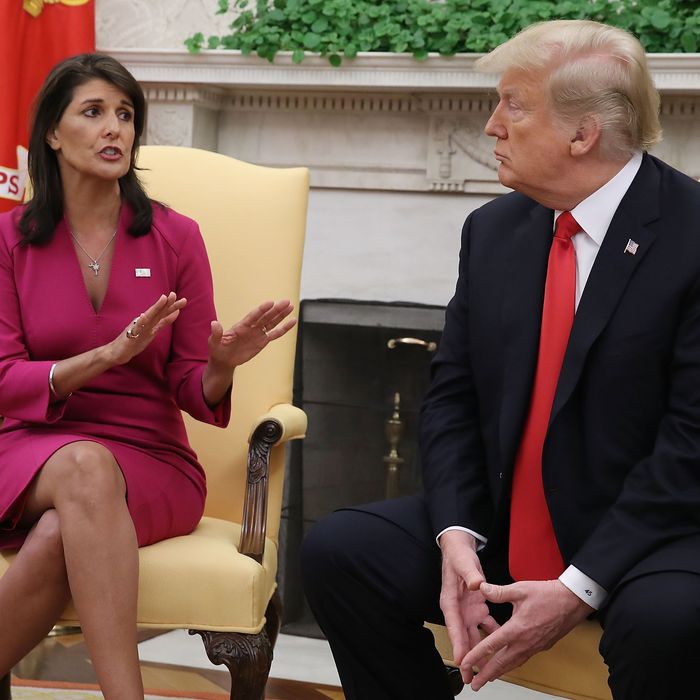 Photo: Photo by Mark Wilson/Getty Images
Nikki Haley kicked off her presidential campaign with a speech in Charleston on Wednesday, one day after announcing her 2024 bid with a vague and sloppy video. During her speech, the former South Carolina governor and United Nations ambassador offered some more specific ideas for encouraging the transition to the "new generation of leadership" she professes to represent. One Haley suggestion is nearly as geriatric as the old generation of leaders she would like to push toward the exits: congressional term limits. But another is a bit edgier: mental-competency tests for elderly politicians.
"In the America I see, the permanent politician will finally retire," Haley said per Politico. "We'll have term limits for Congress. And mandatory mental-competency tests for politicians over 75 years old."
Obviously, this idea plays into bipartisan concerns about 80-year-old Joe Biden's capacity to continue serving as president (though he sure did run circles around congressional Republicans in his recent State of the Union address). It's also an implicit jab at Haley's 76-year-old 2024 rival Donald Trump (though he probably figures he would get a "stable genius" exemption if a mental-competency test were ever imposed).
But you have to wonder if Haley or her advisers have paused to reflect on the other officeholders who may be offended by a challenge to their capacity to serve. If by "over 75" you assume Haley means everyone who has passed their 75th birthday, there are currently 16 U.S. senators and 36 U.S. House members who would have to turn themselves over to the examiners for testing. Among the former is 89-year-old Chuck Grassley of Iowa, who stands athwart the state holding the first-in-the-nation Republican presidential caucuses like a political colossus. He also just got reelected to a fresh six-year term in 2022 and presumably figures his constituents know more about his level of functionality than some whippersnapper from South Carolina does.
Others whom Haley and her medical panel would potentially shove into retirement include Senate Minority Leader Mitch McConnell. And in the House, the 75-and-up club includes Joe Wilson, a member of her own state's congressional delegation. Maybe Haley wants revenge for Wilson's early 2024 endorsement of fellow geezer Trump.
Perhaps the mental-competency-test idea was just a throwaway line in a presidential launch (and, indeed, a presidential candidacy) we may soon forget. But Haley better watch out. She's 51 years old, and 44-year-old Ron DeSantis is likely to become a rival nearly as formidable as Trump. He could start telling Republican primary voters not to trust anyone over 50.