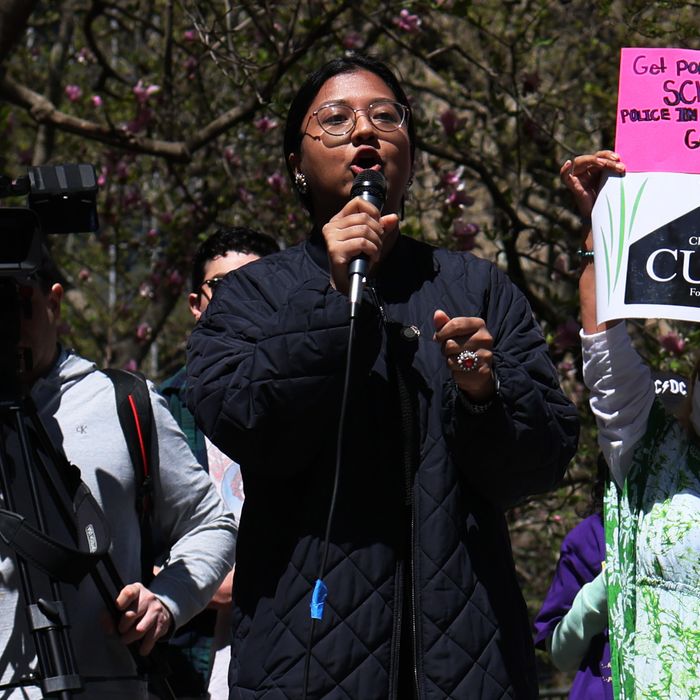 City Council member Shahana Hanif speaks as people gather to rally for police-free school last April.
Photo: Michael M. Santiago/Getty Images
Last week, the Progressive Caucus of the City Council blew apart. Once numbering 35 Democrats, the group hemorrhaged at least 15 members after leaders asked the entire caucus to sign a statement of principles that included a commitment to "do everything we can to reduce the size and scope of the NYPD and the Department of Correction." Mayor Eric Adams, a moderate Democrat and staunch opponent of the defund-the-police movement, lashed out at the "woke" Democrats who dared to attempt to shrink his police department. The progressives, meanwhile, sounded a note of triumph, saying the caucus was smaller but had a more clarified mission now: "If you won't fight hard to protect tenants, keep 3-K universal, or ensure Wall Street isn't profiting off of City dollars, you cannot call yourself a progressive in New York City," the leaders wrote in a statement.
What comes next is entirely unclear. After Adams secured a narrow victory in the 2021 Democratic primary, he declared himself the new face of the party and argued his brand of politics — pro-police, pro–real estate, pro–Wall Street — was ascendant within the five boroughs and beyond. The trouble for Adams, who has grown increasingly unpopular, is that the legislative body he must negotiate with has a sizable minority that doesn't share his views on public safety or how aggressively city services should be funded. In a 51-member body, a 20-member Progressive Caucus (including two Democratic Socialists and many other lawmakers who are closely aligned with the priorities of DSA) is still large enough, if they can stay disciplined and united, to block Adams as budget negotiations heat up this spring. After a rather sleepy 2022, the era of liberal peace in the city may indeed be over. 
Still, if you're a progressive or socialist, how do you feel, exactly, about so many Democrats deciding they can't go along with you? The cause of defunding the police, at least if framed in that manner, is not broadly popular, though most voters are receptive to making investments in the social safety net and bolstering nonviolent response units. Among leftists, there's a certain crowing that many of the lawmakers who left the Progressive Caucus are white Democrats from wealthy Manhattan, like Gale Brewer, Keith Powers, Erik Bottcher, and Julie Menin. Others, like Justin Brannan in Brooklyn and Marjorie Velázquez in the Bronx, face potentially tough reelections against Republicans.
But the departures aren't limited to those enclaves, and there's a warning for the left: Their coalition-building may not be effective enough to make the tangible changes they seek. Democrats from the working-class Black neighborhoods of eastern Brooklyn, southeast Queens, and the northeast Bronx all exited the Progressive Caucus. Others, like Rafael Salamanca Jr. of the South Bronx, never joined it in the first place. Last week, he blasted two of the leaders of the caucus, Lincoln Restler and Shahana Hanif, for wanting to defund the police. While not all of the caucus leaders represent affluent neighborhoods, Hanif and Restler do. Restler's district ropes in Greenpoint, the Williamsburg waterfront, and Brooklyn Heights. Hanif's constituents include residents of Park Slope, Carroll Gardens, Cobble Hill, Gowanus, and Windsor Terrace.
Indeed, that has always been the challenge for progressive politicians who want to reduce the size and scope of the police department: Working-class neighborhoods most victimized by gun violence might be wary of abusive police, but they also want cops to solve crimes and keep them safe. One of the long-sought goals of residents in southeast Queens was a new police precinct, and politicians were lauded there for finally delivering it.
In New York, the word progressive has been diluted enough to be almost meaningless. Lent teeth in the Bloomberg years, when calling yourself a progressive meant a willingness to stand up to the powerful billionaire mayor, the label these days can be heard on the stump in almost any Democratic election in Brooklyn, Queens, or Manhattan. In their statement announcing the new roster of the caucus, leaders cited a host of other issues, like bolstering tenant protections or expanding free day care and schooling to 3-year-olds, that make a politician a genuine progressive. Of course, these were not the policy prescriptions that drove 15 Democrats out of the caucus. As progressives in the council sharpen their messaging and prepare to wage war, mostly unified, against the Adams administration, it's worth considering whether it was wise to make defunding the NYPD their litmus test rather than another nonnegotiable demand with much more universal appeal, such as a radical solution to the city's housing crisis.
In January, median Manhattan rents hit another all-time high. Brooklyn and Queens aren't far behind. Landlords appear to either be actively withholding housing stock or even colluding to keep rents extraordinarily elevated. In the last century, similar housing emergencies gave birth to far-reaching concepts New Yorkers now take for granted, like rent control and rent stabilization. On matters of housing, the state has far more control than the city, but where is the Progressive Caucus when it comes to applying pressure on a Democrat-run legislature that still needs to do much more for tenants? Why not make a repeal of the Urstadt Law, which prevents the City Council and City Hall from toughening tenant protections — and gives the state legislature ultimately control — a vocalized priority? Or, more realistically, why not begin organizing in a concerted way to stop Adams from hiking the rent on rent-stabilized leases once again? Last year, most progressive politicians were caught flatfooted, marshaling little in the way of real pressure on the new mayor as he authorized rent increases as high as 5 percent that his predecessor, Bill de Blasio, always headed off. Adams may feel emboldened to try again. The old 35-member caucus, united around rent, could have made the mayor nervous or extracted significant concessions from him. Whether 20 Democrats can do the same remains to be seen.