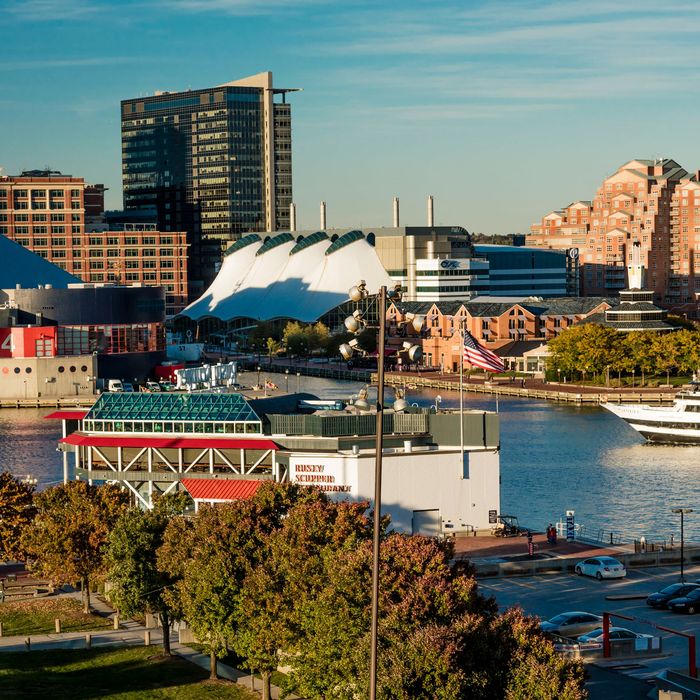 Photo: Joe Sohm/Visions of America/Universal Images Group via Getty Images
FBI agents arrested two white supremacists on Monday who authorities say plotted to blow up Baltimore's electrical grid in an attempt to cause widespread chaos in the majority-Black city.
Sarah Beth Clendaniel of North East, Maryland, and Brandon Russell of Orlando, Florida, planned to shoot at the substations feeding Baltimore with assault rifles to cause widespread blackouts, according to a criminal complaint. Federal agents got wind of the operation through a confidential informant, who texted with Clendaniel and Russell on an encrypted messaging app. They described a "ring" of substations around Baltimore they were targeting, claiming that if they could take them out in one day, it would "completely destroy this whole city." Clendaniel added, "It would probably permanently completely lay this city to waste if we could do that successfully." While the FBI considered the plot serious, agents doubted it would cause the mass destruction the pair anticipated. They were arrested before a shot was ever fired.
Russell and Clendaniel have not yet entered a plea on the charge of conspiring to destroy an energy facility, which could put them in prison for up to 20 years if convicted. The complaint also notes that Russell is the founder of the neo-Nazi group Atomwaffen, which in the past has used violence to try to escalate racial tensions in the U.S. Before to his arrest in the Baltimore plot, Russell was on supervised release after serving a prison sentence for possessing explosives following a searched related to the murder of two of his roommates by another.
Over the past year, there has been a significant rise in attacks on the power grid, with 171 attacks in 2022 compared to 99 in 2021. In December in North Carolina, assailants shot at a substation, leaving tens of thousands without power. On Christmas, tens of thousands of residents south of Tacoma, Washington, lost power when four substations were broken into and attacked. Authorities haven't identified suspects in either case. But last February, three alleged neo-Nazis were arrested in a plot to attack power grids throughout the country. And last month, the FBI warned of an increase in neo-Nazi plots to attack infrastructure in the Northwest.