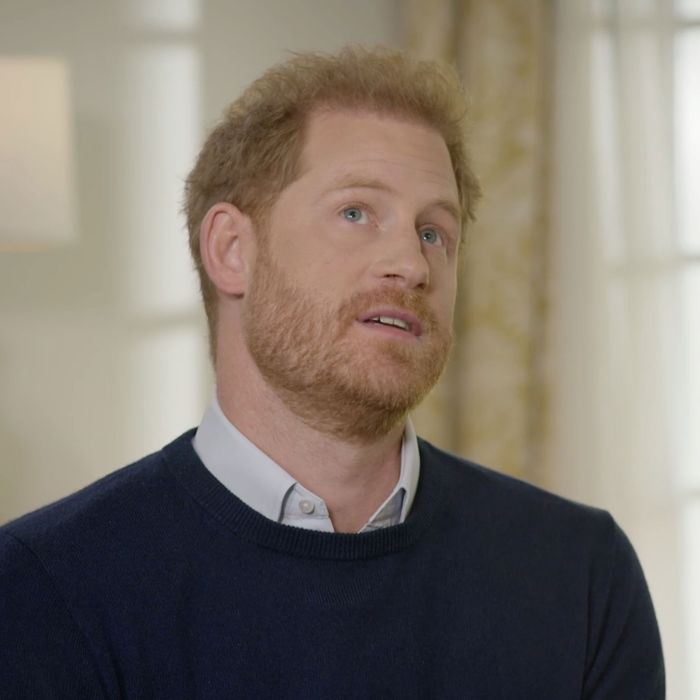 Prince Harry has some major beef with King Charles, Queen Consort Camilla, and Prince William. And very understandably — losing his mother, serving in Afghanistan, and being hounded by the press his entire life left him with some significant mental-health issues. If you would like to learn more about all this, you can consult the following for a firsthand account:
Harry and his wife, Meghan Markle's, two-hour interview with Oprah Winfrey.
Harry's contributions to Winfrey's Apple TV+ series on mental health, The Me You Can't See.

Numerous other interviews with Harry and Meghan.

Harry and Meghan's six-hour Netflix documentary series, Harry & Meghan.
Harry's 400-plus-page autobiography, Spare.
Or you can pay $33.09 to watch Harry talk about his trauma in a virtual event this Saturday with Canadian doctor and author Gabor Maté. According to the website for Spare, the "intimate conversation" will focus on "living with loss and the importance of personal healing." Audience members will have an opportunity to submit questions beforehand and will receive a copy of Spare. Since the memoir sells for about $25, this is a pretty good deal, though it seems highly unlikely that anyone this interested in Harry doesn't already own the book. (Those attending the event can add on Maté's book The Myth of Normal: Trauma, Illness, and Healing in a Toxic Culture for an additional fee.)
It's easy to mock Harry for participating in such an event. First, Maté is a bit controversial. The Daily Mail noted that he's "an outspoken supporter of decriminalising drugs, and has used the Amazonian plant ayahuasca to treat patients suffering from mental illness." Ayahuasca is illegal in the U.S., Britain, and Canada, and in 2011 Canadian officials threatened to arrest the doctor if he didn't stop using it to treat addiction. But anyone scandalized by this should probably avoid Spare in general; in the book, Harry describes using psychedelics therapeutically (and nontherapeutically, like when he gets high on shrooms and has a conversation with Courteney Cox's toilet).
Second, it's hard to believe Harry is charging people money to hear him cover topics he's already discussed in so many other venues. The prince undoubtedly has more tales to tell; he told The Telegraph that the original draft of Spare was 800 pages. "It could have been two books, put it that way. And the hard bit was taking things out," he said. But it seems unlikely that he's going to drop any major revelations on a Vimeo livestream this weekend.
In Harry's defense, he openly admits that there's not much else he can do to provide for his family. In Spare, after "Pa" cuts him off financially in his mid-30s, the prince describes how a lifetime of compulsory royal service has left him "otherwise unemployable."
"I'd never asked to be financially dependent on Pa. I'd been forced into this surreal state, this unending Truman Show," he writes. "Sponge, the papers called me. But there's a big difference between being a sponge and being prohibited from learning independence. After decades of being rigorously and systematically infantilized, I was now abruptly abandoned, and mocked for being immature?"
I sympathize with Harry's need to monetize the processing of his trauma in spirit, though I will not be shelling out $33.09 for this livestream. I need to save my money for the inevitable sequel to Spare.