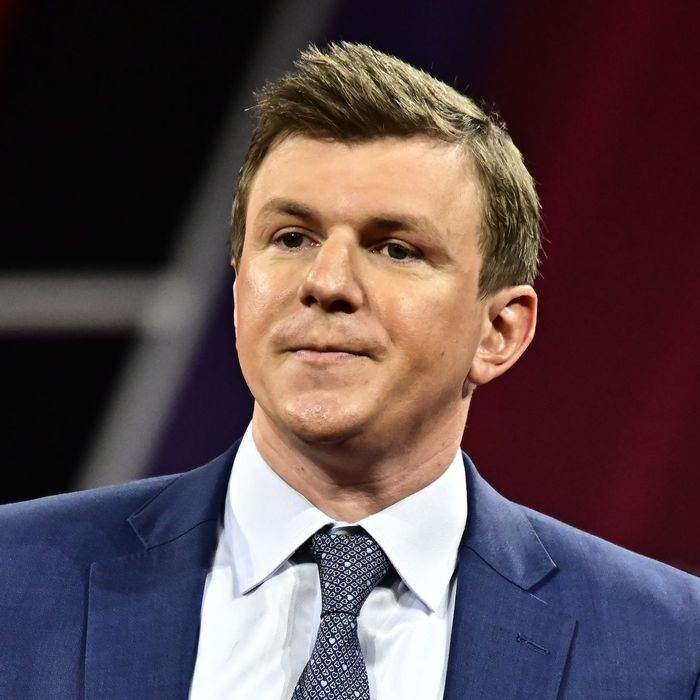 Photo: Shutterstock/Shutterstock
James O'Keefe, the hidden-camera sting artist whose deceptive practices scandalized journalism and thrilled his audience of hard-core conservatives, has formally left Project Veritas, the nonprofit media organization he created.
Reached on his cell phone on Monday, a few minutes before his ouster became official, O'Keefe refused to discuss whether he was preparing to exit. Members of the Project Veritas board either did not return messages or declined to comment on rumors. "I can't," said longtime board member George Skakel before hanging up the phone. A Twitter post by Neil McCabe, a former Project Veritas spokesman who now works for the One America News Network, reported on Monday that O'Keefe "read his resignation letter to his former team and board members at their Mamaroneck, N.Y. headquarters" on Monday morning. However, R.C. Maxwell, a Project Veritas spokesman who is close to O'Keefe, tweeted later on Monday that O'Keefe had not resigned but rather had been "removed from his position as CEO by the Project Veritas board."
O'Keefe subsequently posted a video of his speech announcing his departure to his employees. In a public statement released Monday evening, the Project Veritas board of directors denied it had terminated O'Keefe, claiming he had instead been "suspended indefinitely" pending the "resolution of a fulsome investigation" into what it described as "financial malfeasance." Nonetheless, the board said it was still seeking to "continue conversations with James to resolve internal matters rather than litigate them publicly."
"He quit," Skakel wrote in a follow-up text after this story was initially published online. "He was not forced out."
Whatever the truth of the messy circumstances, O'Keefe has left the organization after a two-week period of turmoil. During that time, Project Veritas has been divided between a group of O'Keefe loyalists and a large group of dissenters on the staff and board who chafed at the founder's erratic management style, spending, and penchant for costly confrontation with ideological adversaries and his own employees. O'Keefe was placed on paid leave in early February after what people close to the organization described as a blowup in which he summarily fired a pair of top employees, including the group's chief financial officer. News of the action — and rumors that O'Keefe was about to be fired — sparked a viral backlash among O'Keefe's large number of fans on social media, many of whom posted that there was "no Project Veritas without James O'Keefe." An attorney representing Project Veritas donors reportedly wrote a letter to the board threatening legal action if O'Keefe were to be removed. Meanwhile, O'Keefe was apparently hiking in Santa Monica with the anti-vaccine activist Robert F. Kennedy Jr., who posted a scenic tweet as proof of life.
On February 15, the nonprofit's executive director, Daniel Strack, posted a conciliatory letter, saying that "James has not been removed from Project Veritas" and avowing that members of the nonprofit's board "all love James." Sources familiar with the organization's internal workings said, however, that a battle was raging behind the veneer of civility. One source said that an internal messaging system used by employees had turned into "an all-out brawl" and a "civil war," as O'Keefe's partisans attacked a faction of employees who had signed a highly detailed letter of complaint that described their boss as a "power drunk tyrant." In his speech to his staff on Monday, O'Keefe said he wrote a letter to all the members of the board, saying that if they did not resign en masse, he would be "forced to walk away." Strack later reportedly described the message as an "ultimatum."
"I have received increasingly emotional and irrational outreaches from various parties pushing me to 'negotiate' a resolution to a situation that was caused solely by the planned actions of the board and the executive team addressed on this email," O'Keefe wrote. He said he had concluded that the board had been "planning its actions to remove me from a management position well in advance" of its decision to place him on leave in early February.
"I cannot in good conscience return to such a mismanaged organization," O'Keefe wrote. "The board members and the officers addressed here have each individually and as a group absolutely failed Project Veritas, its employees and me as both an employee and fellow board member. You have created an embarrassing public display by leaking Project Veritas confidential information. I have not responded privately or publicly because there is no rational appropriate response to the emotional circus that has been created by your actions."
He gave board members a deadline of last Friday to comply with his resignation demand. They refused. In his speech on Monday, O'Keefe said that he had clashed with the board over a number of issues related to his management and personal behavior, including his use of private jets and questions "about girls I've dated in the past." He said one officer of the nonprofit had sent a message to the board filled with "bizarre innuendo and hyperbole" about expenses he had charged to the organization. "These included, and you can't make this up, that Project Veritas paid for James O'Keefe's down payment of his wedding," O'Keefe said. "I got a chuckle out of this. I'm not married." (In fact, O'Keefe reportedly invited a host of Republican stars, including Donald Trump Jr. and Clarence Thomas, to a wedding planned for May 2020, which was later called off.) O'Keefe said the $12,000 expense was actually for a Project Veritas holiday party.
O'Keefe also questioned the timing of the move against him, asking why he had been forced out soon after "we broke the biggest story in our organization's history" — referring to an undercover sting operation against Pfizer. Project Veritas claims its videos reveal that the pharmaceutical company is conducting gain-of-function research as part of its vaccine science, a charge Pfizer strongly denies. O'Keefe's supporters online have blamed Big Pharma for his sudden ouster. "None of this makes any sense, and why is it all happening right now?" O'Keefe asked. "I don't have answers. You guys are journalists. Maybe you can go find the answers."
In its statement, the board said it "wants to work things out with James, and has tried every route possible to remedy the issues at hand," but had a "legal obligation to comply with state and federal law" that governs spending at nonprofit organizations. The board said O'Keefe's firing of the CFO (who was later reinstated) "left us no choice but to suspend him." As examples of O'Keefe's spending on "personal luxuries," the statement listed $60,000 related to "dance events" where O'Keefe performed routines dramatizing his life; a $14,000 charter-plane flight to meet with someone concerning repairs to his sailboat, the Lucky Charm III; $150,000 in expenses related to "black cars"; and "hundreds of other acts of personal inurement." It said that O'Keefe had shown up at the office on Presidents' Day, a company holiday, to stealthily "remove his belongings" from the office, where he displays many mementos of his career, including a chinchilla stole that he wore in his first big sting, against the progressive community group ACORN, back in 2009.
In his video, O'Keefe told his staff that he was packing up his personal effects. "I'm sorry, I'm getting emotional," he said, his voice cracking. "I'm intending to start anew."
O'Keefe's departure leaves the future of Project Veritas in serious doubt. His celebrity and flair for self-promotion turned the nonprofit — originally founded in his parents' carriage house — into a large and well-financed media organization with an annual budget of roughly $20 million at its peak in 2020. Since then, however, its fortunes have taken a sharp downward turn. Last year, it lost a trial in a civil case brought by a Democratic campaign organization that Project Veritas infiltrated during the 2016 presidential campaign. (O'Keefe has said he will appeal the verdict.) Similar lawsuits are making their way through the courts. A federal criminal investigation related to Project Veritas' purchase of a diary stolen from Ashley Biden, the president's daughter, is looming over O'Keefe and others who worked on the investigation. According to its publicly filed federal tax returns, the nonprofit has been spending millions of dollars on lawyers to defend itself and O'Keefe personally. In recent months, the organization has been showing signs of financial stress, laying off rank-and-file employees. The board's statement said its "serious concern" about the company's "financial health" was a major source of its conflict with O'Keefe.
"Their burn rate is unreal," says a source familiar with the organization's operations. "They're going through like a million bucks a month."
Without O'Keefe, Project Veritas will likely struggle to raise money, placing the ongoing existence of the organization in peril. O'Keefe, however, appears to have been preparing for his next act. On Friday, according to corporate records, a company called Transparency 1, LLC was formed in Delaware. Its ownership was not disclosed, but one source says that the LLC was rumored to be a new corporate vehicle established by O'Keefe.
This post has been updated throughtout.