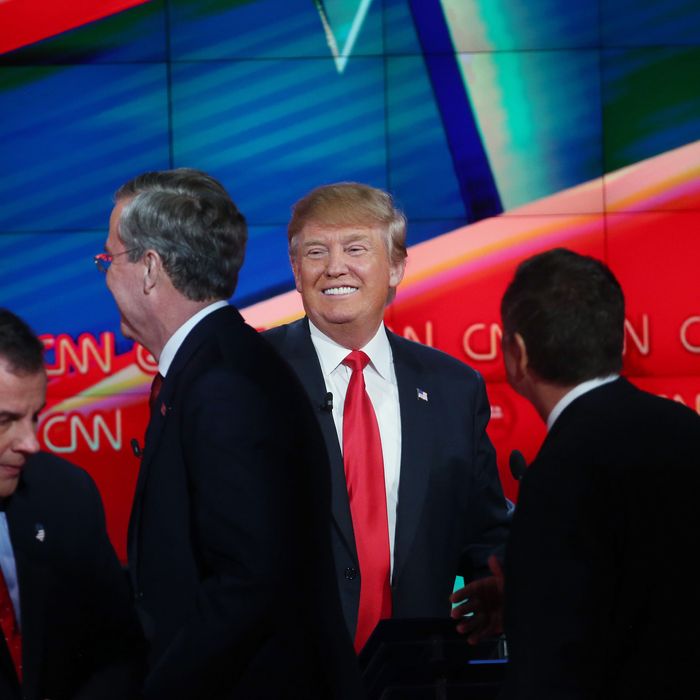 Donald Trump at a December 2015 presidential-candidate debate after signing a loyalty pledge, which he later repudiated.
Photo: Justin Sullivan/Getty Images
Political-party leaders love loyalty pledges. Requiring primary candidates to support the ultimate nominee implies a degree of disciplinary control that national and state parties don't actually possess. Legally, the two major parties can't ban candidates from general-election ballots if they qualify for an independent or third-party run. There's also little party leaders can do to punish politicians who endorse the "wrong" general-election candidate (though federal and state legislative caucuses have occasionally stripped party traitors of seniority and other prerogatives).
But while loyalty pledges are mostly symbolic, at the presidential level parties do have one lever for enforcing them: participation in party-sanctioned debates. On Sunday, Republican National Committee chair Ronna McDaniel announced that any candidate who does not sign a pledge promising to support the Republican who eventually wins the nomination will be barred from the first sanctioned debate of the 2024 election cycle, as Politico reported:
"We're saying you're not going to get on the debate stage unless you make this pledge," McDaniel said during an interview with CNN's Dana Bash on "State of the Union." McDaniel, who recently won her fourth term as RNC chair after a contentious battle against Harmeet Dhillon, said that Republican voters are tired of "infighting" within the party, and "want to see us come together."
Presumably, this requirement is largely aimed at former President Donald Trump, who has been dodgy about his willingness to support the 2024 Republican presidential nominee if it's not his favorite person on the planet. ("It would have to depend on who the nominee was," he told Hugh Hewitt earlier this month.) Indeed, the RNC has been here before. In the first debate of the 2016 cycle, Trump was the only candidate who refused to raise his hand to pledge support for the eventual nominee. Shortly thereafter, under pressure from the RNC and facing a threat of being excluded from the primary ballot in South Carolina, Trump did take the pledge in exchange for promises that the party would treat him "fairly." But then, in March 2016, Trump publicly repudiated the pledge after grousing about the "unfairness" of various developments in the nomination contest.
Since Trump ultimately won a majority of delegates going into the convention and was duly nominated, there were no consequences for his wavering commitment to his own promise. But it did show it is foolish to expect "loyalty" from Trump no matter what he says. So why is the RNC repeating this failed tactic?
It's possible the 2024 loyalty pledge requirement isn't aimed at Trump (or isn't aimed solely at Trump). There are a slew of potential anti-Trump GOP candidates who would have a hard time swearing fealty to a renominated 45th president. Former Maryland Governor Larry Hogan struggled with the loyalty issue in his own interview with Hugh Hewitt. And then there's former representative Liz Cheney, who is said to be weighing a 2024 run. She has publicly said she'd leave the GOP if Trump is the nominee. So a loyalty-pledge requirement would be an easy way to exclude Cheney from debates where she would be in a position to embarrass Trump and shame those who still support him.
So in effect, the RNC's new loyalty-pledge requirement may just reward big-time liars at the expense of candidates who take their own word seriously.