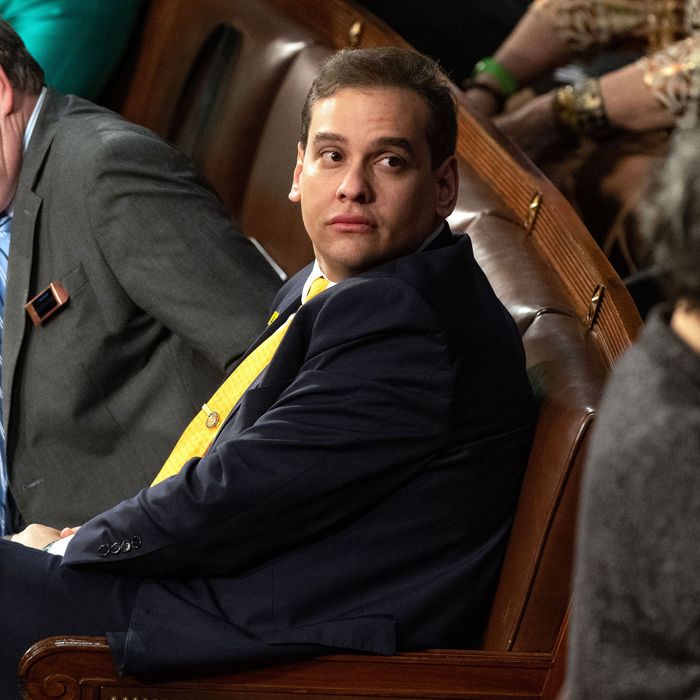 Senator Mitt Romney is a man so appropriate that he once ironed a tuxedo while wearing it lest others be offended by a garish wrinkle. George Santos is a freshman congressman who appears to be a pathological liar and might have stolen money from a veteran's dying dog, among various other misdeeds. It feels as if the two men don't belong on the same planet, let alone in the same legislative body. And on the House floor ahead of Tuesday's State of the Union address, Romney decided to tell Santos that he had no business being there.
Cameras caught a testy exchange between Romney and Santos, who was glad-handing other politicians from a plum spot on the aisle, where he was sure to draw maximum attention.
It wasn't clear what exactly the two Republicans said, but after the speech, Romney told reporters he's disappointed that Speaker Kevin McCarthy hasn't called on Santos to resign, as he's a "sick puppy" who shouldn't have been front and center at the speech.
"Trying to shake hands with every senator in the United States — given the fact that he's under an ethics investigation, he should be sitting in the back row and staying quiet, instead of parading in front of the president and people coming into the room," Romney said, per Politico.
"I don't think he ought to be in Congress and he certainly shouldn't be in the aisle trying to shake the hand of the president of the States and dignitaries coming in. It's an embarrassment," the senator continued.
"If he had any shame at all, he wouldn't be there," Romney added.
It seems Romney really doesn't get Santos. After the speech, Santos confirmed that he, in fact, has no shame at all. Rather than quietly accepting the Utah senator's admonishment, he hit back with this weak jab:
Then he shared, via a retweet of Semafor reporter Kadia Goba, his purported retorts to Romney:
Is this actually how the exchange went down? On the one hand, Representative Thomas Massie did describe Romney's words as "the rudest I've ever seen a human being be to another human being." On the other hand, Santos's account has a "the Jerk Store called, and they're running out of you" vibe. Oh, and there's a growing pile of evidence that he's just about incapable of telling the truth.
What Santos lacks in credibility he makes up for in audacity. On Wednesday afternoon he shamed Romney for being a bad Mormon.
The story might have ended there, but then on Thursday night Santos dragged Senator Kyrsten Sinema into it, claiming she reassured him after the exchange, saying something like "hang in there."
But on Friday morning, Sinema's spokesperson Hannah Hurley told NBC News that's "a lie." She said the senator wasn't even aware of the Romney-Santos exchange until the Republican senator told her about it afterwards.
This post was updated to include Santos's remarks to reporters, and Sinema's response.