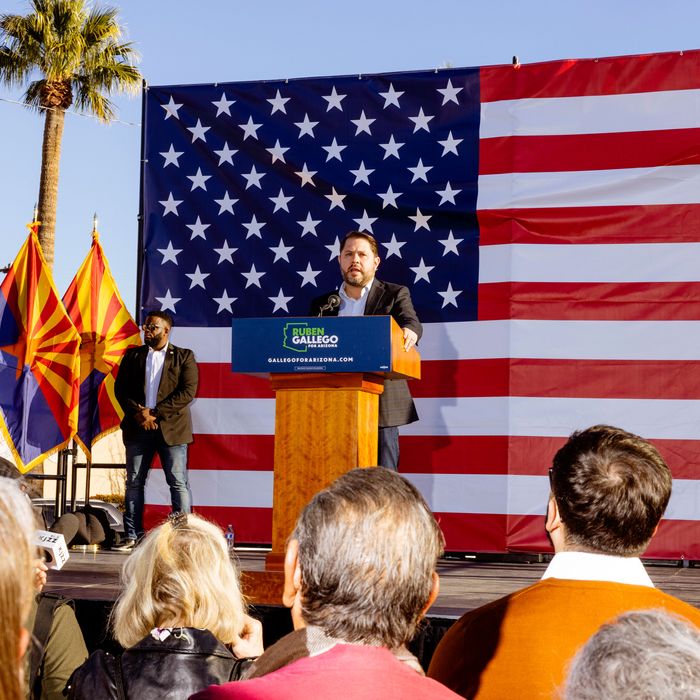 Gallego in Arizona last month after kicking off his campaign.
Photo: Cassidy Araiza for The Washington Post via Getty Images/\
Ruben Gallego has a problem. It's not just that he is on stop 22 of what seems to be a never-ending media tour after announcing his U.S. Senate campaign against fellow Arizonan Kyrsten Sinema. It's certainly not that the race will be perhaps the most scrutinized in the country, as the Democratic representative is running against the incumbent as well as whoever the Republicans nominate (potential candidates include losing 2022 MAGA candidates Blake Masters and Kari Lake). Instead, it's that the Capitol Hill diner where we met after he announced his candidacy has only Texas Pete hot sauce. "I'm a little particular about my salsas and hot sauces," he says. He normally prefers Cholula but is trying to find an acceptable alternative for his eggs.
Gallego is trying to offer himself as an acceptable alternative to Sinema, the Democrat turned independent who has made a name for herself with a brand of socially liberal and fiscally moderate politics. It wasn't just Sinema's instinctive centrism that alienated progressives like Gallego, he says, but also the performative aspect of watering down progressive goals such as ending the filibuster and passing Biden's Build Back Better Act. Her style was perhaps best typified by an Instagram Story shortly after she broke with Democrats to vote down legislation that would have raised the minimum wage to $15, which featured Sinema sipping sangria and displaying a ring that says "Fuck Off." "When's the last time she's talked to anybody that's not a lobbyist or handed her a check?" he asked derisively.
Sinema, as he tells it, believes Arizona is a red state at heart, and it goes a long way in explaining her politics. After all, she became the first Arizona Democrat elected to the Senate in decades after edging out a Republican for the seat previously held by Trump-critic Jeff Flake. But Gallego points to all that's happened since then to make his case that Arizona is purple, if not a light shade of blue: Senator Mark Kelly has won twice, and last year voters favored Democrats over MAGA candidates for governor, secretary of state, and attorney general. Even Joe Arpaio couldn't win a small-town mayoral election in Maricopa County, where he once loomed large as a hard-right sheriff. "We have people coming in from all over the country" with high incomes and high levels of education, Gallego says. "There are 5,000 to 6,000 Latinos turning 18 every month. And they're very politically active."
But his theory has a limited sample size and has been helped by the implosion of the Arizona GOP in recent years. In 2022, two of the least MAGA (but still conservative) Republicans on the statewide ballot won, one of whom beat an incumbent Democrat. It remains to be seen how Arizona voters will act if Trump leaves the scene before 2024 and more traditional Republicans regain their influence in the state.
So it remains very much an open question whether Gallego can be elected statewide as a far more progressive candidate than Sinema. Despite an effort by Lake to brand him as "the AOC of Arizona," he has taken standard progressive positions, such as supporting Medicare for All, without veering off toward the party's fringes. On immigration, a pressing issue in the border state, Gallego has long been a vocal voice for a more progressive approach to the issue, including a path to citizenship for Dreamers, going back to his time as an activist during the state's crackdown on immigration in the early 2010s. But he will be facing off against a national political figure in Sinema. While she has earned the ire of many on the left for her willingness to advocate for moderate pro-business policies, Sinema has also acquired significant leverage as a result and was able to secure $4 billion in drought funding for her state as part of the social-spending and climate legislation Democrats dubbed the Inflation Reduction Act.
As for Sinema renouncing the Democratic Party to declare herself a formal independent, Gallego says it won't save her in 2024. He cited his own campaign polling, which he says had her barely in the double digits with Democratic voters, and he is confident he could drive her "down to near zero." While there's no doubt she could win some Republicans thanks to years of poking Democrats in the eye, "I don't see her getting the amount of support she needs to get to a plurality of the vote. Republicans still think they can win Arizona."
Although he isn't presenting himself simply as a generic pol with a different theory of the case, Gallego emphasizes how different his life story is from Sinema's, including his service in the Marines in the Iraq War. Gallego, who moved to Arizona after leaving the military, served two terms in the State House of Representatives before winning an open U.S. congressional seat in 2014 at the age of 35. If elected next year, he'll be not only the first Latino senator in Arizona's history but also one with a unique history with the immigration system and the border, having been born in the U.S. and spending part of his childhood in Mexico. "My whole life, we used to go back and forth. You know, summers there, Christmas here, work there, work here." The experience, he argues, gives him a fresh perspective on immigration in a state where residents regularly cross the border.
It is on the topic of Latino identity that he has broken with left-wing orthodoxy: In 2021, he received national attention for saying he had banned use of the term Latinx in his office. For him, this wasn't so much punching left for its own sake, as critics argue Sinema does, as simply using the language of voters instead of leftist academics and activists. As Gallego tweeted at the time, "When Latino politicos use the term it is largely to appease white rich progressives who think that is the term we use. It is a vicious circle of confirmation bias." To be sure, he would not go as far as Arkansas governor Sarah Huckabee Sanders in formally banning the use of the term from state government, as she did in one of her first acts after taking office. "I think that's a little overkill," Gallego says. "You know, I think also this is a conversation that Latinos are having, and it shouldn't be used as an exploitation wedge by somebody." His office would honor the wishes of those who prefer using the identifier. "We want to still be inclusive. We know that most of the Latino population still uses the word Latino. And for those that want to use the word Latinx when they identify as that to us … then of course we're gonna want to do that. I mean, my general rule is 'Don't be an asshole,' right?"
The 2024 campaign is not the first time Gallego has explored a bid for higher office, having opted against challenging Kelly for his Senate seat in 2020. "Kelly and I were very similar … and he was beating me by 10 to 14 points in polling," Gallego says. "And so, in order for us to win, we'd have to go negative." It also was a special election for a two-year term to fill the seat vacated by John McCain's death, which meant it was a commitment to run in not just the 2020 special election but also the regularly scheduled one that followed in 2022. The result meant that, for Gallego, it simply wasn't worth the "prospect of missing four years of my son's life, running a negative campaign against a Democrat with no real shot to win the primary or the general. It just felt like it wasn't worth it."
Gallego praised Kelly throughout the interview but didn't cite him as a model. Instead, he suggested he'd be in the mold of Senators Ben Ray Luján of New Mexico and Catherine Cortez Masto of Nevada, both of whom are Hispanic. "I don't think I would be that much different than a lot of the Democrats in the Senate," Gallego says. "I'm not exceptional in any way more than Fetterman, more than Kelly, more than Warnock."
And, like all three of those men, he's going to face a Senate race that will draw national attention and hundreds of millions of dollars in spending. Even if Republicans nominate a far-right candidate and Sinema fades into irrelevance, it will still be a hard-fought contest. And he's not taking any chances. As he changes condiments from hot sauce to salt, he tosses a little behind his shoulder for good luck.