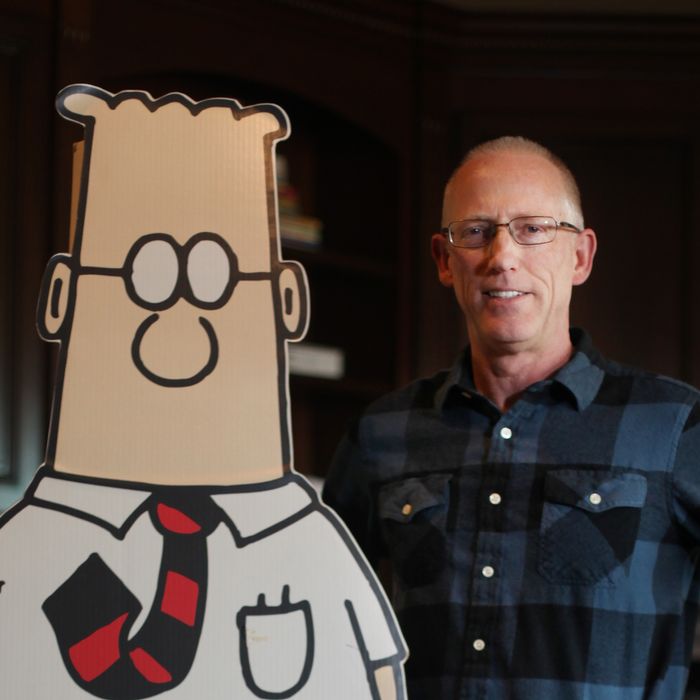 Scott Adams.
Photo: Lea Suzuki/The San Francisco Chronicle via Getty Images
The longtime comic-strip character Dilbert has been banished from his regular cubicle at hundreds of U.S. newspapers, and this time the only annoying co-worker to blame for his plight is the dude who draws him.
The mass cancellation began soon after Dilbert creator Scott Adams made a number of racist statements on his YouTube channel, effectively destroying his own comic strip after more than three decades in syndication. Over the weekend, billionaire Twitter owner Elon Musk not only came to Adams's defense but claimed that the media was racist against white people in response.
How Scott Adams canceled himself
Adams broadcast his racist rant on his YouTube show on Wednesday after being triggered by a questionably designed Rasmussen poll that suggested just over half of Black Americans agreed with the statement "It's okay to be white" — a phrase that the Anti-Defamation League has linked to the white-supremacist movement and that has gained broad popularity as a right-wing meme. In response to the poll, Adams called Black people a "hate group," blamed them for "not focusing on education," implied Black Americans were targeting "non-Black citizens" with violence, and effectively advocated for segregation:
Based on the current way things are going, the best advice I would give to white people is to get the hell away from Black people. Just get the fuck away. Wherever you have to go, just get away. Because there's no fixing this. This can't be fixed. So I don't think it makes any sense as a white citizen of America to try to help Black citizens anymore. It doesn't make sense. There's no longer a rational impulse. So I'm going to back off on being helpful to Black America because it doesn't seem like it pays off.
By Friday, a growing number of newspapers were rapidly severing ties with Adams. "This is not a difficult decision," wrote Cleveland Plain Dealer editor Chris Quinn on Friday, dismissing the notion that dropping Adams's Dilbert was somehow related to so-called cancel culture:
This is a decision based on the principles of this news organization and the community we serve. We are not a home for those who espouse racism. We certainly do not want to provide them with financial support.
MLive Media announced the same for its eight Michigan newspapers in an editor's letter under the headline "Scott Adams Cancels Himself, 'Dilbert' Comic Strip, With Racist Diatribe on Social Media." The Los Angeles Times announcement noted that it had already declined to run four daily Dilbert strips in the past nine months that "did not meet our standards," and that Adam's latest remarks were the last straw:
The Comics pages should be a place where our readers can engage with societal issues, reflect on the human condition, and enjoy a few laughs. We intend to maintain that tradition in a way that is welcoming to all readers.
Similar announcements were made by the Boston Globe, Washington Post, San Antonio Express-News, and many other publications. The biggest blow came from the Gannett-owned USA Today Network, which comprises more than 300 newspapers.
When the Washington Post asked Adams on Saturday how many newspapers were still publishing Dilbert, he told them, "By Monday, around zero."
Adams, 65, has long shared controversial views on his blog and in social-media posts. Some of this goes back more than a decade, to the time when Adams celebrated men's-rights activism and compared women who sought equal pay in the workplace to children begging for candy. His commentary shifted further right in the Trump era, including the promotion of conspiracy theories; white grievance and attacks on Black Lives Matter; COVID-vaccine misinformation; transphobia — including in the frames of Dilbert; and the suggestion that on Election Day in 2020 a Biden victory would lead to Republicans being hunted while the police stood by and did nothing.
Adams has repeatedly decried the damage his views have done to his career and brand. Newspapers have previously dropped Dilbert, though not always as a direct response to its creator's controversies, but there's never been anything like the scale of what happened last week. His response to the uproar and consequences has been a mix of defiance and bewilderment, as the Washington Post reports:
[On YouTube on Saturday, he] offered a long, quasi-Socratic defense of his comments, which he said were taken out of context, and seemed to define racism as essentially any political activity. "Any tax code change is racist," he said at one point in the show. He denounced racism against "individuals" and racist laws, but said, "You should absolutely be racist whenever it's to your advantage. Every one of you should be open to making a racist personal career decision."




In the same show, Adams suggested that he had done irreparable harm to a once-sterling career. "Most of my income will be gone by next week," he told about 3,000 live-stream viewers. "My reputation for the rest of my life is destroyed. You can't come back from this, am I right? There's no way you can come back from this."
How Elon Musk entered the chat
One of Scott Adams's fans on Twitter is the chief twit himself, Elon Musk. The billionaire and self-professed free-speech crusader has engaged with Adams on the platform before, but he did more than just come to the cartoonist's defense over the weekend. He tweeted and deleted a Twitter reply regarding the newspaper backlash to Adams in which he wondered, "What exactly are they complaining about?" Then, in a pair of tweet replies, Musk alleged that "the media is racist," adding that:
For a *very* long time, US media was racist against non-white people, now they're racist against whites & Asians. Same thing happened with elite colleges & high schools in America. Maybe they can try not being racist.
Musk also seemed to agree with one of Adams's statements attempting to defend himself: