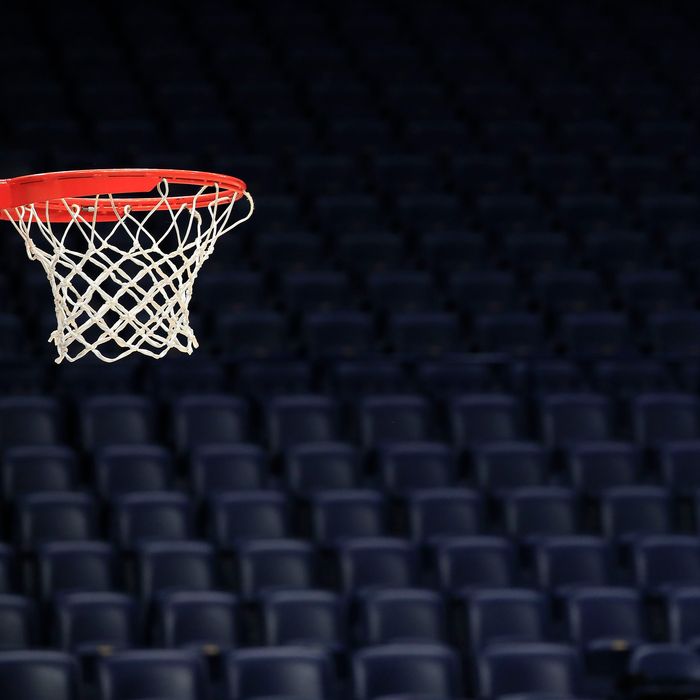 Photo: Andy Lyons/Getty Images
You know what members of the New York Jets and the New York Giants did the day after September 11? They reported to practice.
According to a terrific oral history by NFL.com's Judy Battista, the Giants — who had played in Denver on September 10 and landed at Newark Airport in time to idle next to United Flight 93 before it took off — went ahead with their usual routine. Running back Tiki Barber described seeing the smoke of the still-burning towers while stuck in traffic trying to get across the George Washington Bridge. The Jets practiced for half an hour, with players jumping every time they heard a fighter jet, before they ducked back inside and held a team vote, in which they decided to forfeit their upcoming game against Oakland. That afternoon, then-NFL commissioner Paul Tagliabue had a meeting about what to do with the upcoming weekend's schedule. Several owners, including Giants owner Wellington Mara and Panthers owner Jerry Richardson argued vehemently that the game should be played. Patriots owner Robert Kraft said, "In Israel, we have attacks all the time, and life goes on the next day." On Wednesday night, Tagliabue wrote up two drafts of a press release: one saying the games would go on as usual, one saying they would be postponed. He went to sleep having no idea which version the league would settle on.
Eventually, the NFL did postpone the games, a decision that now seems obviously correct. But there was criticism at the time; many felt the NFL taking a short hiatus was somehow letting the terrorists win. Precedent, after all, was not on their side: The NFL had played 48 hours after John F. Kennedy's assassination on the recommendation of the White House. History said that no matter what, the games must go on.
Of all the ways the sports world has changed since the pandemic, I think this is the biggest: The games don't have to go on anymore. On March 15, 2020, a few days after the unofficial beginning of the pandemic in the United States, I wrote a piece for the New York Times attempting to grapple with the fundamental eeriness of there simply not being sports. Forgive me as I quote myself from that disorienting, terrifying time:
Sports provides a kind of framework for life, a way of marking time. Every year is a little bit different than the year before but has essentially the same parameters. Each season has a beginning, middle, and end, with conflict, combat, and resolution — you win or you lose. Many of us can trace a continuous line of fandom through our family. My grandparents watched Stan Musial; my mom and dad watched Bob Gibson; I watched Ozzie Smith; my boys watch Dylan Carlson. The St. Louis Cardinals are the only real constant in our family other than our name. So much of fandom is about that continuity, that knowing that sports have always been going on and always will be. That was snapped last week.
The sports world — which until March 11 had mostly tried to pretend the coronavirus did not exist — had never just stopped. That continuity, that tradition, that sports-must-always-be-happening, felt essential to the whole enterprise.
It turns out, though, that it's not so essential after all. Since the pandemic hit, leagues, universities, and even players have halted games in ways that would have been unfathomable at any other time in sports history. Horrible weather used to be pretty much the only reason to cancel a sporting event. But we define an Act of God differently now.
If you're feeling positive about this change, you could say it's happening mostly because empowered players are putting more focus on social issues important to them, plus their own mental health. It took decades too long, but we've finally come to understand that athletes are not robots, that expecting them to stow the outside world in the locker room is asking too much.
If you're feeling negative, you could say  things have gotten so bad out there that no one can "play through it." Perhaps sports just can't keep up with the world's misery anymore. Or maybe it just stopped trying to.
Either way, no one can make the case that the world would stop if sports did anymore. Games are postponed or canceled now for all kinds of reasons:
COVID-19. Every league's first, pre-vaccine pandemic season involved a dog's breakfast of a schedule — the football team that won the Big Ten title in 2020 played a grand total of five games — but three years later, games are still being postponed because of COVID-19 outbreaks within locker rooms. (My beloved Illini men's basketball team went through this just last week.) It once would have been thought absurd that a college basketball game — played indoors, on a college campus — would ever be postponed. Literally half of teams went on a COVID-related pause last year. It's impossible to be surprised by this anymore.
Player protests. One of the most pivotal yet often-overlooked moments in recent sports history came in August 2020, when, inside the NBA's infamous "bubble," the Milwaukee Bucks refused to play a playoff game against the Orlando Magic in the wake of the shooting of Jacob Blake. It was the first game ever to be postponed simply because the players found it inappropriate and grotesque to play. And it didn't lead to a backlash, but instead a wave of cancellations across all sports, including Major League Baseball and the MLS.
Player injury. When Damar Hamlin's heart stopped during the Bills-Bengals "Monday Night Football" game in February, the NFL took considerable heat for not immediately canceling the game — instead waiting more than an hour to do so, and, according to one report, telling the stricken players to prepare for the game to restart. But compare that to 1971, when Chuck Hughes had a heart attack on the field during a game — and did, in fact, die. That game not only continued, but Hughes's death wasn't even the lead story the next day, which shows how thoroughly the rub-some-dirt-on-it-and-play attitude had ruled in sports for decades, and how little it does now.
Shootings. Michigan State coach Tom Izzo received much praise for his speech at a candlelight vigil for victims of a campus shooting last week, but it's not difficult to imagine another coach in years past — perhaps Izzo's old mentor, Bob Knight — grousing about the cancellation of a game because of an off-court act of violence. (Virginia Tech did not cancel its home baseball game three days after Seung-Hui Cho killed 32 people on campus back in 2007.) But campus shootings have become so commonplace that Michigan State wasn't even the first school to postpone an event in the wake of one this year; Virginia canceled its game against Northern Iowa days after three of its football players were shot and killed. These, alas, are cancellations that we are all getting all too accustomed to.
Before 2020, there were plenty of serious player injuries, contagious illnesses, campus tragedies, and social-justice protests, but you could count on sports existing apart from it all, no matter what. That has changed in the last three years, probably forever. Even if that's a sign of societal collapse, it's probably for the best.